Europe's Ariane-5 rocket makes 100th flight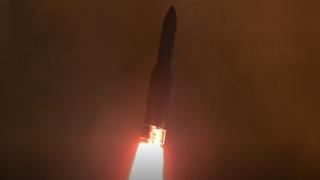 Europe's Ariane 5 rocket has completed its 100th mission.
Tuesday's flight saw it lift two big satellites into orbit from its operating base in French Guiana.
Conceived originally to launch a European space shuttle, the rocket was adapted instead to put up the heaviest telecommunications spacecraft - a market it dominated for many years.
But the emergence of cheaper US rockets means the Ariane 5 must soon give way to a more competitive successor.
To be called, predictably, Ariane 6 - this vehicle should make its debut in mid-2020.
A backorder of Ariane 5s ensures the old workhorse will continue to fly for some time yet, however.
Two of its remaining missions include sending Europe's BepiColombo probe to Mercury next month, and putting up the $10bn James Webb Space Telescope - the follow-on to Hubble - in 2021.
"Ariane 5 has been a great success, and it's not over; we still have four or five years left with this product," said Alain Charmeau, who runs the rocket manufacturer ArianeGroup.
"And even though this is the 100th flight, we continue to improve the product. We continue to grab a few extra kilos in payload performance we can offer to our customers," he told BBC News.
Tuesday's telecoms "passengers" tipped the scales at a combined weight of 10 tonnes. Ariane placed them on a path that will eventually take them up to a position some 36,000km above the Earth.
From this vantage point, the Horizons 3e spacecraft will be able to deliver connectivity services across the Asia-Pacific region, and the Azerspace-2/Intelsat 38 platform will be able to do the same over Africa, Europe and Central Asia.
What is the record of the Ariane 5?
The Ariane 5 had a false start to its career when it broke up 37 seconds after leaving the Kourou launch pad on its debut flight in June 1996. The failure was put down to an error in control software.
There was one further outright failure of an Ariane 5, in 2003, but since then the rockets have earned great respect for their reliability and precision.
For a long period, the European workhorse would launch at least half of all the major telecoms satellites in any one year.
The more than 200 payloads launched over 22 years include the comet mission Rosetta, space telescopes, weather satellites, Galileo sat-nav platforms - as well as the many telecoms spacecraft.
Where's the competition coming from?
Europe's past dominance is being eroded by SpaceX, the California manufacturer, which can build and sell its Falcon vehicles on the commercial market at a price that substantially undercuts Ariane.
And SpaceX promises to drop its costs still further as it routinely flies rockets that are reusable. Each Ariane rocket is expendable; a new one is needed for every mission.
Jeff Bezos, the boss of online retail giant Amazon, is planning a similar approach with a forthcoming vehicle he calls New Glenn.
At the same time, a lot of spacecraft are getting smaller. Many are now shoebox-sized.
A swathe of start-ups are developing more modest rockets to try to match this shift in scale.
What is the future for Ariane?
Ariane's response is the introduction of a launcher that is simpler to build and operate, and which maximises the use of next-generation fabrication techniques, such as 3D printing.
This Ariane 6 rocket is well along its development path, with all its engines currently being tested.
It will still be a one-flight-only, expendable rocket; it will not be reusable. But the European Space Agency, which has overseen the design process, hopes the 40-50% reduction in unit cost will keep Ariane in a competitive position.
"We are in a very particular time when there is a lot of uncertainty," observed Jacques Breton, senior vice president at Arianespace, the company that markets and operates Ariane vehicles.
"Is the future small satellites; is it big satellites; is it constellations of satellites? Nobody really knows. But with Ariane 6 we will have a launcher which is versatile, that can adapt itself to any of these solutions. And it will be as reliable as Ariane 5 because it is the same European industry that is developing it."
The market for rockets is complex. It is skewed by geopolitical considerations. There are national security missions, for example, that are only ever likely to be launched on a home rocket.
ArianeGroup is looking for firmer guarantees from European governments that they will use Ariane 6 for all their institutional payloads.
This would help close the business case for Ariane 6, said Mr Charmeau.
"It's good to have many people supporting Ariane 6, but there is a nuance between 'support' and 'commitment'; they are not the same. And if I can get the commitment, I would be extremely happy."
Jonathan.Amos-INTERNET@bbc.co.uk and follow me on Twitter: @BBCAmos