Olive Harrisson: Story of unsung gardener revealed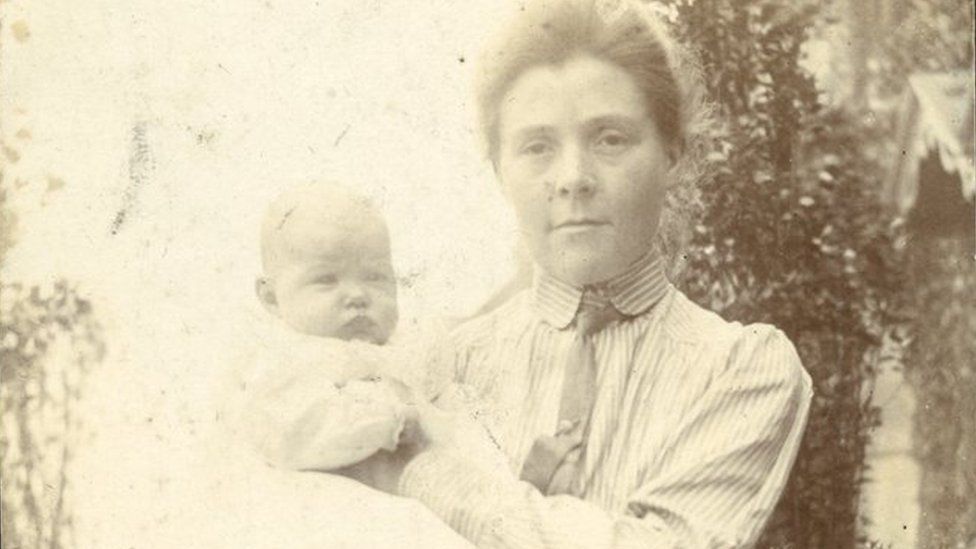 The story first came to light in a box of archives held by the Royal Horticultural Society.
The mysterious Miss Harrisson had come top in exams on the principles of horticulture - but wasn't allowed to claim her prize of a scholarship at the RHS because she was a woman.
Very little else was known about her, but within hours of the story going out on BBC Breakfast in September, viewers were sending emails and exchanging information on social media.
Her family have now come forward with information that fills in the missing gaps in her life.
The trail led to the Yorkshire town of Settle, where Olive, by then Mrs Edmundson, spent her final years.
Her granddaughter Alison Tyas says her grandmother was a groundbreaker, a heroine - and, for her, a granny who you could rely on for everything.
"I think my strongest memory really is as an eight, nine-year-old, being taken for walks in the country and being shown the names of all the flowers," she says. "She knew all their names."
In Alison's garden, overlooked by the Yorkshire hills, apples hang from neatly cordoned trees, cabbages stand proudly in the vegetable plot and pink sedums nod their heads in the breeze.
It's clear that her grandmother's green fingers have passed down the generations.
Alison's memories of her grandmother are of a woman who devoted her life to caring for family. But she never forgot her knowledge of plants. "It was always there, she could always make plants grow."
She says she always knew about her grandmother's success in the exam. Although Olive was denied her scholarship, she was given a medal, which she cherished all her life.
Olive was able to train at a college that accepted women - Swanley Horticultural College - and went on to work as a professional gardener.
Fiona Davison, head of Libraries and Archives at the RHS, visited Settle to meet Olive's grandchildren and examine family documents.
She says it is terrific to find out about the real person.
"Olive was a gardener all her life, which is really lovely to know and to know that she actually gardened professionally," Ms Davison says.
"So despite not getting the scholarship, Olive returned back to Swanley and went on to work for the Cadbury family as a gardener until she got married in 1904 - and then she had a family life."
Like most women of her time, Olive gave up her career when she married William Edmundson. She devoted her time to looking after her four children and eventually moved to Settle, to be near her daughter, Ruth, and her grandchildren.
Olive Mary Harrisson: An unsung gardening heroine
1898: Enters Swanley College of Horticulture and comes top in the RHS Principle of Horticulture Examination
1899: Takes a second course at Swanley
1901: Employed as a gardener by George Cadbury at Northfield Manor in Birmingham
1904: Marries William Edmundson. Olive gives up her career to look after their four children
1960s: Moves to Settle in Yorkshire to be closer to family
In the afternoon, Olive's granddaughter Alison leads me through the quiet back streets of Settle to see the house where Olive first lived when she moved to the town.
Even in her final years Olive helped with her daughter's garden in the grounds of the Quaker Meeting House.
She moved into the house in the last few months of her life. The peaceful garden has lawns, flower beds and trees. A few pink crocuses at the base of a tree raise their heads to the autumn sunlight.
Olive's grandson, Chris Harrisson Petrie, who was given her surname as a middle name, joins us there.
"I suppose it's her last garden," he says.
He leads me down the steps beside the church to a memorial stone, which bears her name
"This is the memorial," he says. "She died after about four years in Settle. But then she was 92. So a good life, well lived."
You can see more details of Olive Mary Harrisson's life in a display at RHS Garden Harlow Carr and RHS Garden Wisley.