Orion capsule: Europe delivers astronaut spaceship's first 'powerhouse'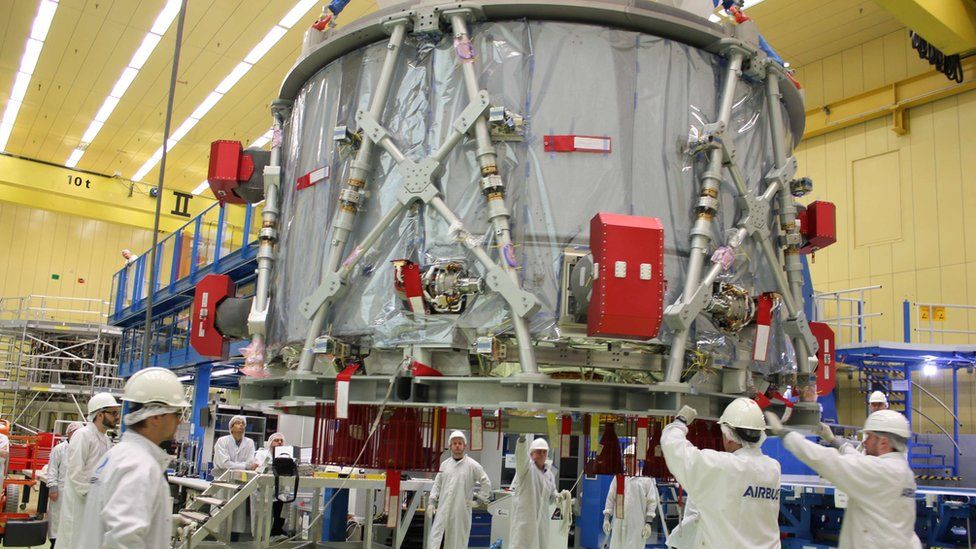 European industry has handed over a key part of the spaceship infrastructure that will eventually take humans beyond Earth into the wider Solar System.
At a ceremony at Bremen airport in Germany, American officials accepted the first service module that will power an Orion capsule.
Orion is the next-generation vehicle that the US is developing to carry astronauts to the Moon and on to Mars.
A first flight of the trans-Atlantic spaceship combo is scheduled for 2020.
Known as Exploration Mission-1 (EM-1), this will be an uncrewed demonstration outing. Astronauts are expected to climb aboard a second flight a couple of years later.
Friday's ceremony marked a significant milestone in the US-European collaboration.
This is the first time America has gone outside its shores for such an important piece of human spaceflight hardware.
The European Service Module (ESM) is essentially Orion's back end. It will provide propulsion, an electricity supply, thermal control, and all the gases and water needed to sustain any humans riding inside the capsule.
Fully loaded, an ESM will weigh 13 tonnes. Most of that will be fuel to drive the module's main engine and its 32 smaller thrusters.
Bremen is home to a major manufacturing facility for European aerospace company Airbus.
The firm has led the construction of the ESM over the past four years under contract to the European Space Agency. Esa formally passed the hardware on to its American counterpart, Nasa, at the German airport.
On Monday, an Antonov cargo aircraft will ship the ESM to Nasa's Kennedy Space Center in Florida. It is there that the service module and Orion will be linked together via a structure called an adaptor.
An extensive series of tests are then planned - including several months in a space environment simulator - ahead of the June 2020 mission.
That flight will see the combo travel 64,000km beyond the Moon in order to demonstrate system capabilities and their readiness to support astronauts on EM-2, which is currently projected for 2022.
"We're building a grand, new exploration system," said Mark Kirsasich, the manager of the Orion Program at Nasa.
"It incorporates something called the Space Launch System, which is our new rocket; it will be the largest rocket that humans have ever built. And Orion. These elements are designed to take people further into space than they've ever gone before, and the Esa service module is the powerhouse. [Orion] can't go anywhere without it.
"The Airbus team has worked so hard to put this spacecraft together and it's a great accomplishment," he told BBC News.
The BBC is not responsible for the content of external sites. YouTube content may contain adverts.
Skip youtube video by Airbus Defence and Space
Allow YouTube content?
This article contains content provided by Google YouTube. We ask for your permission before anything is loaded, as they may be using cookies and other technologies. You may want to read Google's cookie policy, external and privacy policy, external before accepting. To view this content choose 'accept and continue'.
The BBC is not responsible for the content of external sites. YouTube content may contain adverts.
End of youtube video by Airbus Defence and Space
Because the service module is an expendable component (it is dumped prior to Orion's return to Earth), a second ESM will be required for the later flight.
This unit is already under construction at Airbus in Bremen, and some long-lead items needed for EM-3 are also being procured. The US-European relationship on Orion is intended to be a long-term one.
The service module represents a barter arrangement between Europe and the US; it is an "in kind payment" Europe makes to America to cover its subscription to use the International Space Station.
In the future, the arrangement will likely be extended to a project known as the Lunar Gateway. This is envisaged as a kind of space station that would operate in the vicinity of the Moon.
"We really hope that we'll build more service modules," said David Parker, Esa's director of robotics and human spaceflight. "What Nasa is looking for is one a year. This would be great; and for us to contribute to the Gateway, our basecamp for exploring the Moon. It's an exciting future for the next decade."
Oliver Juckenhöfel, the head of on-orbit services and exploration at Airbus, paid tribute to all those who had got the service module ready for shipping.
"Seeing ESM-1 being removed from the integration stand and moved to the transport container - it was very satisfying for all the teams who've been working in three-shift mode over the last months," he told BBC News.
"They've worked so hard, and it's a really great thing, not just for Airbus but for our partners here in Europe, in Esa and in Nasa. It's a large family."