ExoMars: Life-detecting robot to be sent to Oxia Planum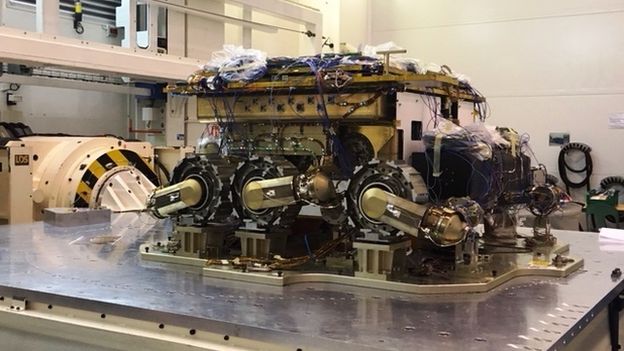 The robot rover that Europe and Russia will send to Mars in 2020 will be targeted at a near-equatorial site on the Red Planet known as Oxia Planum.
The area was recommended by an expert panel meeting at Leicester University.
Oxia is rich in clays and other minerals that have resulted from prolonged rock interactions with water.
The ExoMars vehicle will carry a drill and sophisticated instruments to this ancient terrain to look for signs of past or even present life.
Technically, Oxia remains just a recommendation at this stage; it still needs to be signed off by the heads of the European and Russian space agencies.
The two-day gathering in Leicester was informed by specialists in Mars geology, and engineers whose chief concern was identifying a location that minimised the risks of landing.
Getting down safely to the surface of the Red Planet is notoriously difficult. More than half of all missions that have tried have failed.
The most recent European effort in 2016, for example, crashed into the ground at over 300km/h.
The LSSWG had been discussing landing options for more than four years, pulling in comments from the wider community.
But this week's meeting came down to a straight fight between Oxia and a place just to the north called Mawrth Vallis.
Both "finalists" hold promise for finding the traces of long-ago microbial activity. However, after hearing all the submissions - the working group has decided Oxia represents the best combination of compelling science and engineering caution.
Oxia lies about 18 degrees north of the equator, ensuring ExoMars' solar panels will get good exposure to sunlight all year round.
But it is the potential of what could lie under the rover's six wheels that most excites researchers.
Observations from orbit suggest the surface materials at this location contain abundant clays - the type of sediments that will result from rock-weathering processes involving water.
Investigations by the American robot Curiosity at another site halfway around the planet have already found fine-grained, clay-bearing mudstones that were laid down in a lake setting.
Researchers see evidence for lakes at Oxia, too - and rivers and deltas. And with ExoMars' specific life-detecting technologies, it might just be possible to find the traces of biological activity in the sediments.
Prof John Bridges from Leicester University is a member of the working group. He commented: "With an enormous catchment area the sediments will have captured organics from a wide variety of environments over a long period of time, including areas where life may have existed. The fine sediments should also be ideal for the ExoMars drill - it aims to get to 2m depth."
The rover is set to blast off from the Baikonur cosmodrome in Kazakhstan between 25 July and 13 August 2020. Arrival would occur on 19 March, 2021.
The entry, descent and landing strategy will incorporate a capsule, a parachute system and a landing platform fitted with retro-rockets.
One key advantage Oxia Planum had over Mawrth Vallis in the selection process was elevation. This is considerably lower at the former - by about 1,000m. This extra altitude affords more time for a parachute to bite the atmosphere and slow the approach to the ground.
The European-led rover is being assembled by Airbus at its UK manufacturing centre in Stevenage.