UK industry to make new 'Hotbirds'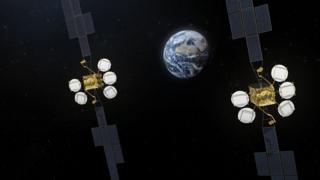 British industry is going to build two new spacecraft for the big Paris-based telecoms operator Eutelsat.
Airbus will be the manufacturer, which will be supplying its new "all electric" Eurostar Neo model.
Developed in a European Space Agency R&D programme, Neo promises a faster build with a 30% reduction in cost.
Eutelsat will use the two spacecraft to replace its flagship "Hotbird" TV distribution network positioned high above the equator at 13 degrees East.
The current trio of spacecraft in this location deliver over a 1,000 channels to 135 million homes across Europe, North Africa and the Middle East - including BBC services.
The contract, worth "more than €200m", is a welcome boost to the Airbus factories in Stevenage and Portsmouth in the south of England, and their supply chain.
Why is this deal important?
These UK facilities have made a quarter of the world's big telecommunications satellites, but this is a market that is presently experiencing a period of stasis as major operators ponder their next purchases.
The rapid evolution of technologies and the rise of smaller satellites that can be linked together in mega constellations have resulted in a dip in demand for the traditional multi-tonne telecoms spacecraft.
In the past decade, there have been years when 20+ such satellites have been ordered. Monday's procurement represents two of only seven big platforms that have been openly competed globally in 2018.
Nicolas Chamussy, the director of space systems at Airbus, said he thought the market would bounce back eventually, and that Neo especially would prove popular as operators started to overhaul their ageing fleets.
"This new-generation platform is of extreme importance because it is the inception of a new product. It's top of the class with very high performance. This puts us - and especially British industry - ahead of the market," he told BBC News.
What's different about Neo satellites?
Neo uses ion thrusters to position itself in the right part of the sky. This type of propulsion system, which produces thrust by accelerating atoms of xenon through a nozzle, is highly efficient. Much less fuel is carried on a mission in comparison with the needs of established chemical thrusters.
The savings in weight and volume can either be used to pack in more payload and performance, or to produce a lighter platform that can ride a smaller, cheaper rocket to orbit.
In the case of the new Hotbirds, they will go to the launchpad in 2021 weighing 4.5 tonnes each. Without electric propulsion they would easily top six tonnes.
Airbus says the new modular design of the satellites means their production timelines can also be trimmed, from 30 months to 24 months.
The development of the new spacecraft architecture was supported by Esa's Artes programme which aims to find the technologies to keep European manufacturers competitive on the world stage.
The UK is the member-state that makes the largest contribution to this agency programme, investing €500m over the period 2016-2021.
What's the Brexit context?
Six of Eutelsat's next seven spacecraft are bing built in Britain, which includes another Esa-Artes-inspired project called Quantum. This will be a "software defined" telecoms satellite, meaning its coverage, bandwidth, power and frequency can all be reprogrammed from the ground. This flexibility will enable Eutelsat to move Quantum to a different part of the globe and service its markets, instead of launching another bespoke satellite.
Eutelsat CEO Rodolphe Belmer commented: "We continue to be hugely impressed by the expansion of the UK space sector, particularly its growing industrial capabilities, the development of cutting-edge technology, and the quality of the people working in the sector."
Science Minister, Sam Gyimah, was present at the Airbus-Eutelsat contract signing in London. With a nod to the political turbulence that presently surrounds Brexit, he said the Paris company's inward investment represented a very positive development for the space sector.
"At this particular time, it's good to see a vote of confidence in the UK space industry, in terms of the talent and the skills we have here to deliver world-class contracts."
Jonathan.Amos-INTERNET@bbc.co.uk and follow me on Twitter: @BBCAmos