Science cuts could see experts leave UK, warns Nobel laureate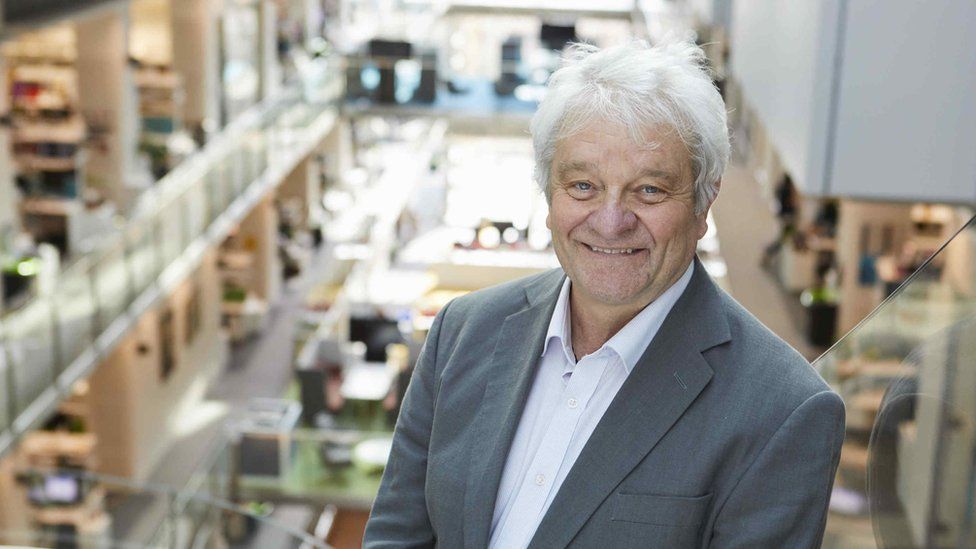 "Catastrophic" cuts to the UK's science budget could result in top scientists leaving the country, a Nobel laureate has warned.
Sir Paul Nurse also said science was crucial to the UK's reputation overseas and for dealing with climate change.
Scientists are concerned the UK's domestic science budget will have to foot a bill that has arisen as part of the UK's Brexit deal with the EU.
The UK science funding body might have to absorb a cost of £2bn a year.
This would have to come from an investment budget, administered by the funding organisation UK Research and Innovation (UKRI), of £9bn in 2020/21. Such a large bill would necessarily result in immediate cuts to research programmes it has already agreed to fund.
"Some of the cuts we have been hearing about would be catastrophic, even existential," said Sir Paul, who is chief executive and director of the Francis Crick Institute in London, and was awarded a Nobel Prize for his work on proteins that control cell division.
"It will drive scientists elsewhere, it will destroy networks, it will damage the UK's soft power... to make connections throughout the world, which is of course another policy of government. None of this makes any sense."
UKRI acts as an umbrella body for nine councils which oversee specialised areas, such as the Medical Research Council and Innovate UK.
But there are concerns UKRI might now have to cover the cost of the UK participating in a key EU research programme, Horizon Europe.
The UK's contribution towards Horizon 2020, the programme that preceded Horizon Europe, had come from the UK's overall contribution to the EU and not from the UK's research and development budget.
If UKRI was made to cover the expected cost of Horizon Europe without additional support, it would have to make cuts that eclipse the total budgets of its two largest research councils.
Scientists argue that such large budgetary cuts would undermine the government's stated aim of making the UK a science superpower.
"It is science that has rescued us from Covid... it is science that generates discovery - and that discovery generates innovation, which drives the economy. Science is critical for the creation of wealth," said Sir Paul.
He added that science would also be crucial for dealing with the challenge of climate change.
A BEIS spokesperson said: "We are working with our delivery partners, including UK Research and Innovation, to implement a new research and development settlement for 2021/22 - which includes our participation in Horizon Europe - as part of our wider commitment to maintain the UK's world class reputation for science, research and innovation.
"In particular, this year alone we will spend more than £10bn to address poverty, tackle climate change, fight Covid and improve global health. We are also backing our new Advanced Research and Invention Agency with £800m to support transformational high risk, high reward science."
Meanwhile, Aid funding in developing countries, or Official Development Assistance (ODA), has also been hit by government cuts.
UKRI has been given £125m in ODA funding by BEIS for the financial year 2021-22, but has £245m in existing funding commitments.
The £120m shortfall means UKRI has to cut ongoing research projects in the UK and developing countries.