China 'can save $1.6 trillion by scrapping coal', report says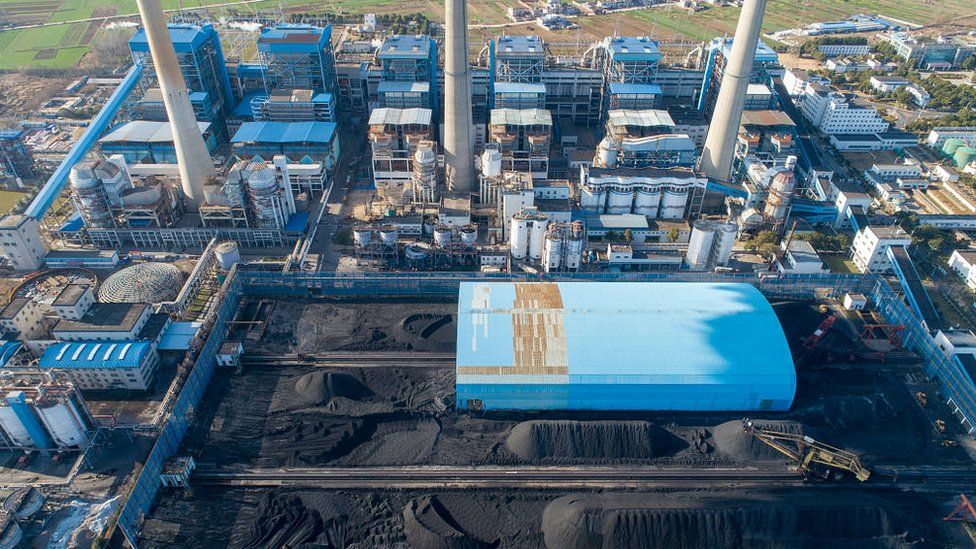 China can save up to $1.6 trillion (£1.2 trillion) over 20 years by switching from coal power to renewables, a report says.
The authors say China must close 588 coal-fired power plants in a decade to meet climate pledges - but they insist the move will save cash.
It mirrors the situation in the US, where coal tumbled from being the cheapest major fuel to the most expensive.
China is currently running 1,058 coal plants – more than half the world's capacity.
The authors of the report from the climate think tank, TransitionZero, say to meet its stated goal of becoming "carbon neutral" by 2060, China must take radical action now.
China has announced it's building five new nuclear stations to supply clean power – and President Xi has announced he will join a French-German climate summit on Friday.
It's also the world leader in wind turbines and solar panels.
But over the past year the country has strayed in a high-carbon direction, with regional governors building new power stations to stimulate economic growth.
The report warns that China's 14th Five-year Plan risks creating "stranded assets" – that's coal plants which get built but not used.
It's based on satellite technology and machine learning, which are being used for the first time to determine exactly how much CO2 China's power sector is emitting.
Western diplomats have been suspicious about the nation's data, which is published on a provincial basis every month.
The UK and the US, by comparison, publish CO2 data at plant level every day. Accurate numbers are essential as countries attempt to fulfil their pledges to reduce emissions.
Matt Gray, one of the report's authors, told BBC News: "There has to be credible data on emissions so nations can trust each other in climate negotiations.
"Independent of climate considerations, our analysis finds China could save money, reduce stranded assets and improve its international reputation by replacing coal plants with zero-carbon alternatives," he said.
Former US vice-president Al Gore, one of the sponsors of the research, said: "The economic opportunity presented by a transition from coal to clean energy shows that climate action and economic growth go hand in hand."
Byford Tsang, from the think tank E3G, told BBC News: "The numbers behind the report look pretty robust – in some Chinese provinces, renewables are already equivalent to or cheaper than coal."
According to research published by the Global Energy Monitor, a recent boom in coal-fired power construction in China is offsetting the cuts made in the rest of the world.
China completed 38.4 GW of new capacity in 2020, higher than the 37.8 GW of coal plants that were retired globally. It commissioned 76% of the world's new coal plants last year, up from 64% in 2019, according to TransitionZero.
The US climate envoy John Kerry is in Shanghai for talks with Chinese climate negotiators.