Climate change: Ukraine war prompts fossil fuel 'gold rush' - report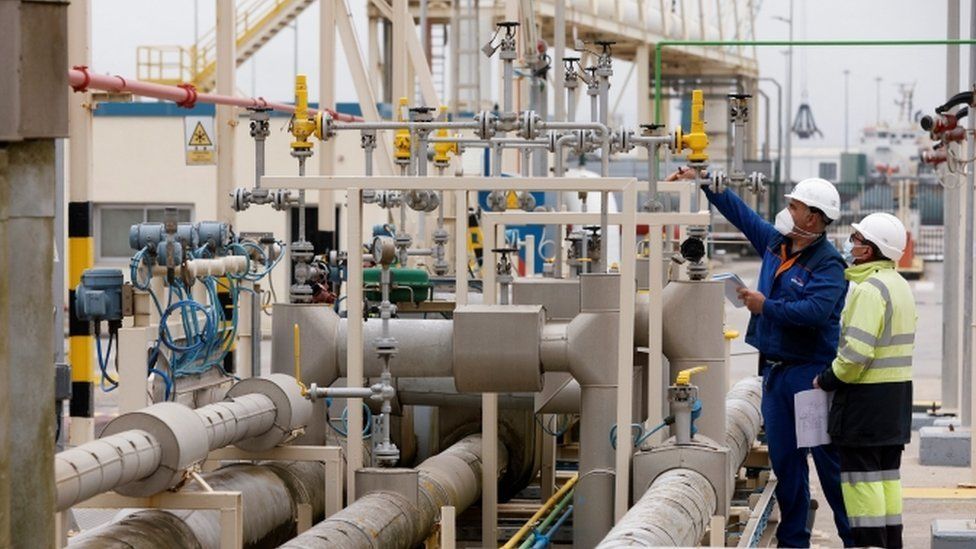 The world is witnessing a "gold rush" for new fossil fuel projects, according to a new report by leading climate change researchers.
Soaring energy prices spurred by Russia's invasion of Ukraine have led to new investment in oil and gas.
A report by Climate Action Tracker (CAT) says the world risks being locked into "irreversible warming".
There is broad consensus that the emission of gases produced by fossil fuels must be dramatically cut by 2030.
That is seen as the only path that would keep global temperature rises to 1.5 degrees and avoid the most damaging effects of climate change.
"There seems to be really a gold rush for new fossil fuel infrastructure," Professor Niklas Höhne of NewClimate Institute, a CAT partner, told BBC News.
"Supposedly it helps with short-term energy supply, but new infrastructure once it's built will be there for decades and we will definitely miss the climate targets," he said.
The report comes as diplomats meet at the UN Bonn Climate Change conference amid new, energy security worries.
US envoy on climate change John Kerry warned in a BBC interview ahead of the conference that the war in Ukraine must not be used as an excuse to prolong global reliance on coal. He criticised a number of large countries for not living up to the promises they made at the COP26 climate summit in 2021.
Since the start of the war in Ukraine most Western countries have sought to reduce or completely stop buying Russian fossil fuels.
Many have announced more ambitious targets for transitioning to renewable energy sources like wind and solar, while also seeking non-Russian sources of gas and oil.
Climate Action Tracker (CAT) says new liquefied natural gas (LNG) facilities are now proposed in Germany, Italy, Greece, the Netherlands and Canada. The US, Qatar, Egypt and Algeria have all signed deals to export LNG to different parts of the EU, while gas projects are being revived in west Africa.
"If all these plans materialise they will either end up as massive stranded assets or they'll lock the world into irreversible warming," the CAT report says.
UN scientists have identified certain events like the melting of large ice sheets, or permafrost, which might act as "tipping points" unleashing further accelerated climate change.
The EU's plans to move away from using Russian fossil fuels and towards renewables have been criticised for continuing to fund fossil fuel infrastructure.
As part of what's called "REpowerEU" up to €12bn have been earmarked for gas pipelines and import facilities for liquefied natural gas (LNG) in what the European Commission says is a short-term move to secure energy supplies while renewable capacity is built.
In the UK, regulators last week approved the development of a gas field in the North Sea, east of Aberdeen, which has the potential to produce 6.5% of Britain's gas output. Shell's proposals for the Jackdaw field were initially rejected on environmental grounds in October last year and approval came as the UK government seeks to boost domestic energy output.
"We're turbocharging renewables and nuclear, but we are also realistic about our energy needs now," UK Business Minister Kwasi Kwarteng posted at the time on Twitter. "Let's source more of the gas we need from British waters to protect energy security."