Yrsa Daley-Ward: The model who turned her pain into poetry
By Taylor-Dior Rumble
BBC News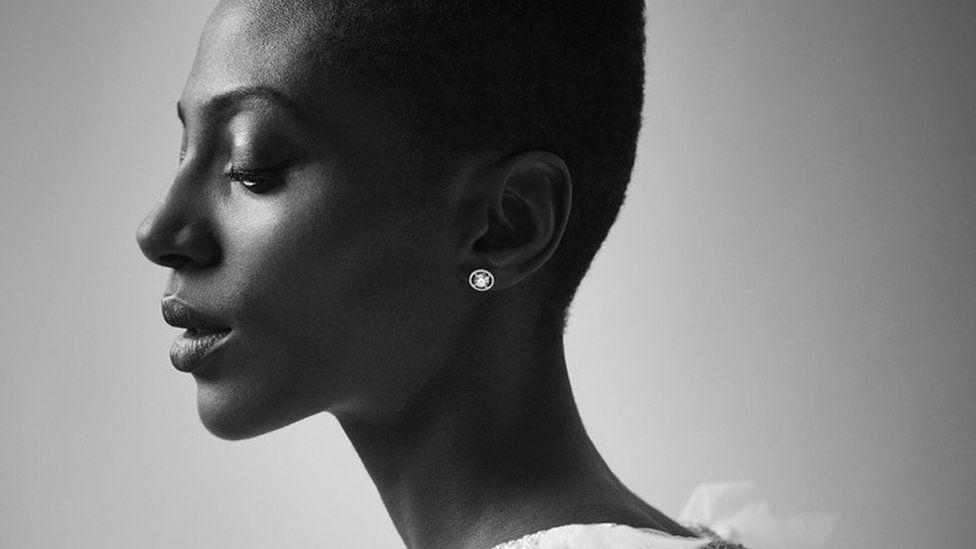 The Instagram poet Yrsa Daley-Ward has had a difficult life - an unsettled childhood, the loss of her mother and struggles with depression. But it's these things, she says, that have made her the person she is and added an extra dimension to her first, recently published collection, Bone.
It was an episode of Coronation Street that prompted Yrsa Daley-Ward's mother to make a confession. The soap's storyline revealed that one character long supposed to have been another's father, was in fact her stepfather.
And that was what Daley-Ward's mother suddenly came out with too - the man Yrsa had been brought up to believe was her dad was not her dad after all.
It was a shock, but far from the only episode in her childhood worthy of a soap.
Daley-Ward describes her relationship with her mother as "interesting". While her biological father was never part of her life, her mother was also far away for four very important years.
"Growing up, my mum had to make lots of decisions that I didn't understand at the time," she says.
After splitting up from her "father", Daley-Ward's mother had to work nights and she decided to send her children out of London to Lancashire, to live with their grandparents. So at seven years old, the young Yrsa and her even younger brother found themselves in a very different world. Their grandparents were - and still are - strict Seventh Day Adventists.
"There are many rules - it's a sect of Christianity that adhered to the Old Testament," she says, and in particular to the Ten Commandments. Daley-Ward learned the Bible inside out and had to spend her free time handing out leaflets about the Second Coming.
She thought this was unfair. She also noticed that despite her hard work, the church's members were judging her harshly - as she remembers in her poem, Sabbath."
"Your skirt is split too high for church. The elders glare. You are your mother's daughter. Always meaning well and falling short. 'Where is she these days?' they inquire with knowing faces."
The hardships and challenges continued when suddenly, when Yrsa was 11, the children moved back to London to live with their mother again. She was still working nights as a nurse, and Yrsa often found herself left alone in charge of her brother. It was the opposite of the strict religious upbringing they had become accustomed to.
"She was still, to us, very absent and always working, always striving for the next thing," Daley-Ward says.
"She was doing that to make things better for us but the loss you just feel at that age… As a child you're going to read that as rejection whether or not that's the truth."
Perhaps this is why, despite many years now living in London and abroad, Daley-Ward still speaks with a Lancashire accent.
When she was still young, Daley-Ward left home to live with an older man. Then, in 2007, her mother died. Daley-Ward was at this point struggling to make ends meet, while working as a model, and became depressed.
"I was just going under and it was really difficult trying to keep your head above water, trying to pay rent and trying to stay positive without any support," she says.
The lack of opportunities for black models made matters worse. Even today Daley-Ward notices that the big magazines have 10 white models for every black one.
"It's the same black girl or other black girls who look similar and there's such a range of us, right?"
So she packed her things, and spent the little money she had on a plane ticket to South Africa.
"The thing that attracted me to South Africa was that the models look like me and there's so much more diversity," she says. She intended to stay for two months but ended up living there for three years.
It was in a bar in Cape Town that she rediscovered her love of poetry.
Daley-Ward had been a big reader from early childhood and "had a curiosity about storytelling and understanding why people do the things they do". She had started submitting poetry to journals at the age of 17, and receiving one rejection after another.
By the time she arrived in South Africa, however, she had long given up.
"I forgot that I was a writer, and wondered why I didn't feel right," she says.
One night she attended a spoken-word performance where anyone could perform, so long as they prepared something under the designated theme. And the theme for the next meeting was something that Daley-Ward could identify with - family discord.
"Well, that's going to be easy," she thought.
The following week she was ready to perform.
"It's not that Dad doesn't love you or your brother, said Mum, greasing up our ashy legs with Vaseline, or that your Auntie Amy's a man-stealing, cheating, back-stabbing bitch who can't keep a man so she has to steal somebody else's."
This poem, True Story, captures the moment when her mother's marriage broke down as a result of her stepfather's infidelity.
"Everybody thinks they're right and everybody wants to be forgiven," Yrsa says. "Everybody is kind of at fault and this was a story of a young child just trying to piece it all together."
Another poem - called Poetry - touches on the same theme, evoking the tension that can exist when a family sits down to eat, and "the meat and yam stick in your throat".
Daley-Ward ended up self-publishing a book of poems, Bone, some of which grew out of these sessions in South Africa. The same work made her a star on Instagram.
Many of the poems deal with the pain of her early years. As a poet, she embraces all these hardships.
Without them "I wouldn't have that wisdom," she says, "the experience makes you so rich as a person."
"I believe that every experience is positive and I wouldn't have a book of poetry if I hadn't gone through challenging times. Poems about trees and flowers are lovely but it's definitely not my purpose to write about them."
Challenging times certainly inform one of Yrsa's most notable poems, Mental Health.
As she posts a few lines, her Instagram followers leave comments like: "I needed this one," "I read this during my last depressive episode and cried and cried…" and "Thank you for your words - so heart-wrenchingly beautiful."
"When the blood in your body is weary to flow, when your bones are heavy though hollow, if you have made it past thirty celebrate and if you haven't yet, rejoice. Know that there is a time coming in your life when dirt settles and the patterns form a picture."
"It was so easy to write!" she says. "Because it was just everything I really, really felt. The truest things for me are the easiest to write because it just comes straight from the heart."
Writing is also a healing process, she argues.
"That's always going to make you feel less isolated and isolation is the thing that's really going to keep you marooned underneath whatever is happening.
"As difficult as it might seem, you'll be surprised to find a lot of allies and a lot of support."
Even people who don't consider themselves writers, should consider writing for their own good, she says.
"Getting up in the morning and just brain dumping can sometimes be really beautiful and make you feel a lot lighter."
Despite her complicated relationship with Seventh Day Adventism, and with religion generally, Daley-Ward believes that some kind of spiritual practice is also helpful, even if it's only meditation.
"That's really important today when we're bombarded with news and facts and negativity," she says.
"You can't let it feed your brain, you have to feed yourself with positivity."
Her next project is a memoir called The Terrible.
Like Bone - which was republished by Particular Books, an imprint of Penguin, last year - it will take the terrible experiences of her youth, she hints, and will see the positive.