How do you get work when your cancer won't go away?
By Caroline Bullock
BBC Stories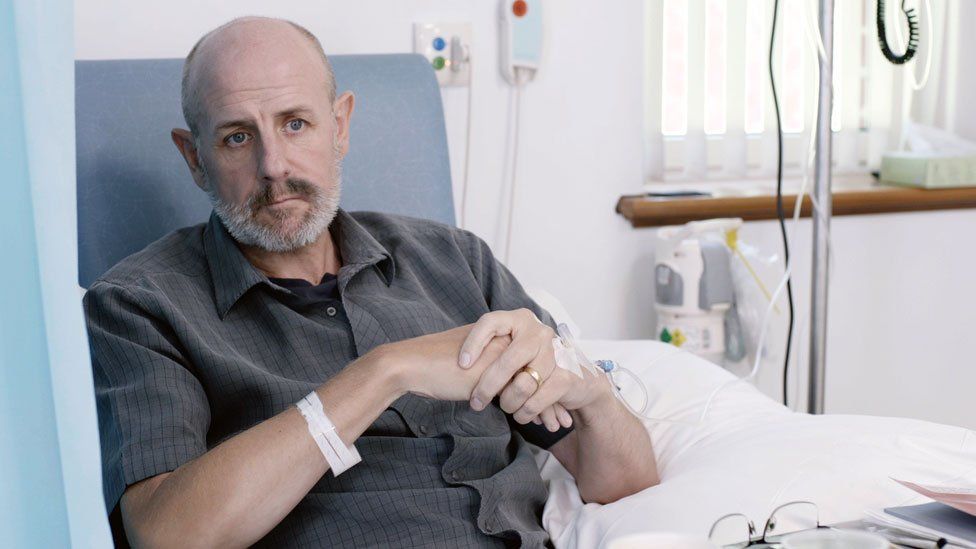 David Shutts was a high-achiever - a naval commander who became a champion of British business - until he was diagnosed with cancer. Quickly he discovered employers had little use for him, and the crushing blow set him thinking about a way the talents of people with chronic illnesses could be harnessed.
It began as a niggling back pain. Not enough to trouble the doctor with and easy to dismiss as wear and tear or a pulled muscle, so David Shutts ploughed on as usual, meeting the deadlines that kept coming and pursuing an active social life. But it didn't go away, and in two years the pain became constant, accompanied by unexplained weight loss and night sweats that saw him wake every morning in a pool of perspiration.
"I'm a bloke," he says, explaining why it took him so long to get checked out.
"I just carried on, and it was only when I was unable to operate the garden strimmer because my back was in agony that my wife lost her temper and made me go to the doctor."
He was sent for CT scan and when the diagnosis finally came, 10 days after his 50th birthday, it was brutal - a cancerous tumour on the left kidney had spread to the lymph nodes, lungs and bones. It was at stage four on a scale with no more levels, incurable, inoperable and left him, in his own words, "a ticking time bomb".
"You know as a 50-year-old with grade four cancer you're not going to live to 100 and that nothing is going to be the same again," he says. In fact, people with this diagnosis are not normally expected to live for more than five years, and - depending on the circumstances - possibly as little as six months.
"It turned out I had all the classic signs of kidney cancer but didn't recognise them. There's a reason why it's called the silent killer, because it's very good at hiding, hard to diagnose and tends to be found when you're looking for something else."
Shutts has the confidence and energy you'd expect from a man accustomed to commanding a large team at sea. At the age of 16 he beat 1,500 applicants to land an engineering apprenticeship in the Royal Navy, then rose through the ranks to take the helm of the destroyer HMS Daring - the most advanced warship in the fleet at the time.
It was his dream job, but by 2009 - at 45 years old and with an OBE to his name - he was ready for a new challenge. He took a job on land at a maritime logistics company, then moved to the Confederation of British Industry (CBI), to work as a regional director.
The cancer diagnosis changed everything.
For six months Shutts was treated with drugs and radiotherapy that left him feeling "like a wrung-out dishcloth". When he was stable enough to return to work he negotiated a one-day-a-week arrangement with the CBI, but he had a mortgage and bills to pay, so needed more. Something flexible that he could fit around his continuing treatment and the ebbs and flows of his illness.
He quickly discovered his options had shrunk dramatically - and that in fact his professional life was at an end.
This proved to be the toughest setback of all.
"It was the moment I really lost my mojo," he says.
"I'm pretty confident and never short of word or two but my self-esteem went completely and I was at my lowest ebb. I've been a chartered engineer, I'd got an OBE for leadership and now I was none of these things, just someone with cancer pretty much ignored and on the scrapheap and feeling like there was really nowhere to go or anyone to turn to.
"It was at this point that I really became aware of the true value of work and just how much it offers in terms of self-worth, self-esteem, social interaction."
It wasn't just the loss of income, he missed the camaraderie of working life. His mantra had always been "work hard, play hard" and he led by example. All of that was gone.
Sadness turned to anger when he thought of the millions of others who, like him, were now sitting at home with valuable skills and experiences that were going to waste, simply because they couldn't commit to full, or even part-time employment.
You might also be interested in:
Shutts's work for the CBI had also made him all too aware of the skills shortage facing UK businesses and holding back their growth.
An idea began to take root - a way of exploiting the talent pool of people with long-term, chronic illnesses.
One in two people born after 1960 in the UK will be diagnosed with some form of cancer during their lifetime, according to Cancer Research. About 100,000 people of working age are diagnosed with cancer every year, and a 2015 survey by Macmillan Cancer Support of 1,019 people living with cancer found that more than half had had to give up work or education, or change their role or hours as a result of their diagnosis.
The talent pool swells even further when other long-term conditions are considered such as heart disease, motor neurone disease and rheumatoid arthritis, and people who have had strokes, or are experiencing mental health problems.
Delving into his contacts book, Shutts met up with an old naval colleague, Simon Short, now head of growth at the cloud computing company, Salesforce. Over a pint, the concept of Astriid was born - an online tool that matches individuals with businesses that can use their skills for paid or unpaid work.
Jobseekers describe their skills and how and when they can work. Employers list the work they have available, and Astriid links them up.
The first match was between a woman recovering from ovarian cancer and a tech company looking for an inspirational speaker for its leadership programme.
Other employers are looking for someone with accounting skills to do the books for a couple of days per month, or staff to help with data inputting and data management. There is also a request for a telephone engineer in the M4 corridor to help with fault-finding.
None of these are full-time jobs, that's not the point of Astriid. They are jobs that people can do at times when they are feeling well enough to work. It helps if the schedule is flexible.
But Shutts's own experience shows that the person seeking work may also need to show some flexibility.
"It's not about saying, 'I'm an engineer and need to do an exclusively engineering role,' but also being open to new opportunities that perhaps tap into past skills. So in that sense it's a way of rebranding yourself through this technology," he says.
While a team of 70 Salesforce employees were developing Astriid - in time assigned by the company for charitable causes - he was scanning job ads in his local paper in Lincolnshire.
He took one job working as an exam invigilator at a local school, and while there one afternoon he started flicking through a GCSE maths paper.
"I just thought, 'I remember how to do this,'" he says. "It wasn't my background but I was a trained engineer so I went to my local college offering my services as a maths teacher. I met with the principal, had an interview and was offered a two-day-a-week job."
It was an arrangement that went some way to filling the void that had been there ever since the diagnosis.
"There wasn't much money in it but it didn't matter. It was all about the value of work - something to get you up in the morning, a reason to shave. When people asked what I did I could say, 'I'm at teacher,' and that was very important at the time. I felt like I had a role again in life and I was very proud to do it."
While a flare-up of his illness has curtailed this to one session a week, with Astriid now up and running his time is still filled with purpose.
"There's a real sense of belonging to something important. Everyone involved is making a good contribution knowing that this project has the potential to make a real difference to a lot of other people's lives if we get this right. And that feels invaluable."
Related Internet Links
The BBC is not responsible for the content of external sites.