I had it all - now I create a new world in a single room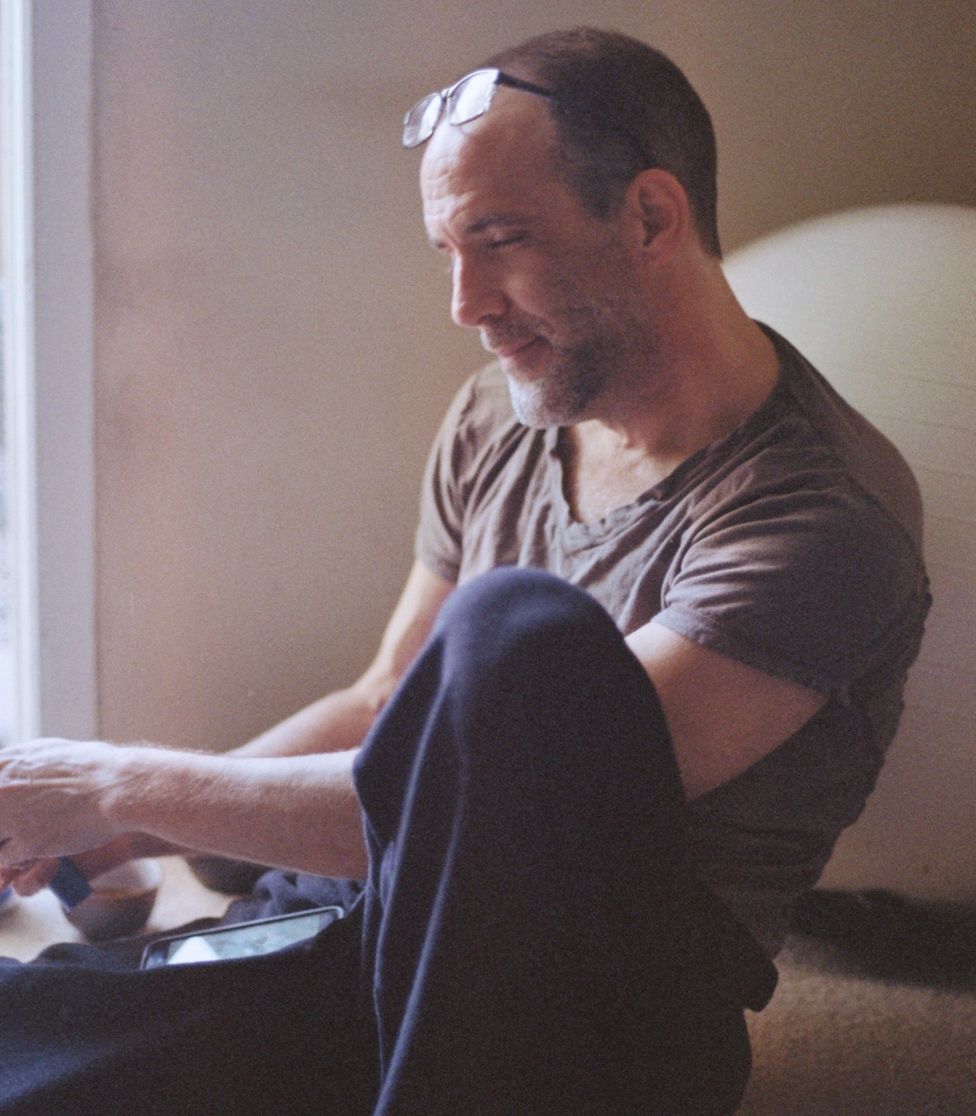 As Prince's art director, Michael Van Huffel became used to working at all times of day or night. But 10 years ago the debilitating neuroimmune condition ME left him barely able to move - since then he has had to find very different ways of making art, within the boundaries of a one-room apartment.
Spring 1983. Prince is about to become the biggest star on the planet, and Michael Van Huffel is a teenager growing up in Warren, Ohio, a decaying industrial town in the American Midwest. He's a student at Catholic school and one day, while at a friend's house watching MTV, his eyes land on Prince.
"It was the Little Red Corvette video and I saw him preening and dancing like some electric animal," he says. "It blew my mind. It genuinely changed the trajectory of my life."
Years later, Van Huffel moved to Prince's home town, Minneapolis, where he says he worked in music and visual art with "equal degrees of failure". But clearly not everyone agreed with that negative assessment - he was noticed by Prince's staff and soon began working at the artist's Paisley Park studio complex, offering technical support to the then-art director.
Van Huffel's first meeting with his boss didn't go well. "I was in the office alone, waiting to be given something, anything to do. I had been waiting for hours, with my feet up, smoking a cigarette and reading Prince's fan mail. Prince just walked in and stared at me. He asked where my colleague was. I was drenched in sweat and nervous as hell. Prince stared at me some more. Then he left."
Van Huffel was convinced he'd be fired, but actually he went on to design T-shirts, single covers and album artwork - and ultimately took over as the star's artistic director. In this role he could find himself having an impromptu stage-side meeting during a concert, or being asked to design an emergency single cover at 3.30am. In Prince's creative universe, work never completely stopped.
In the mid-90s, Van Huffel moved from Minneapolis to Hollywood, to work as a creative director on film projects. He also provided artwork for MTV, Nike and other companies. But in 2007 his career was brought to a halt.
You may also be interested in...
"It started with what I thought was flu that just wouldn't go away. I'd get extremely tired and I began to fall asleep while driving home from work," he says. "I would feel intense pain in my legs and I collapsed a couple of times when I was walking. It was more than a regular illness."
Two years and countless hospital visits later, Van Huffel was diagnosed with myalgic encephalomyelitis, also known as ME, or chronic fatigue syndrome - a condition that often leaves people feeling permanently exhausted and incapable of even the simplest daily tasks.
Like some other ME patients, he discovered that his medical insurance wouldn't cover all the treatment he needed. Unable to work, he was forced to sell his home in Venice Beach, his car and his personal collection of Prince-related memorabilia to pay his medical bills.
For the past seven years, he has lived alone in a one-room apartment. Most interactions are virtual and online, with visits from a nurse providing rare human contact.
"It's very difficult for me to leave the room. In a good month I may step outside two or three times for a short walk but there have been entire six-month periods when I will not leave the room at all," he says.
However, despite the narrow confines of his world, Van Huffel has started creating art again, using the camera on a phone he was given by a family member.
"This is represents looking out over a vista. I like the shadows and a little 'sheet on head' ghost peaking out at the centre. Every single photo is about confined space. That's what I have to work with. I pick up leaves and shine light through them to get shadows."
"I wanted to take pictures that look like something else. I guess the theme is limitation, but I try to take pictures that look like a landscape or the ocean," he says.
"It's all in my room but I try to make it look like another world."
Some of his most productive photoshoots have taken place during intense bouts of pain and illness.
"I will get violently sick to the point that I'm frightened. I need something to focus on. Perhaps I'll fill a mason jar with water and add some pollen from a decaying flower. I'll take an extreme close-up that looks like a galaxy. It's an escape," he says.
"I really do love the ocean. I look at Monterey Bay Aquarium's website all the time. It's a wildlife sanctuary close to where I live. I genuinely dream of going there one day. I've tried to recreate the look of things you'd find underwater. Tentacles or things swimming. This is a flower submerged in water in a tiny glass jar."
"This room is associated with IV drips, pumps and needles. There is a mattress on the floor. It's bleak. I don't like it. The photographs became a way to find something beautiful and meaningful amongst all this."
Some of the most popular images on Van Huffel's Instagram feed are "pretty" representations of things like flowers but he also experiments with other subjects, some including grime or naturally occurring decay.
Many of the objects he uses are found on his porch or outside his front door, and some are partially rotting by the time a picture is taken.
"I've tried to represent infinite, expansive space in lots of the images. I experiment with different types of pollen. This image is pollen shaken in water and back-lit with a mosquito zapper light."
Though he makes some money from prints, his finances are precarious.
"I have lost almost everything I worked for. I have disability status which means I get a social security payment, but I pay $500 a month for medical insurance. Add to that my rent and very basic living costs and I am running at a negative," he says.
"I have used up all my savings from the years I worked as a creative director in Hollywood. Having to auction the things Prince gave me broke my heart. I had to sell a one-of-a-kind CD case Prince made for me with his own hands, as well as one of his hats and one-off artwork he'd written guidance notes on. It's stuff that can't be replaced. I sold it because I absolutely had to."
There was one item, though, that didn't meet its reserve price, and remains in Van Huffel's possession - the gold discs of the Emancipation album, which Prince personally sent to him.
"I helped to design that package and Prince sent me the discs after I'd stopped formally working for him. It was a kind gesture. In a way, I am hopeful that I won't have to sell it. Maybe I'll get better and it's one item from my time with Prince that I can keep forever."
"Not believing in aliens, this is just fun to me. It's a way to imagine a different kind of life. I fill up bottles of water. I immerse stuff in soda water. The bubbles and the distortion allow me to make something when I can't really use more than a few feet of space in my room."
Relatively little is known about the long-term effects and treatment of ME. Michael is taking part in an academic study which aims to provide some answers. And he still has hope.
"People do get better from this illness," he says.
"There is some promising research; a reason to be optimistic. Being isolated, alone and broke limits my choices so I really hope the artwork will give me some personal agency back. Being creative gives me hope. Creating art allows me to feel productive again, to feel that I have purpose and I can make something within the boundaries of my condition and these four walls."
Pictures unless otherwise stated are by Michael Van Huffel. Follow Mobeen Azhar on Twitter: @Mobeen_Azhar