Goodbye Russia: A generation packs its bags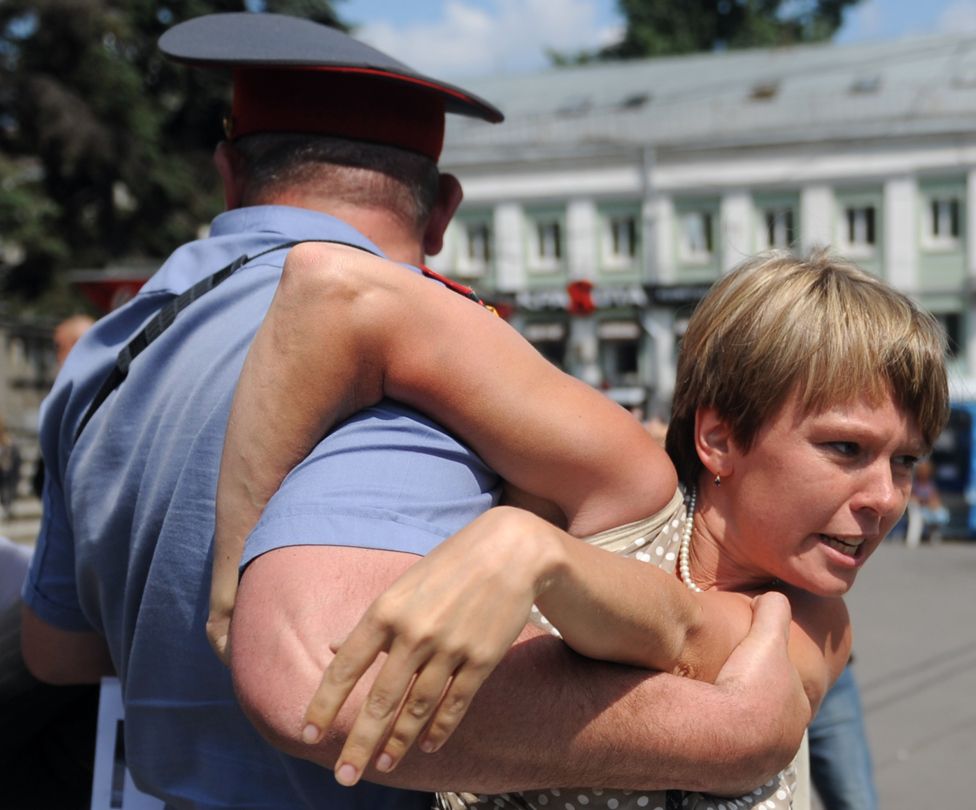 Russia's leading environmental activist is one of more than a million people - many of them young and well-educated - who have packed their bags and left the country in recent years, writes the BBC's Lucy Ash. Russian even has a word for the phenomenon, "poravalism".
"Do I feel homesick?" says Evgenia Chirikova. "Not really. Lots of people here speak my language. They are friendly, energetic and curiously polite. I'm living in the Russia of my dreams!"
She's talking about Estonia, her home for the last two-and-a-half years - a refuge from the persecution she faced as an environmental campaigner and an outspoken critic of Russian President Vladimir Putin.
Her career as an activist began 11 years ago, when Chirikova and her family were walking through the Khimki forest - a former Tsarist hunting ground filled with ancient oak trees, wild boar and rare butterflies.
"I was pregnant, looking forward to a picnic with my eldest daughter and my husband when I saw something odd," she says.
"There were red crosses painted on several oaks and birches. I wondered why these perfectly healthy trees needed to be chopped down."
Khimki was a protected forest, the "green lungs" of Moscow. Chirikova and her husband, Mikhail, had deliberately moved to the area from the traffic-clogged city centre, in order to be close to it.
On her return from the picnic, Chirikova got on the phone and alerted the authorities to what she had seen. She had assumed that a rogue company was trying to bend the rules, so she was astonished to discover officially sanctioned plans for a £5bn ($6.7bn) highway that would slice through the protected forest even though there were alternative, less environmentally damaging routes.
Officials at the Ministry of Natural Resources and the State Committee for Nature Protection assured her that the decision had been approved by the president himself - and later, as prime minister, Vladimir Putin signed a decree changing the forest's protected status to allow for "transport and infrastructure".
Chirikova suspected the real reason for allowing the road to go through the forest was to open up land near the capital to developers.
She left her engineering job to organise public opposition. The first demonstration of her group, Save Khimki Forest, brought 5,000 people on to the streets - one of the largest environmental protests in Russian history - and gathered more than 50,000 signatures. Her crusade convinced the European Bank of Reconstruction and Development and the European Investment Bank, major financial backers of the highway, to withdraw funding.
But success came at a cost. Chirikova was arrested several times and other activists and journalists were set upon by unknown assailants. When Khimki newspaper editor Mikhail Beketov raised suspicions that local officials were profiting from the motorway project, his dog was killed, his car was set on fire and finally he was attacked so brutally that he suffered brain damage and never regained the power of speech.
Chirikova remembers going to visit him in intensive care. He had lost several fingers, had a leg amputated and part of his skull was missing after a beating with an iron bar.
"My legs were shaking so badly that I just sat on the hospital floor," she says. "For the first time, I was really afraid. Anyone who could do such a thing to another person has no moral principles and I understood that a bandit regime had seized power in my country."
Chirikova herself was targeted in another way - through her "weak spot", her children.
"The authorities spread lies about me saying I smacked my daughters and didn't feed them properly," she says. "A guy from the security services came to our apartment block and asked my neighbours to sign a document saying I was a bad mother."
Her elder daughter was so upset by the sight of men in unmarked cars watching the family that she was too scared to go to school. When strangers knocked on the door, the girls would hide under their beds. Eventually the family had to move to a new neighbourhood closer to the centre of Moscow but the harassment continued, now in the form of threatening phone calls.
Listen to Russia's Exit Dilemma on the BBC World Service on Saturday 23 and Sunday 24 December
Click here for transmission times, or to catch up later on the BBC iPlayer
Chirikova says it took her daughters three years of therapy to recover. Her own anxiety continued to grow, however, especially when the Child Protection Service hinted that it might take her "abused" daughters away from her.
"I lay awake at night wondering what I would do if I were sent to prison and my daughters to an orphanage," she says. "In the end that is why I decided to leave the country."
Although she won a prestigious international award for her campaigning, Chirikova could not stop the highway linking Moscow to St Petersburg. But she believes that the original plans were modified and a smaller area of trees was destroyed as a result.
"More importantly," she says, "our movement showed other Russians that it is possible to fight against injustice, expose corruption and to hold the authorities accountable."
From Estonia she continues to encourage environmental activists across Russia via a new website, activatica.org, which runs stories about the campaign to save a Moscow park, about poisonous smog or the danger to Lake Baikal from new hydroelectric power stations.
"I feel like an expat in Estonia, not an exile," Chirikova says, "and it's close enough that I can travel to Russia whenever I need to."
Between 2000 and 2014, approximately 1.8 million Russians left the country, according to Alina Polyakova, director of research for Europe and Eurasia at the Atlantic Council in Washington. Earlier this year she warned the trend was intensifying and called this outward migration of largely well-educated young people "a significant national security threat to the Russian Federation".
Calculating the numbers of people who have left the country is complicated by the fact that most retain their Russian passports even if they gain passports or residence permits in other countries. The State Statistics Service counted 350,000 emigrants in 2015 - 10 times more than in 2010.
On the top floor of a shopping mall in Berlin I meet another of the new emigres, 33-year-old Asya Parfenova. She used to be a journalist in Moscow and took part in the Election Observers movement in 2012 and 2013, reporting on voters being ferried around polling stations - apparently voting multiple times - and on suspiciously stuffed ballot boxes.
"I'm probably the only one of my election observer friends who has never been in prison," she says, raising an eyebrow.
Asya started a company which enabled her to get a working visa in Germany. She runs an Escape Room - a team game in which players are locked up and have to solve complex puzzles, as a clock is ticking, to win their freedom.
"I like rules which are clear and we don't have those in Russia," she says. "The government is always pushing the idea of stability but Russia is actually the least stable place now because nobody can predict what will happen tomorrow, how laws will be interpreted - and this is very damaging for business."
Parfenova adds that many successful entrepreneurs in Russia are now trying to get a foothold in foreign markets. "They are trying to prepare, as we say, a 'spare airport', a safe place to land in case there is no possibility of landing in Russia any more."
Another new slang word has crept into the Russian language, says Artemy Troitsky, Russia's leading music critic - poravalism, or "time-to-get-out-of-here-ism". A high-profile poravalist himself, Troitsky now lives in Estonia, like Chirikova.
In 2011, he and several well-known intellectuals and opposition figures took part in demonstrations against election fraud. All wore symbolic white ribbons, and a rattled Vladimir Putin ridiculed them for "looking like condoms". In high spirits, Troitsky took to the stage dressed in a white, rubbery-looking sheath.
Later that year he faced an onslaught of defamation suits - but it took more than that to uproot him.
For Troitsky the decisive moment came after the annexation of Crimea in 2014 and the subsequent war in eastern Ukraine, when he was dismayed by what he calls "a nasty festival of nationalism, militarism and orthodoxy" in Russia.
Like Chirikova, he says concern for his children was the determining factor in his decision to leave.
"It really made me sick when I heard from them some things that they picked up at school or at the kindergarten. My little daughter Lydia started to tell me about fascists who want to invade our country and that we have to defend ourselves, that Putin is a great person and so on."
Troitsky, however, does get homesick and he remains immersed in Russian culture. Although he still visits Russia, he hopes one day to return for good.
He isn't sure younger generations will feel the same attachment, though. He says only a quarter of his friends' children in their 20s have opted to stay in Russia - the rest are studying, working and building new lives abroad.
London is another popular destination for Russian emigres, though one of the best-known now spends the majority of his life online, trying to change his country from outside.
Mikhail Khodorkovsky ran the Yukos oil company before he was jailed in 2003 on charges widely seen as politically motivated. After 10 years behind bars he wrote to Putin asking to be freed so he could say farewell to his dying mother.
"I was taken to the steps of the plane as a prisoner in a convoy. And when people in the Kremlin circle began discussions as to whether or not I could return I said, 'OK, I would be happy to come back to Russia. Just tell me, are there any strings attached,'" he says.
He leans back in his chair with a wry smile. "Literally within a month it was announced that a new criminal case would be brought against me, so the only way I could return was straight into a prison cell."
Like Chirikova, Khodorkovsky sees the internet as his "battlefield".
"They could think people like me are out of touch with day-to-day Russian reality," says the oligarch from the wood-panelled office of his Open Russia foundation. "And I need to convince them otherwise - so yes, you could say I live in a virtual world. That's the choice that I have made."
Asked what she loves about Russia, Nadya Tolokonnikova, replies: "It's like asking, 'What do you love about your mother?' It is just my mother and I cannot imagine myself without it."
She shot to fame aged 22 when she and two others from the Pussy Riot punk group were arrested for singing, "Virgin Mary, Mother of God, Get rid of Putin!" in a Moscow cathedral.
Tolokonnikova spent nearly two years in a prison camp, sewing policemen's uniforms for 16 hours a day. So why is she still passionately committed to staying in Russia?
"Language first of all, because now I feel like an idiot trying to explain my thoughts in different language. You cannot use details and semitones and melody of foreign languages as you can with your own. And that's precious. And culture and icons and religion, and cinematography and literature, and Russian people who are wild, dangerous, creative, and extremely brave.
"I really do love to be inside of this courageous community of people who are risking their lives trying to change their country. It gives sense to my life."
After her release from prison, she set up MediaZona, an independent news website that focuses on the legal system, and Zona Prava (Zone of Justice), which campaigns for better prison conditions. When she was behind bars in Mordovia, in northern Russia, she was appalled that seriously ill inmates were denied medication.
"And right now we have a couple of dozens of cases that we won in the European Court of Human Rights and it helps, it helps not just individuals but hopefully it pushes the whole prison system to be scared of NGOs and human rights workers because nobody wanted to be exposed."
Tolokonnikova says most of MediaZona's readers are under 35, they have inquiring minds and they're increasingly impatient for change. She believes that a thirst for adventure, for meaningful action and pride in Russia - not to be confused with nationalism - might just stop some leaving, and bring others back. The young people who protested against corruption in many cities earlier this year also give her hope.
"They're real patriots. They are not the Putin type of patriots who prefer to live abroad but just take money from the oil and gas industry. Those people who are protesting right now against Vladimir Putin, they want to make life better in their own country. They want to develop economy, art, media. They want to have better television channels, not only propaganda machine as it is right now."
Related Internet Links
The BBC is not responsible for the content of external sites.