The £10-a-game poker player who won $2.6m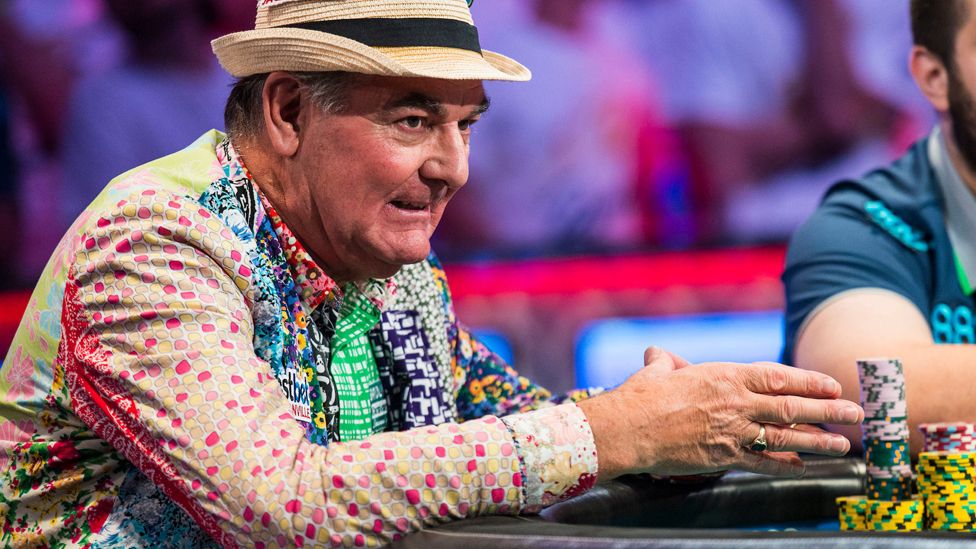 John Hesp sells caravans in Yorkshire for a living and plays poker once a month at his local casino - so it was a huge shock when he went to Las Vegas and won a small fortune. But perhaps it's just as surprising that his life hasn't changed a bit. He's still selling caravans, playing poker with a £10 ($14) stake, and going on holiday two hours' drive from his home.
I'm at a poker festival in an east London casino and with more than 300 tournament players around 34 tables, the room is thrumming with the muttering of calls and raises. There is a victory whoop here, a groan of defeat there, and the constant clacking of chips riffled by players contemplating their next move.
There are lots of dark sunglasses and hoodies, sported by those striving for the textbook inscrutable "pokerface". There are scarves and snoods to conceal neck-vein bulges when attempting a major bluff. With a £440 buy-in and five-figure prizes up to £43,000 for the top five finishers, for many participants this is serious business.
One player, though, is taking no such precautions. Clad in a loudly-coloured jacket and Panama hat, John Hesp, a 64-year-old caravan seller and grandfather from Bridlington, seems more interested in chatting to his neighbours and flashing smiles at the dealer. Compared with his younger, stiffer tablemates, he's conspicuously relaxed.
An unknown figure this time last year, having only ever played in low-key games at pubs and his local casino in Hull, Hesp made history in July by entering the game's most prestigious tournament - the World Series of Poker (WSOP) in Las Vegas - finishing fourth out of 7,220 entrants, and winning $2.6m (£2m).
The unorthodox Yorkshireman captivated the poker world with his colourful attire and jovial demeanour. Many of the game's biggest names, having been pipped by the amateur to the final table, ended up rooting for him to win.
"I'd never have dreamed in my wildest dreams that it could happen," Hesp says, during an interval at the 888Poker Live London Festival.
"It's just something that was on my bucket-list for ages. My aim was to finish in the top 1,000 and have some fun.
"I'm not a seasoned player playing four or five times a week - it was once a month at my local casino in Hull on a £10 buy-in. So to progress to £2m and international poker superstardom almost overnight has been a proper fairy tale."
While many in his shoes would immediately have chucked in the day-job and jetted off to the Caribbean, John returned to his Bridlington caravan business where he continues to work four days a week. He did allow himself a short break, but not on a tropical island - at his static caravan in Pateley Bridge in the Yorkshire Dales.
"I have to say I'm very boring," he says. "I don't spend large sums on flashy clothes or Rolexes. I've gifted a big chunk of the money to family and invested in another business as a sleeping partner. But I'm still driving the same car."
The car is a silver Land Rover Discovery, with 25,000 miles on the clock - though he also owns a classic DeLorean sports car, the type made famous in the Back to the Future films.
More mystifyingly, for poker tournament organisers and the professionals he trounced in Vegas, John has returned to his local £10 buy-in games, £200 his biggest win since, and only appeared at the 888 Poker event at the express invitation of the organisers, who think his fun-loving image is good for the game.
It was that very carefree nature that unwittingly worked in John's favour in Vegas, making him almost unreadable to pros accustomed to the expressionless poker faces of the game's younger competitors.
"Youngsters who've grown up with videogames and the internet often don't have a social side to their game," he says. "They sit quietly with their shades and headphones, some looking like they've never seen daylight. They should enjoy it more, and not be afraid to socialise at the table."
Another difference between them is that John has never bothered with cyber-poker.
"Online poker has never turned me on," he says. "It's just not the same when you can't see the colour of your opponents' eyes, or feel the atmosphere in the room."
Do women poker players have an advantage?
I have this arrogant coating to me. A frosting. And the male opponent that sees no fear in a woman - that drives him crazy, his competitive desire to crush her is so high. One time, I had a $500 poker chip thrown at me as I sat down at the table - money to go away because one of the assembled men "didn't play with girls". I sent it back with my own message: "And I don't play with assholes - but I don't have a choice either."
At the London tournament, interestingly, John doesn't perform nearly as well as he did in Vegas. Opponents are eager to grab grinning selfies with him during the intervals, but back at the table John's chipstack is steadily eroded until he's clinging on for bare life. The mountainous stack he amassed at the WSOP final table is a distant memory.
In an uncanny replication of a late hand he lost to eventual winner Scott Blumstein (prize $8.15m), John goes "all in" with his remaining chips against an opponent fatefully holding a pair of aces. With the bet called and cards revealed, John is suddenly checking train times back to Bridlington a day earlier than anticipated.
"I was hanging on at the end but ran into aces again," he reports, immediately afterwards. "It seemed like everyone's trying to bust out John Hesp, which puts you under pressure - not sure if I like it."
It's hard to tell if he's genuinely disappointed. He may actually be happy to be heading straight back to East Yorkshire and the caravan business. Asked if he was proud about flying the flag for the UK in Vegas - his was the second biggest cash prize ever won by a UK poker player - he replies that he was "flying it for Bridlington, more importantly!"
He's begun negotiations with WSOP organisers to fulfil his next bucket-list item: bringing a leg of the international tournament to his humble home town on the East Yorkshire coast .
"I've made genuine enquiries out in Vegas," he says. "But, unsurprisingly, not everyone in the poker world wants to come to Bridlington. There's no casino so we'd need a venue which could secure a licence. The search continues."
There is even a motion picture now in development, after John's underdog exploits captured the imaginations of more than one producer.
"I was contacted by a couple of producers while in Vegas and have had a formal offer. We're talking a few million pounds' worth of budget, filming 25% in Bridlington and 75% in Vegas - due to contractual obligations I can't say more than that. But it's definitely 'on the cards'. And there's going to be a book.
"Who would I like to play me? I'd have to say George Clooney, or maybe Tom Hanks. But Hollywood will decide."
Rather than a feel-good movie cash-in, many in the game would prefer to see John reprising his success at this year's WSOP. But it's something he holds no hope of repeating, ascribing his feat last year more to luck than skill.
"Skill obviously plays a significant part," he says. "But the best players cannot win without luck. Yes, I made some good bluffs and calls in Vegas but got lots of premium hands and the poker gods were shining on me.
"In my view it was a miracle, and one I'm unlikely to replicate."
In this respect he is a bit like boxing's James "Buster" Douglas or snooker's Joe Johnson, who would never match their momentous victories over Mike Tyson and Steve Davis, their careers petering out afterwards. The difference being that unlike those journeyman professionals John is already content with his lot as a caravan seller and amateur and to remain the equivalent of a pub pool-league dabbler reaching the Crucible final on his first attempt, aged 64.
"Turn professional?" he says. "Absolutely 100% not."