'I paid $90,000 to free my family from IS'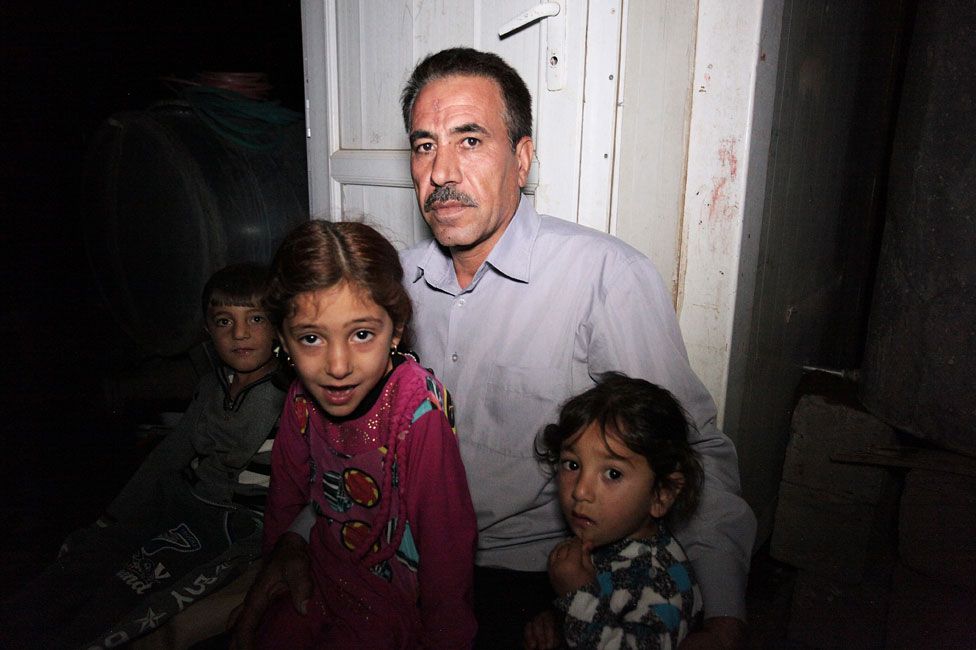 Khalid Taalo Khudhur al-Ali fled with his wife and children as Islamic State militants attacked their town in Iraq in 2014, but 19 other members of his family were captured. Over the last four years he has paid $90,000 for the release of 10 of them. But now, after the defeat of IS, he fears that any survivors may be beyond his reach.
On 26 September last year, a red pick-up truck pulled into Sharya in the Kurdish region of northern Iraq.
Inside sat 16-year-old Shaima. As the vehicle drew into the small, dusty village, friends and family crowded around and she fell into their arms.
This was Shaima's return after more than three years in the captivity of Islamic State, during which she was sold from one fighter to another and moved between their strongholds in Iraq and Syria.
Now her uncle, Khalid Taalo Khudhur al-Ali, had bought her back for the sum of $16,000 (£11,000).
Khalid remembers the day IS militants came to the town of Sinjar. On the night of 2 August 2014, no-one was able to sleep.
"Many battles started to the south, on the outskirts. We were afraid," says Khalid, sitting cross-legged on a patterned cushion on the floor of his makeshift home.
"The next morning, before breakfast, we heard screaming and voices outside. I opened the door and asked some people who were running in the street: 'What happened?' They told me: 'IS is here.' Everyone was afraid, and those who had cars escaped to the mountains. But I did not have a car."
Khalid took four litres of petrol from his electricity generator, and gave it to a neighbour who agreed to give Khalid, his pregnant wife and six children a lift to safety.
But on reaching Mount Sinjar, he realised that in the rush to leave, he had forgotten his laptop, some personal documents, and some cash. So they got out of the car and discussed how to go back for them.
Khalid's wife would not allow him to return but gave her consent for one of their sons to go. En route, he met Khalid's brother, Dakheel, who was belatedly joining the exodus from Sinjar, and one of Dakheel's sons joined him on the perilous journey. In fact it saved them: IS soon picked up Dakheel and the rest of his family, while the two young men stayed out of sight and eventually got away.
"Everyone who stayed at the foot of the mountain was arrested by IS. Only those who went up survived," Khalid says.
He kept calling his brother. "Finally, one person answered and said: 'We are the Islamic State,' and hung up," he remembers.
Rejoined by his son and nephew, Khalid eventually found a tractor to take the family towards the Syrian border, passing through settlements that IS was rapidly claiming as its own.
Under occasional mortar and sniper fire, they followed the frontier north-east until, 24 hours after fleeing their homes in Sinjar, they arrived in the village of Sharya in Iraqi Kurdistan.
Khalid agonised over the fate of his brother's family. Like the other residents of Sinjar, all were members of the Yazidi religious minority, whom IS considers devil-worshippers. Slavery or death seemed the most likely outcome.
In May the following year, Khalid received information from smugglers that IS had moved the children and women captives to Syria. But then the militants started trading them on messaging apps, with photos and asking prices for sale.
Khalid, by now working as a biology teacher in a camp for internally displaced persons, realised that it might be a way to see his family returned and began to forge relationships with a series of smugglers.
The years to come would bring many sleepless nights, dealings with a host of unsavoury characters, and financial worries. But by the time IS collapsed last year he had raised $90,000 and succeeded in releasing 10 members of his family. Shaima was the last, smuggled out of the eastern Syrian city of Deir Ezzor days before IS was expelled.
Khalid says he managed to free his family without speaking to the militants directly, working instead through a complex network of intermediaries.
Often, several such individuals were involved, with different agents working in Iraq and Syria, each taking a fee. It was dangerous work. IS would most likely have killed any smugglers caught removing captives from their territory.
It took Khalid more than three months to secure Shaima's release.
Of 6,500 Yazidis seized by IS in 2014, 3,150 are still missing, according to Yazidi activist Mirza Dinnayi - he believes that IS is still selling Yazidis online
There are no confirmed figures on how many have been killed in captivity
Mass graves have been found in Sinjar district - as a biologist, Khalid Taalo Khudhur al-Ali is encouraging Yazidis to overcome their reluctance to provide samples for DNA matching
Most of those rescued have been brought back in operations similar to those carried out by Khalid
With the help of two mediators he sent her WhatsApp messages, including photographs of family members, to reassure her that she would soon be taken to safety. He gathered the $16,000 he needed for the deal and waited.
Then things went quiet. For three days he heard nothing.
"We found out that the mediators were ambushed and IS put them in jail and tortured them," he says.
After that, another group of smugglers was engaged to complete the rescue operation.
"The Iraqi mediator asked me to go to Dohuk to withdraw my money. After one week, the same person called me and told me that the operation would be seven days later. I did not sleep for one week," Khalid says.
Gathering the necessary funds has been among the most taxing parts of Khalid's campaign to free his relatives.
For example, he had to find $38,500 to buy back his sister-in-law, his sister Laila, and her children. Then he had to pay $29,000 to free his son's wife. But where was this money going to come from?
"I had no money so I borrowed from my friends. Some of them gave me $50, others $100," Khalid says. "A friend who is a deputy in the parliament gave me $3,000. [My sister-in-law's] brothers also sent me money from Germany. Finally, I collected the money."
In all, he has raised $90,000 and bought back 10 members of his family - all women and girls, except for one young boy, his sister Laila's young son.
Although Khalid risks accusations of having funded terrorism by dealing with mediators who ultimately handed money to IS, he saw the task of buying back his family as non-negotiable.
But the local authorities knew what he and other Yazidi families were doing. If they needed to transfer money to Syria, they had to get a permit from the security forces. Some of the money Khalid paid was refunded by an office set up for this purpose by the authorities in northern Iraq.
Although it was IS who kidnapped his relatives, the group's defeat paradoxically makes even harder the task of recovering the other missing members of his family.
They are his brother, Dakheel, and four of Dakheel's sons; the wife of one of these sons and their two children; and the husband of Khalid's sister, Laila.
There is a chance that they were killed by IS or in coalition air strikes, he thinks, though some could still be with their IS captors in camps for internally displaced people, in jails or in isolated areas where the groups of militants have taken refuge.
Khalid says it is impossible to know anything for certain.
"These are all possibilities, but nothing is 100% sure," he says.
"Even if they are dead, we should confirm that by DNA test.
"When a kidnapped person dies, we know nothing about him and that is really hard. I wish to see them even if they died, I want to make sure that they really are dead."
Shaima and Laila agreed to be identified for this story, in the hope that it will increase the chance of their family members being recovered