'My parents beat me to stop me becoming a belly dancer'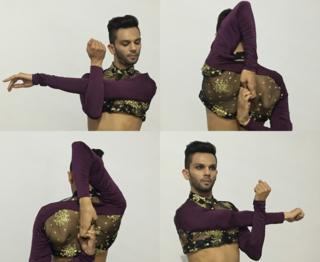 As a male belly dancer, Eshan Hilal is a rarity - and in India it takes courage to choose this path. His parents beat him to make him stop dancing as a child, but they failed. At home, there are still deep tensions even as his career goes from strength to strength.
"For me, worshipping is my dance. I feel connected to God. My blood cells dance with me. When I dance I feel my existence on this planet. I feel like this is the purpose I'm here for."
At his performances, Eshan Hilal often wears a long flowing skirt, a sequinned net blouse that ends just under his ribcage and a jangly coin belt. His fashionably cut hair is swept back.
For as long he can remember, he's loved dancing. As a five-year-old he would dance to a song from Bollywood superstar Shahrukh Khan's hit film Koyla and everyone found it entertaining. But as he grew older, family elders shook their heads in disapproval.
"They said, you're a boy and behave like one,'" says Eshan, now 25. "You are not supposed to dance because it's girly. We want you to be rugged, be a man."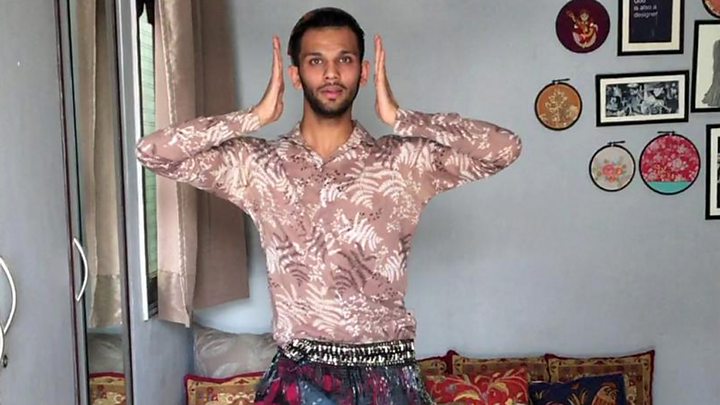 When all the boys played cricket, the young Eshan would sit at home, do embroidery and play with Barbie dolls. His younger brother would ask him to go out for a bike ride, but he preferred stay indoors.
Eshan is Muslim and most members of his family believe that dance is against their religion. Disapproval quickly turned into hostility. Eshan vividly remembers the first time he was called a randi - a rude Hindi word for prostitute - at about seven years old.
It was during the summer holidays, when he had gone with his parents to their ancestral home in the northern state of Uttar Pradesh. He and his cousins were playing antakshri - a group singing game.
"I started dancing to a peppy number and my grandmother said, 'Have you ever seen a randi dancing in a bar?' I was scared. What was that word? I knew it was harsh but didn't know what it meant. My grandmother said, 'Wait until your father hears about this.'"
And sure enough, his father was upset.
---
Find out more
Listen to Dancing to his own beat, or download the podcast
My Indian Life is a new podcast on the BBC World Service, presented by Kalki Koechlin and produced by Geeta Pandey
---
"He said, 'You've brought me shame. You're not supposed to dance,'" Eshan says. "They think if you dance, you're a woman, and not a good woman. That's the sort of culture I come from."
After that, when the family had guests he would be locked in his room because they were ashamed of him.
"They would compare me to my brother and say, 'Why can't you be like him? Masculine, rugged, rough?' And I would say, 'But mom, he doesn't know how to dance.' And she would say, 'Who wants that anyway?'
"In my childhood I always felt that I was abnormal."
To please his parents, Eshan tried playing cricket and finding girlfriends. He even tried giving up dancing - but he couldn't keep it up for long.
One day he mustered enough courage to ask his mother if he could take lessons in kathak, a form of Indian classical dance performed by both men and women wearing gunghroos (metal bells) around their ankles.
"She slapped me hard," he says.
Once again, she warned that there would be trouble if his father got to hear about it. And he did get to hear about it.
"He threw my ghungroos on the road, he beat me so hard that I had a fracture. Why are you behaving like a tawayaf?" Another word for prostitute.
Other words Eshan has heard a million times in his life are bhand and hijra, words that are used, often in a derogatory way, to describe trans and genderfluid people or just men who are effeminate.
And of course, Naak kata di meri - which translates loosely as "you've brought me shame".
After one serious thrashing, when he was 14, Eshan ran away and ended up in Nainital, a hill town about 300km from his home in Delhi. He worked as a cleaner in hotels for the next six or seven months.
On his return, he says, his father beat him up again and threatened to hurt him so badly that he wouldn't be able to run away again.
"He was so embarrassed of me. I was his elder son, but I was so unlike him," Eshan says.
In spite of everything, Eshan pursued his dream. His appearances as a belly dancer on television and participation in a reality TV dance show have earned him many fans.
"There are people who said such mean things to me before I went on TV, but now they've changed. They want to take selfies with me, they want to invite me for dinner. Suddenly I'm something to them. Earlier they would call me gay, sissy, pansy, a shame to my family."
Invited to perform for the second anniversary of a company that manufactures drones for the government, Eshan has the 40-odd employees clapping and cheering within minutes of taking the stage.
Some of them are fired up enough to join him on the dance floor. The performance is a hit. Staff later queue up to take selfies with him.
India is slowly changing. But in terms of pushing gender boundaries, Eshan is at the edge of what is currently possible.
His parents still do not appreciate what he does, though, and his career has created deep fissures within the Hilal family.
Narrow lanes lead the way to their small two-storey home. There's a tangle of electrical wires outside. From a one-room office on the ground floor, Eshan's father runs a small transport company. The family lives on the first floor while Eshan lives on the second.
Eshan takes me to see his mum. She's in her early 40s, a devout Muslim who was married at the age of 14. And she is torn - Eshan is her first-born, the eldest son she loves dearly, but she believes that Islam doesn't approve of his way of life. She talks about her disappointment at his desire to dance, he talks about how his parents fail to understand him.
The mother and son remember the many occasions they did not speak to each other, once for as long as a whole year.
"I wanted him to become a doctor from the time when I picked him up at the hospital as a baby," she says. "We sent him to a good school for his education, but he came back and all he did was lift up his shirt and shake his belly."
Eshan's father, she says, would sometimes take out his anger on her and there were fights at home all the time.
She says that as his mother she couldn't say it to his face, but there was a time when she truly wished that he would go far away so that they would be able to live peacefully.
She asks Eshan if he remembers the regular fights they had about what she wanted him to be and what he wanted to be.
Eshan interjects to say, "These were not fights, you used to beat me up all the time..."
"Yes, I used to beat him a lot," his mother says. "But I used to feel so frustrated with him."
He says he always tells his mother that no-one will accept him if his parents don't. "I have been made by Allah this way. And Allah hasn't criticised me, so why are you criticising me? And now that it's out in the open that I'm a belly dancer, and this is my profession, can you accept me like this?"
She says that for his happiness she no longer tries to persuade him not to dance - but she does pray that he will.
"I have faith in my prayers and I have left him to Allah. I don't force him any longer, but I'm praying that he gives it up. Prayers are powerful."
Despite the ups and downs in their relationship, it's obvious they share a deep bond, and Eshan says she's the reason he continues to live at home.
"She is my love. Whatever I am is because of her. And now it's my duty to be with her. I'm not her son, I'm her friend. I want to be her sister," he says.
Eshan's feelings towards his father, though, are completely different. They have not spoken for the past year.
Two years ago, Eshan says, he felt so threatened by his father that he began locking his door at night. He had watched a Pakistani film where a father strangles an effeminate son out of shame. "I felt that my father might kill me," he says. "But I love my life, I want to live. I don't want to die early."
Eshan's father is about 50, a big man with a greying beard. He's polite, offers sweets, and readily agrees to answer questions.
He confirms that Eshan once had a hairline fracture as a result of a beating he had given him, and that his son once ran away from home.
"I know some people appreciate what he does," he says. "But I don't like what I don't like. My son is not more important than the respect of community. God has given us brains to differentiate between right and wrong, and what is wrong is wrong."
He's dismissive of his son's fears that he might attack him at night.
"Why would I attack him at night? When I beat him up I did it openly. Eshan is not my enemy, I'm his father and as his father I have to both hit him and talk to him to get him on the right path."
At present an uneasy calm prevails in the Hilal home.
Eshan sometimes wonders whether he would have the same passion for dancing if his parents hadn't given him such a hard time.
"If I'd got everything on a platter, I wouldn't have valued it so much," he says.
He doesn't want to talk about his sexual orientation because he doesn't think it is relevant to his art. But he has come to terms with who he is and how he is. He's at a point in life where he's happy and satisfied. He says he has learnt to live with his contradictions.
"I am a boy," he says, "but I can wear a skirt and rock it."
Join the conversation - find us on Facebook, Instagram, YouTube and Twitter.