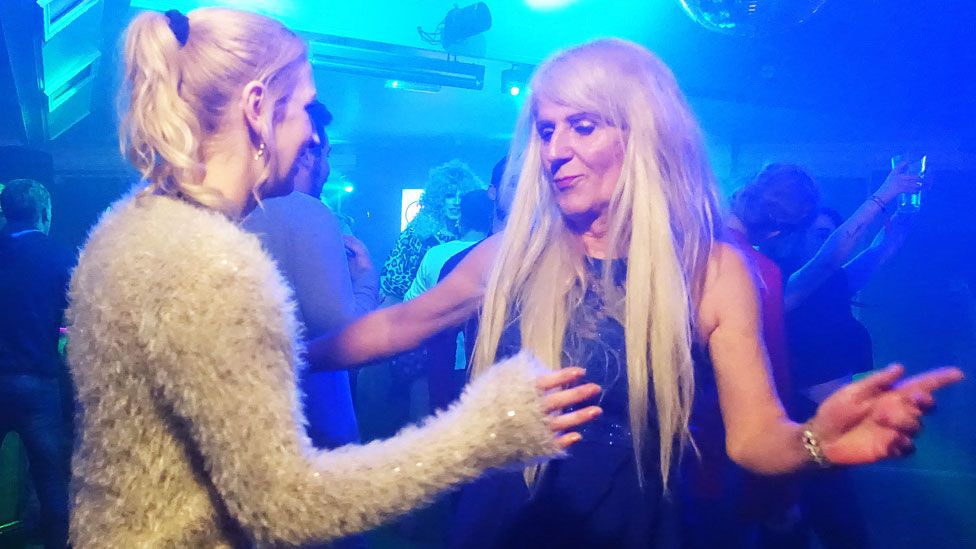 Melissa Ede won £4m last Christmas thanks to a National Lottery scratchcard. The money has transformed her life, writes the BBC's Mike Thomson, and even seems to be bringing her happiness.
On a grey and blustery afternoon in Hull, I'm a passenger in a gleaming white BMW convertible gliding through the city's wind-blown streets. People turn their heads as the car cruises past, top down and radio blaring. Many smile in recognition as they spot the face behind the wheel.
"There's not many blonde-haired people driving about in an open-top car on a day like this, is there?" says the driver, turning to me. "It could only be Melissa Ede."
Fifty-seven-year-old Melissa has become a bit of a local celebrity. She used to drive an old Ford Mondeo and lived in a run-down rented bedsit. But everything changed in December last year when she walked into a Hull petrol station and bought a scratchcard. It was to be the biggest Christmas present of her life.
"Once I'd scratched it, once I'd realised, I had to check it and keep checking it," she says. "Within three days my bank balance went from £1, to £4m."
She now lives in a five-bedroom detached house, complete with what she describes as a "massive garden with all the mod cons".
For more than 15 years before her win she had scraped by as a taxi driver, working mostly nights. Some weeks, she says, she earned so little that she struggled to pay her rent and could only afford one meal a day. But the risk of violence from passengers was even worse than going hungry. It's something all taxi drivers have to live with, but one factor made Melissa a particular target. She is transgender.
"I've been strangled, I've been punched and been called all sorts of names. Once I picked up somebody and was driving along when he just started attacking me from behind. He suddenly leaned forward, put his arm around my throat and started throttling me," says Melissa.
"I was really lucky because I was near a police station at the time and managed to pull up right outside. When the police opened the door the man still had both his hands around my neck."
One result of Melissa's win is that she doesn't have to work again.
Formerly called Les, Melissa was once a married man with a crop of wavy brown hair, and sometimes a moustache too. Though she says she never felt right as a male, even as a child - she never wanted to play with boys' toys and didn't like her hair being cut.
"I did try telling my parents that I wasn't a boy but that was unheard of in those days," she says.
Her mum and dad just laughed and told her not to be "so stupid". Many assumed the young Les was gay, and bullying blighted her years at school.
She went on to marry and became the father of four children. But the relationship didn't last.
"It was an existence, it wasn't really a life," Melissa says of her time living as a man.
"It was a very, very difficult time because you are pretending to be something that you actually are not. Your whole life is a lie. It's a big act."
That act continued until 2008 when Les finally became Melissa. Though now much happier - she has an infectious laugh - she says she lost many friends who could not accept the change. Sadly, it was also the beginning of the end for her relationship with her parents, who have since died.
"They told me never to go round there dressed as a female," Melissa says. "I wasn't welcome in their home and that was that. I was cut off from that point on from my parents. I could have gone round and seen them if I'd dressed as a man, but I wasn't willing to do that."
Melissa had also lost contact with her children, following the break-up of her marriage. Her transition was not the main reason she and her children became estranged, but she accepts that it would be "difficult for anybody to get their head around" what happened.
The same may apply to Melissa's many humorous, musical videos, which she posts on social media. She routinely performs these while half naked with pieces of bread, fruit or other objects hanging from her breasts. Melissa tells me that many have gone viral, with one clocking up more than 40 million views on Facebook.
Predictably, not all feedback has been positive. In fact some of the videos have generated a barrage of vitriolic, transphobic abuse. True to form, Melissa seems to take this in her stride.
"I get a lot of trolls. It's something that you've just got to accept when you're so out there like I am, it's part and parcel of it all. I don't take it personally, because half of it will be down to jealousy. Let's face it, many people want to go viral and there's not many who can do it. And I've done it time and time and time again. These people don't really hate me, they just hate the fact that they're not me."
Melissa is now in touch with all her children, though one of them only re-contacted her again after her big win, leaving Melissa to wonder whether it had been a factor.
"I had contact with one of them a few years ago and he decided to walk away and not have anything to do with me. So, this is one of the problems with winning such a vast amount of money. Who do you trust in your life any more? Who is there because they want to be or who is there because you are now a millionaire?"
One person Melissa doesn't have any doubts about is her fiancee, Rachel Nason. The 37-year-old, who has five children from a previous relationship, is 20 years younger than her. But Melissa says they had agreed to marry several days before her lottery win.
"Rachel is absolutely amazing, you know, she's just so selfless. She really, really is. She's just not money-orientated and so I've got no fears over that. After all she was going to marry before I even had money."
You might have thought that with her new fortune, Melissa would be planning some kind of eye-popping, no-expense-spared extravaganza of a marriage. Yet instead the pair plan to tie the knot in the company of just a few nearest and dearest in a local register office - though I suspect that some serious partying is likely to follow.
Along with Rachel's children, they have already moved into what Melissa describes as their "dream home" (though in fact it was not the first spacious house Melissa tried to buy - her first attempt fell through when residents of neighbouring properties complained that her media profile would be disruptive).
As for multi-millionaire Melissa's wedding dress, she might even buy that in a charity shop. She admits to visiting her favourite one in Hull at least once a week.
"It's surprising what you can find and I do know from past experience and even from people who are into designer labels, that you can find them in charity shops as well," she says. "Why pay full whack for something when you can get it for cut price and you're also helping out a charity. And at the end of the day, bargains are great."
It's perhaps this streak of down-to-earth pragmatism that has led the otherwise carefree and impulsive Melissa to invest three-quarters of her £4m win. Given her love of bargain hunting in charity shops, cheap make-up and humble sausage rolls perhaps she has little need of so much cash. But that doesn't mean that Melissa, who likes nothing better than dancing the night away at a nearby LGBT club, fails to appreciate how lucky she is.
"The other night I was sat out in the garden and it was a little bit nippy and I thought, 'Oh it would be so nice to have a garden heater.' So I went on eBay and just ordered one. And it's like, 'Wow, I can do this, if I want these things I can buy them.' I love that. It's such a buzz!"
Researchers who have studied the lives of thousands of lottery winners say the initial euphoria doesn't last long.
They have found no evidence that those who hit the jackpot are any happier than the rest of us after the first year. Melissa has a few months to go before she can put this theory to the test - but I would not be surprised if she proves to be an exception.
"I don't have to worry now about having to save for the everyday things. It's a hard life out there having to live on a wage and I don't have to worry when I go to the shops or anything like that," she says.
"If Rachel and I decide we want something, we can have it, without even having to think about it. It's wonderful and I do feel so blessed."