Martin Sellner: The new face of the far right in Europe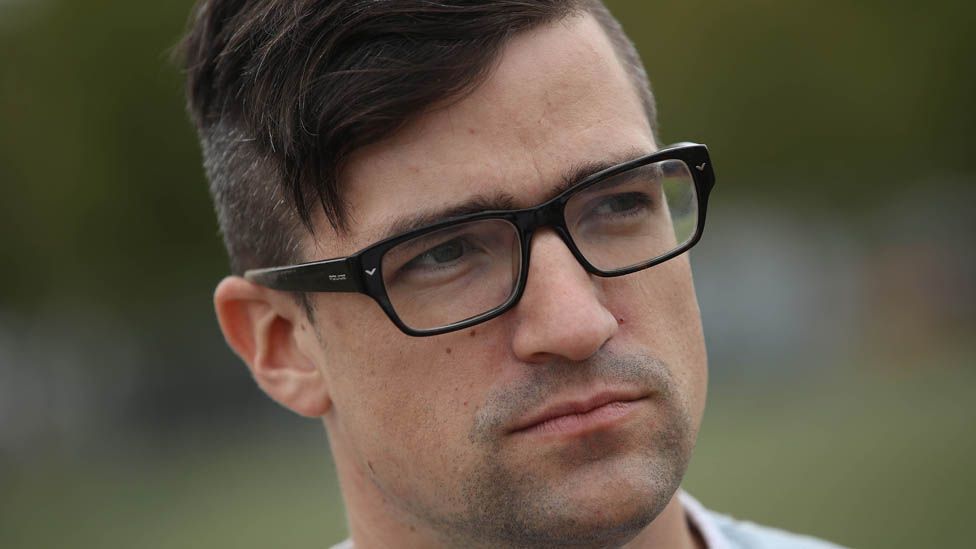 In his T-shirt, skinny jeans and sharply styled haircut, Martin Sellner is the European far right's newest poster boy. The group he leads in Austria has attracted huge publicity. However, Sellner's insistence that his movement is non-racist and non-violent doesn't have everyone convinced.
In April 2016, hundreds of people sat inside the University of Vienna's theatre watching The Suppliants, a play performed by asylum-seekers from Syria, Iraq and Afghanistan. And then the stage invasion began.
Members of a far-right group called Generation Identity (GI) rushed in, unfurling a banner calling the audience hypocrites and throwing fake blood over some of them. The performers screamed, fearing they were under attack. There were scuffles as some in the audience began shouting "Nazis raus" or "Nazis out" and tried to eject the protesters.
Ima was one of the performers. She had fled Mosul in Iraq when it was taken over by the so-called Islamic State group. "We came from the land of fear," she says. And now, in the darkness and confusion, she was scared again.
"We thought they were going to kill us. In my homeland it's just so much killing and dead people so that's what we believed."
The young man who leads GI in Austria plays down the incident. "I actually don't think people were really traumatised," he says. "I don't know anybody who had a severe trauma or a medical condition."
His name is Martin Sellner, and with his striking haircut, fashionable skinny jeans and thick-rimmed glasses, he looks like a typical style-conscious 29-year-old. Like many others of his generation, he can normally be found staring into the lens of a mobile phone - but in Sellner's case, it's typically to deliver a monologue about the evils of multiculturalism and how Muslims want to take over Europe.
He is often joined in his videos on YouTube by his fiancee, Brittany Pettibone, an alt-right vlogger and conspiracy theorist. Her posts about a so-called "white genocide" and a paedophile ring connected to Hillary Clinton led the Anti-Defamation League to place her on its list of hate groups.
Earlier this year Sellner and Pettibone were both banned from entering the UK. The Home Office said that when "the purpose of someone's visit to this country is to spread hatred, the Home Office can and will stop them entering Britain".
Sellner isn't just GI's leader in Austria. He's also a poster boy for the Europe-wide Identitarian movement, which is fiercely opposed to Muslim migrants - claiming that they threaten Europe's identity and will eventually replace the indigenous populations. The movement began in France in 2012 and has expanded to nine countries including Germany, Italy and recently the UK. It doesn't have many members but gets publicity through confrontational and expensive stunts.
In the summer of 2017, GI raised over £150,000 through crowdfunding to charter a boat in the Mediterranean to target non-governmental organisations that patrol the sea to rescue migrants in peril. GI said it would arrest illegal migrants and sink their boats - its campaign received the backing of a neo-Nazi website, former Ku Klux Klan leader David Duke and a leading American white supremacist.
It didn't quite go to plan, though. GI's boat was detained and the captain was arrested, accused of having illegal Sri Lankan refugees on board and false documents. They were all later released.
A few months later, GI paid for a red helicopter to land on the crisp white snow of the French Alps. Flanked by 100 activists from across Europe, a massive poster was laid out telling migrants to go home. This stunt cost more than £50,000.
But the organisation's actions in Austria have landed it in deep trouble.
The Austrian authorities think that actions like the protest at the University of Vienna theatre and Generation Identity's accompanying rhetoric amount to incitement of hatred against Muslims, foreigners and refugees. It's why they have taken the unprecedented step of charging GI with being a criminal group, rather than the non-governmental organisation it says it is.
The Austrian prosecutor compiled evidence from stunts GI carried out in the past two years. These included the targeting of a lecture at Klagenfurt University, a small campus set amidst the jagged mountains and cool lakes of Carinthia. Identitarians disrupted a talk on refugees and integration, unfurling a banner while a man with a megaphone barked at a shocked audience.
Enis Husic, a softly spoken student from Bosnia, challenged them that day. "It was very tense and aggressive. I could really sense that," he says. "At the time I wasn't scared but I was very scared afterwards once it was all over."
The fresh-faced rector, Prof Oliver Vitouch, was looking out of his office window when he saw protesters and rushed to confront them. He was hit by one of them as they tried to escape. "Although they usually say they're completely free of violence and completely peaceful, it's pretty clear to me that the readiness to violence is obviously there," he says.
For years, GI was dismissed by its critics as a bunch of wannabe hipster Nazis - but Natasha Strobl, an author and researcher, has long thought their actions and rhetoric pose a threat to the country.
"They paint refugees as invaders, as dangerous soldiers of Islam who come here to destroy Europe. It really destroys society," she says. As a result of this rhetoric, she adds, "people get aggressive, people harass Muslim women on the streets".
She wrote a book about the Identitarian movement and then began receiving threats. "There are rape and murder threats when you open your email… I try not to go the same ways in the city because I don't want to be followed. So you change how you live." Generation Identity says it's not racist or violent but articulating the views of many Austrians.
Martin Sellner grew up in an affluent suburb outside of Vienna. In his teenage years, Strobl says, he was drawn to the nationalist fringe in Austria. "He was part of the neo-Nazi scene and the most well-known figure of the neo-Nazis, Gottfried Kussel, was his mentor," she says.
At the time Kussel had already been to prison for trying to revive Nazism. He was arrested again in 2011 and later jailed for nine years for continued far-right activity. It was after this, in 2012, that Martin Sellner set up the Identitarians in Austria.
We meet him inside their offices in a scrappy apartment in the centre of Vienna. It's fairly basic apart from a room full of cameras, laptops and lights where they make and edit their videos. Sellner is relaxed and confident; the day before he had been acquitted, along with 16 other GI members and supporters, of belonging to a criminal organisation.
"I really think we were vindicated and I hope that this verdict will also have an effect beyond this case and beyond Austria in the rehabilitation of GI," he says, sipping from a glass of sparkling water.
The prosecutor is appealing against the acquittal and is investigating GI's finances.
GI likes to stress it's not violent or racist, but what of Martin Sellner's past?
He admits he was involved with neo-Nazis when he was younger because, he says, "there was no alternative. There was no right-wing patriotic movement".
When asked bluntly: "So you weren't a racist?" his fluency falters.
Simon Cox's documentary Generation Identity, produced by Anna Meisel, is broadcast on BBC Radio 4's Crossing Continents at 11:00 on Thursday 20 September 2018. Listen again on iPlayer
For transmission times on the BBC World Service, click here
When pressed further - "Surely you'd know if you were a racist?" - he still sounds a little unsure. "I wouldn't say I was. It was a very ambiguous thing. I would say I was like a conservative, patriot."
Earlier this year, before he was banned from the UK, he was secretly filmed by undercover reporters during a trip to London. He was captured using a racist and offensive term. He says it was a genuine mistake. "I really thought that 'Paki' was a completely normal term. If I would have known it, that it was considered a racial slur, I would have definitely not used it."
"Come off it," we tell him. "You come to the UK a lot - the idea you wouldn't know it was offensive isn't believable."
He once again insists he didn't know and apologises. "If I insulted anybody with this word, I absolutely say sorry and I will never use it again."
GI's actions often target events which promote integration - because, he says, he doesn't believe in this. The Muslims who come to Europe must do more, he says - they must assimilate.
"Assimilation means that you completely identify with the country, the nation, its history," he says - otherwise, he warns, "it's treason, because you're betraying this community… because this community is giving you open hands, taking you in and then you have to put the interests of this community in front of your own."
Standing in his way are anti-fascist campaigners like Jerome Trebing.
Publicly, Sellner's group says it is not violent or racist. But Trebing has worked with activists who have gone into meetings GI holds in isolated rural areas.
As he sips sweet tea in a Turkish cafe in Vienna's multicultural 10th district, a place that GI abhors, Trebing says: "There is some really hard stuff going on. There are people who are allowed to say racist stuff, anti-Semitic stuff and there is no-one who is saying there is no place for it here."
According to Trebing, in these meetings GI supporters said it wasn't just Muslims who wanted to replace the local population, but Jews too.
The alt-right on BBC Trending
GI's leader denies it has any bias against the Jewish population. He wants to expand the Identitarian movement to other European nations. In Austria, he says, "We have a right-wing government. And we want to push for that everywhere in Europe, we really want to change public discourse."
The nationalist, anti-immigration Freedom Party joined Austria's coalition government last year.
Sellner's ban on visiting the UK has made it harder for him to spread his message to potential supporters, but online he is still very active - although he has been banned from Facebook.
In mainland Europe he is free to lead GI's continued aggressive, provocative targeting of Muslims.
Besima is one of those who have been on the receiving end of GI activity.
Sitting in her faded apartment drinking sweet tea with freshly made lamb koftas, she describes how she was performing with other asylum seekers at the University theatre in Vienna when GI stormed in.
Her son Mohammed was on stage with her too and she said the experience had traumatised him. "He has refused to go out, he is still at home, saying 'If I go out something bad will happen to me.'"
Mohammed had been kidnapped in Iraq, which is one of the reasons she originally fled Basra with her three children. When she arrived two years ago she felt welcomed and accepted but feels the atmosphere towards migrants is changing.
"I thought I found happiness and peace here," she says, "but I feel it's not safe any more."