Why we said 'I do' after 30 years together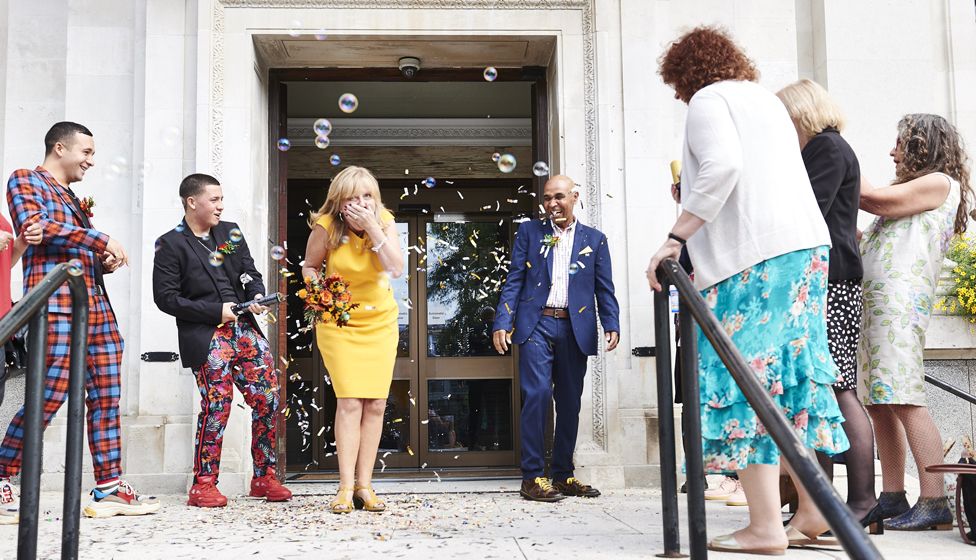 Lately, Sue Elliott-Nicholls has been to lots of weddings where the bride and groom have been together for decades. And last month she, too, did the deed in her 50s. So why are all these middle-aged couples finally opting for marriage?
"You must get married," advised a friend who had just tied the knot after 25 years with her partner. "Because if one of you dies, the other person could lose the house to inheritance tax."
You only pay inheritance tax if you have assets worth more than £325,000 - but in some parts of the country that applies to almost anyone who owns their own home.
And there you have it - that's why I'm going to more weddings in my 50s than I ever went to in my 20s. No-one got married when we were in our 20s - it wasn't cool. Now it seems to make sense, because spouses inherit their partner's assets tax-free.
House prices have soared to criminal levels in the South East. No-one can afford to buy, no-one can afford to move, and our grown-up kids can't afford to live independently in the cities they grew up in. But hey, something good can come out of this: we can have a party and tell ourselves there is a good financial reason for it... that it's actually a way of saving for the future. We can celebrate with our grown-up kids, and they can wear ridiculous suits.
So after 30 years, my "husband" (I still feel silly saying it) and I have finally got hitched.
Before popping the question I mentioned it to another friend who had got married after 25 years. (Yes, I discuss all major family decisions with friends before mentioning them to the actual family.)
"What if it all goes wrong?" I asked her.
"Sue," she said, rolling her eyes. "It's already gone wrong, you've been together 30 years, it's gone wrong and you've pulled it back into line, multiple times, because that's life."
She was right. After 30 years Tony and I have been through many ups and downs - including getting evicted while pregnant , the death of parents, finally buying half a house, wonderful holidays, tracing biological families, and cancer.
So, one Tuesday night I looked at him, swearing at the oven door as he tried to fix it, trousers slipping down to reveal a fine builder's bum, and told him I thought we should get married and why.
"OK," he said as he screwed the door back on. "Book it."
I sat at the kitchen table with the laptop open at the bookings page on the town hall website and we chose our date.
In the months leading up to that date we had a few 5am wobbles. Why were we fixing something that wasn't broken? And what would it be like to get our complicated families together in one room for the first time in 30 years?
What I hadn't realised was how much fun it would be. We laughed from beginning to end. And other people I have spoken to say it was the same for them.
Anne and Ron decided to get the ceremony done with just their three kids and celebrate with a party at a later date.
"We needed to get it done but, I don't know, it felt embarrassing to do it in front of people," says Anne.
Her oldest son got the time wrong and so had to jump in a cab - he arrived covered in paint. Her second son had lost his passport so was on the phone from Stansted airport throughout the whole thing and her daughter was annoyed because she didn't realise there were going to be photos. "I would have dressed up if I'd known," she complained.
Sue Elliott-Nicholls contributed to the Woman's Hour special, on BBC Radio 4, Why get married?
"It was a shambolic event generally," says Anne. "The registrar put some ghastly music on and let us have a moment - and of course we just fell about laughing. It brings out the bad behaviour somehow."
Paddy and Christina left their two small kids with Christina's mum and jetted off to Vegas for an Elvis wedding after 15 years together.
"Well," Christina says. "Paddy forgot my birthday. I think later that day he realised and then had to work fast. He rang my parents, got them to come up and have the kids, booked the tickets and arranged for us to go to Las Vegas, because for some reason I'd always wanted to get married in Las Vegas."
Phew, well done Paddy. Pretty drastic measures - still, crisis avoided.
Best friends Ginny and Jennifer had a problem. They both wanted to marry their partners of 30 and 20 years respectively but didn't really want to invite their large families. On the other hand, they didn't want the event to be too small either.
"I feel it would have gone a bit flat really if it had just been Chris and I and the kids," says Jennifer.
"So she phoned me one night," Ginny continues, "And said, 'I've had an idea. How about a joint wedding? We could be your witnesses, you could be our witnesses, that way we can keep it small, we could go out for a meal or something and it'll all be done and dusted within a few hours?'"
It was a lovely day, they both agree.
A few weeks after Tony and I got married it became legal for heterosexual couples to have a civil partnership. As there was no mention of God or obeying in our registry office service I wasn't too bothered - but Jennifer and Ginny said they both would have gone for that option if it had been available.
Because all these late weddings came about for practical reasons.
There is a sobering moment when we all become aware of our mortality. Cancer was a factor when it came to making our decision. Thankfully, Tony's treatment was successful and he is in remission, but I realised then that if it had been otherwise, we might have had to sell our home.
When Jennifer married, she was in remission from cancer - she had lost her sister to cancer three years earlier.
And as the mother of two young children, Christina wanted to make sure all the bases had been covered, should anything ever happen to her.
In fact, Paddy and Christina opted out of the Elvis wedding when they found out he was going to sing five numbers. They decided it might be embarrassing, after a while, with just the two of them standing there awkwardly.
Instead they opted for the drive-through - or as Paddy likes to call it, the drive-by. A quick couple of minutes standing up out of the sunroof of a stretch limo while the slightly worse-for-wear registrar declared them wed.
Because, after that many years, you can do what you like.
I took the bus to the Town Hall with the girls and picked up my flowers on the way, we had people back to our house because that's where all our happy memories are, we got take-away Turkish food from the mosque around the corner. My friend made a cake and my biological mum made my dress, after surreptitious fittings in the Top Shop changing rooms in our lunch breaks.
But there was a moment, a brief moment when our boys were outside the mayor's parlour waiting to escort me in and I walked in to see my partner, suited and booted, looking so healthy and happy that I had to catch my breath.
Anne and Ron had a party a few months after their official debacle at the registry office with the kids. This, for them, was the main event.
"The party was about celebrating staying together, and the family," Anne remembers.
"It was about restating something that we felt 20-odd years ago which you don't really ever say in the normal course of things," says Ron. "There's a reason we stayed together, it's not inertia - at least, not on my part." They both laugh.
They had a sort of mock service where Anne's oldest son, Alex, made a speech about how much his stepdad Ron meant to him. Alex's dad had died before Anne and Ron got together.
"Alex was really moving," says Anne, looking at Ron. "Talking about you, talking about when his dad died. When would you ever say any of that?"
When Pakistani designer Nashra Balagamwala produced a board game about arranged marriage, most news reports about her wrongly assumed she was dead against it. Actually her position is far more nuanced - and one goal is to explain to people in the UK and elsewhere how it works.