Why did the council 'house' me in a tent?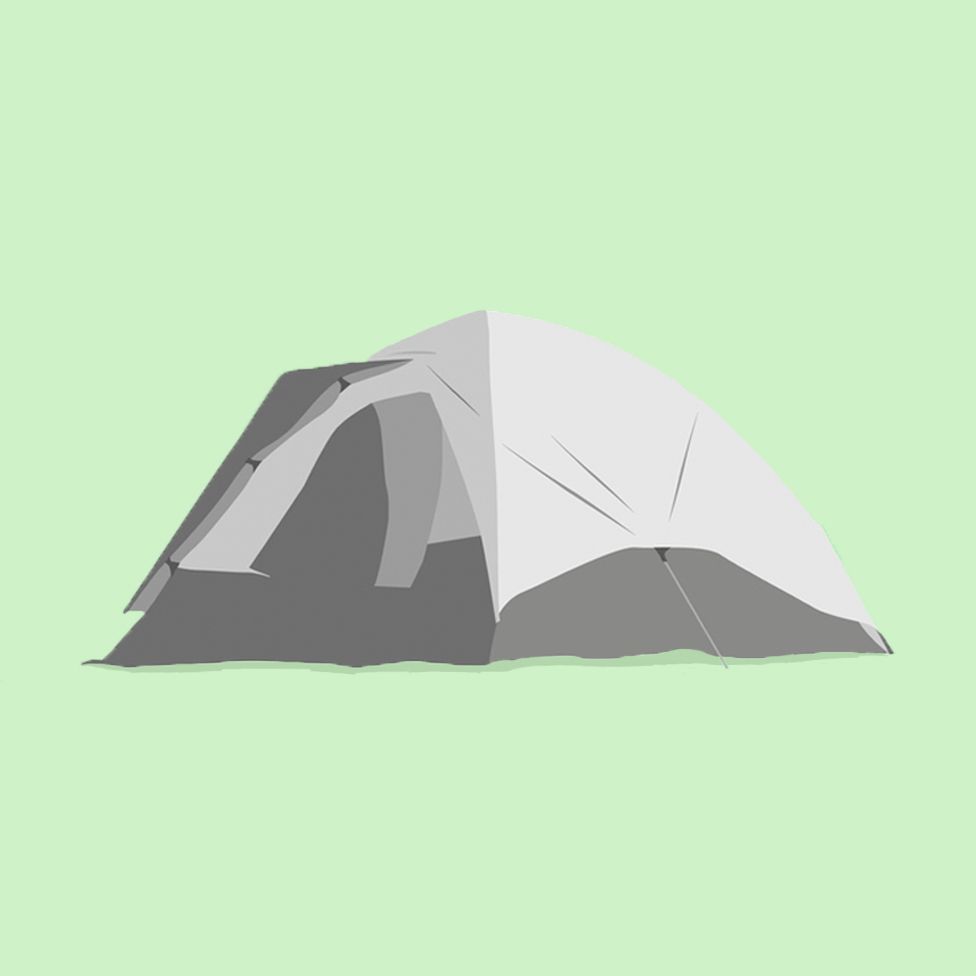 Theo had just turned 17 when he became homeless. He turned to the council for help - but was given only a one-man tent, writes the BBC's Emma Forde.
It was August 2016 when Theo's mum, Rose, received a phone call from Cornwall Council that made her feel physically ill. Her son had moved down south to spend time with his dad, but things hadn't been going well. Theo had been kicked out of school. He'd been arrested for dealing drugs and assaulting his dad. Now he'd been evicted from supported accommodation - again because of drugs.
But still, Rose was taken aback by what the council had to say.
"The manager of the team phoned me up. She said, 'Oh we've got an alternative for Theo, we're going to be putting him in a tent.' I was at work at the time and there was lots of going on around me and I just remember the moment. I felt sick. And I said, 'Well how is that even possible? How is it legal? Even you know he's so vulnerable in a tent. He's not well. I do not give you my permission for my child to be placed here.'"
The council ignored Rose's objection and one of its staff went round to pick up Theo in a car.
"They were like, 'Load the car up with your bags, we're going to a campsite,'" remembers Theo.
"I was like, 'What? Why are we going there?' I was saying, 'How long am I going to be there? What's it going to be like?'
"And they were like, 'Oh, only for a few days until the council finds you somewhere to live.'
"And they were like, 'We've got you a tent!'
"I didn't really know what to say, I couldn't say no. They gave me the tent and drove off.
"I was pretty depressed at that point. I tried putting it up on my own. Luckily, this random guy started helping me put up the tent because he saw I couldn't."
Months earlier, the council had been expressing concern about Theo's mental health and drug use. Officials produced an assessment which found he was at risk of "overdose, addiction and potentially death".
Being homeless wasn't likely to improve things.
The day before it gave him the tent, the council had offered Theo the option of another place in supported accommodation, but it was more than 30 miles away, so he'd turned it down, not wanting to leave the area he knew and where he was attending college.
Faced with the prospect of living in a one-man tent, though, he appealed again to be housed. This time he was told his behaviour made the likelihood "remote".
Theo was given food vouchers, credit for a mobile phone and a torch. He had a sleeping bag but no chair to sit on and no cooking equipment.
Trying to make the best of it, he bedded down for the night.
"It was a campsite in the middle of the woods. Very spooky. I remember hearing rustling in the bushes and I thought, 'Someone's there. I'm not going out of the tent,'" he says. "I didn't get much sleep."
Theo was determined to keep going to college but it wasn't easy. In the morning he would go to the shower block for a cold shower, and then walk for an hour to college. At night he would suspend a torch from a strap in the tent to do his college work.
He was only at that campsite for a short time before he was moved to another - it wasn't clear to him why. But at the new campsite people were kind to him, he says. One man used to make him a bacon sandwich in the morning.
Theo's mum, Rose, was desperate. She lived hundreds of miles away and was fostering some young children. But when she got the call she travelled to Cornwall, staying in a caravan near her son and imploring the council to provide him with proper accommodation.
She was rebuffed. On one occasion the council told her that Theo needed to take "some responsibility for his behaviour" - a reference to his drug abuse, perhaps, or to his refusal to accept accommodation in a distant town.
It wasn't long before that council officials had expressed concern that Theo might become addicted, overdose or die. Now children's services sent a referral to the council's housing department, which still described him as "extremely vulnerable", but went on to say that his "options with the local authority are limited due to his behaviour". These options would only increase, the referral said, "if he can evidence he wants to make some changes".
Around this time, Theo was found in an abandoned building, where he had set fire to a mattress to keep warm. The fire brigade came out and he was returned to the campsite by police.
Theo remembers one night in the tent when there was a violent storm.
"It was real bad. I thought my tent was going to go over so I was constantly in my tent," he says. "Loads of wind, torrential rain and all my stuff got wet. Everything was wet. Even I was wet when I woke up."
People on the campsite helped Theo patch up his tent and he told council staff it was leaking. The council's response? To buy him another tent.
"It's pretty mind blowing. I thought it would be for a day or two and then I'd get housed," says Theo. "But it ended up months. It was a pretty traumatic experience for me because I've always lived in a house somewhere. They should have done so much more. They should have put me somewhere with a roof over my head."
Towards the end of August, the council did make an attempt to find Theo a place in supported accommodation, but without success. It also said it could take him into care, but that idea didn't appeal to him.
Rose had been forced to return home with her husband and foster children, but she continued to travel down to Cornwall at regular intervals, desperate to help her son.
"I was back and forward every weekend where I could. I felt ill all the time, tired, exhausted emotionally drained, just barely able to function really," she says.
At one point, Theo started sleeping in the entrance of some specialist housing for 16- and 17-year-olds, hoping for a place there.
And then, after he'd spent five weeks living in a tent, social workers suddenly decided it was no longer safe - the risk of him being sexually exploited, or coming to harm from alcohol and drugs, was too great.
So he was moved from a tent… to a caravan.
"Then I got accommodation in this caravan. I felt like people were watching me through the windows. There was a lock on the door, but I made sure like all the windows were closed when I went to sleep," Theo remembers.
He was walking home one night when a man stopped and offered him a lift. He then took the teenager to a dark car park where he sexually assaulted him. Afterwards he dropped him off at the caravan.
Theo spent a further month in the caravan, petrified that the man might return.
"I always had to be out at night time. I was worried because he knew where I lived," he says.
Theo reported the assault but social care records show no evidence that the council even considered whether to take any action to protect him in the light of it.
By October, Theo's condition was rapidly deteriorating - his drug use was out of control and he was threatening to kill himself.
On 7 October he was finally found a place in some supported accommodation, run by a housing association that helps homeless young people.
But he was only there for a few weeks. By then it was clear he was very unwell. He was experiencing psychosis, hearing voices and needed specialist help. He was detained under the Mental Health Act and went on to spend 11 months in a psychiatric hospital.
Eventually, Rose's complaints about the treatment her son received were investigated by the Local Government and Social Care Ombudsman for England, Michael King.
He says the council failed to properly consider the risks Theo faced.
"This is one of the most extreme cases I've seen in 14 years in the Ombudsman's service," he told the BBC.
"It's deeply shocking both in terms of the impact it's had on that young man but also in terms of the depth of the failure. What we found was that the council offered him accommodation once. When he refused it, they didn't question whether that was a legitimate decision. He asked for help and asked for accommodation. The council didn't offer it to him. When they did offer him accommodation, they accommodated him in a tent for five weeks, they accommodated him in a static caravan for four weeks and he ended up sleeping rough for a period of time. None of that is acceptable."
He added: "What we saw in the council's records was them taking a moral judgement and blaming [Theo] for some of the choices he'd made... And it's incumbent on the local authority to actually step in and help in that situation and take the bigger view.
"He was homeless and he had a history of mental health problems and he was very vulnerable. He reported sexual assault, reported loneliness, he reported suicidal feelings. I mean, there was warning sign after warning sign, which the council should have acted on."
Jack Cordery, Service Director for Children and Family Services for Cornwall Council acknowledges that the care provided to Theo fell short.
"We're completely accepting that the services that this young man received and his mother actually were well below what we would expect. There's nobody, certainly not me who thinks that a tent on the best campsite in the world is suitable accommodation for a young person in that situation," he told the BBC.
"What they hoped is that that would be for a very short period and that they would be able to get him into suitable accommodation. If a young person is refusing the offer of accommodation, it closes down those options really, really quickly," he says.
"What I would say to Theo is that I will do everything in my power and in my authority to make sure this never happens again."
The council has since apologised to Theo and his mother.
Now 19 years old, Theo is taking things one day at a time. He's looking forward to getting settled somewhere permanent and resuming his college course. But he wants to make sure that no-one else goes through what he did.
"Young people's homelessness, it's always gonna happen, but I want it to be sorted out quickly. I'm not just here to do my sob story. I just don't want it to happen to anyone else to be honest."
Theo and Rose are pseudonyms
You may also be interested in:
At the age of 17, Sherry Denness tried to kill herself nine times in 10 days, and only then got the help she needed.