Racial Impostor Syndrome: When you're made to feel like a fake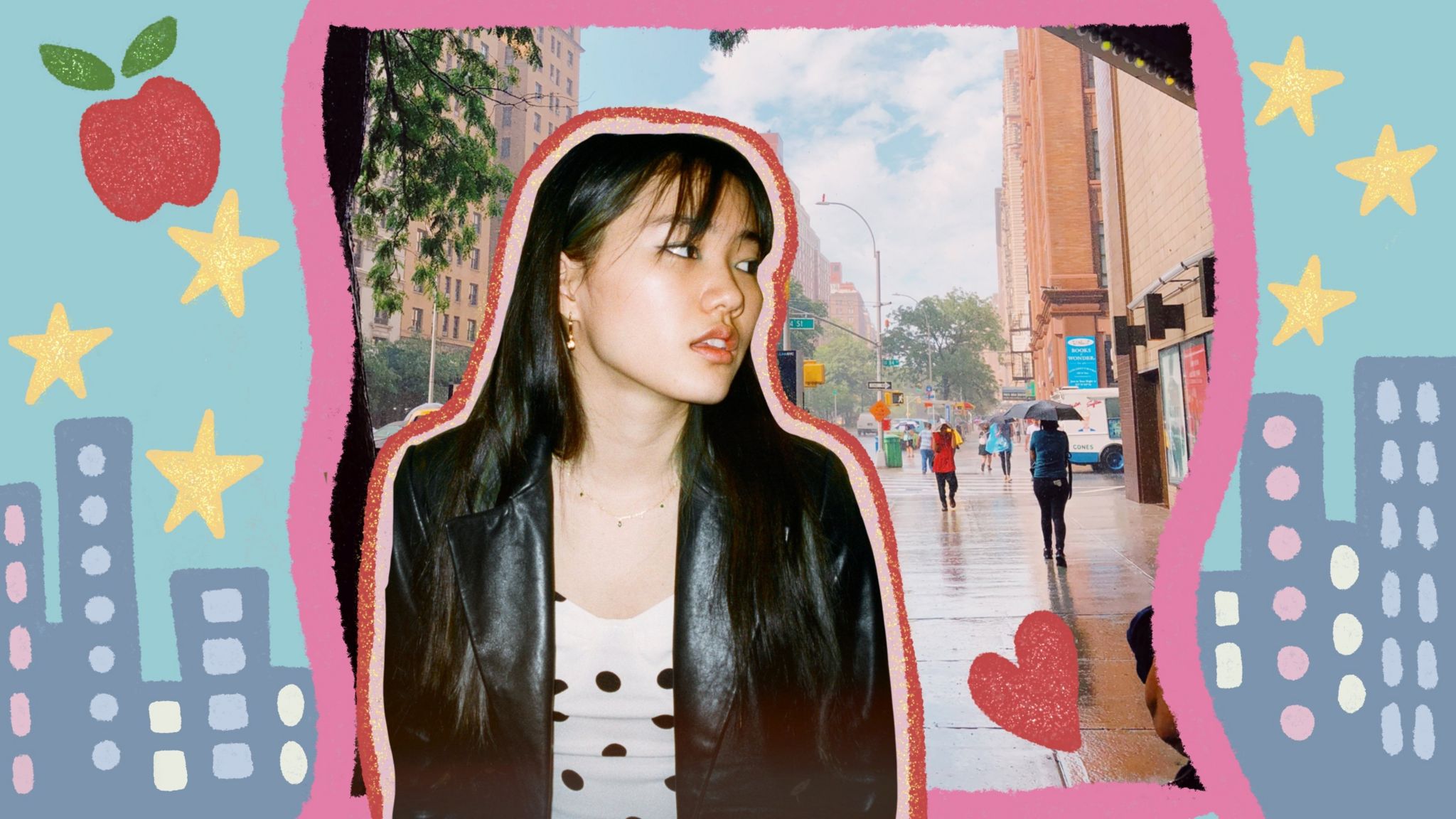 In December, Hilaria Baldwin - the podcaster, and wife of actor Alec Baldwin - was widely ridiculed for seeming to fake being Spanish. Korean-American student Arden Yum says that, like Hilaria, ethnic minority children may also identify with a different culture. But there are crucial differences, she suggests.
There is a TV clip showing her struggling to remember the English word for cucumber, she has a Mediterranean accent, and calls her children "the Baldwinitos". Plus, her husband told talk show host David Letterman, "My wife is from Spain." So understandably, many believed Hilaria Baldwin was Spanish.
It turns out Hilaria (she pronounces her name "Ee-lah-ree-ah") was born Hillary Hayward-Thomas. She grew up and went to school in Massachusetts, and went to university in New York. Her parents liked to holiday in Spain though, and retired there when she was in her late 20s.
There was a moment in December when Hilaria became one of the main topics of conversation - and humour - on social media. Comedian Amy Schumer called the episode "insane and entertaining", adding, "You can't just pretend you're from Spain."
Actress Salma Hayek, who played Alec Baldwin's girlfriend on 30 Rock, was more sympathetic. "We all lie a little bit," she said this week on talk show host Andy Cohen's pop culture channel, Radio Andy. While Hayek is Mexican, her mother's ancestors were Spanish, she pointed out, adding that Hilaria was "smart to want to be Spanish - we're cool."
Defending herself on her Instagram page, Hilaria said: "We celebrate both cultures in our home. Alec and I are raising our children bilingual, just as I was raised. This is very important to me. I understand that my story is a little different, but it is mine, and I'm very proud of it."
"Who is to say what you're allowed to absorb and not absorb growing up?" she said.
On the surface, she could have been describing something that my friends and I have often spoken about - racial impostor syndrome. It occurs when your internal sense of self doesn't match with others' perception of your racial identity and gives rise to a feeling of self-doubt. It's usually experienced by people like me, living in countries where we are an ethnic minority.
My parents are Korean-Americans and I was born in New York city in 2002.
My younger brother and I grew up in Manhattan's crowded and lively streets. We moved around various neighbourhoods and played in local parks. We were lucky to experience childhood in this city filled with people from all backgrounds and of all ethnicities.
Some areas are more diverse than others, though. The Upper West Side, sandwiched between the Hudson river and Central Park, is quiet, residential, and affluent. It's also 68% white. When you picture glamorous TV shows such as Gossip Girl and Sex and the City, they're usually set in the Upper West or Upper East Side.
I thought that I had to withdraw and whitewash myself in order to fit in - I wanted to scrub clean all of the Asian parts of myself
I go to a predominantly white school, where most students are wealthy and privileged. When I was younger, I often felt defensive when my friends asked questions about the Korean food I ate or the Korean dramas that were playing on our TV when they visited. They weren't being insensitive, but I didn't want my Asian heritage to undermine the identity I presented at school.
The representation of Asians in American media recycles a handful of cliches. I'd see Mulan, a Disney princess-warrior, but I couldn't relate to her ferocity. And then there was the generic Asian kid in high school shows whose only purpose was to be the nerdy, shy side-kick with no storyline. They excelled at math. They played the violin. I resented their one-dimensionality.
At school, people often assumed that I would fit the stereotype of the shy Asian girl, and this became a self-fulfilling prophecy.
I was afraid to raise my hand in class discussions, or to reach out to new classmates, and my self-confidence plummeted. I became silent. I thought that I had to withdraw and whitewash myself in order to fit in. I wanted to scrub clean all of the Asian parts of myself.
Even though I wasn't white, I wasn't considered fully Korean, either. I was trapped in what felt like an inescapable limbo. In seventh grade, a Chinese-American friend of mine used to lightheartedly call me a banana: white on the inside, yellow on the outside. I felt like an impostor. At the time, I hadn't ever been to Korea, and I couldn't speak more than five words in Korean.
I was constantly questioning my identity - doubting that I belonged in either group: "American" or "Asian".
But when I turned 15, everything changed. My family moved to Hong Kong for a year because of my mother's job with an art gallery. In my new adopted city and international school, I was fully immersed in a community with other Asian people for the first time. There were people from China, Singapore, Taiwan, and South Korea in my grade. Even though I had grown up in the US, I no longer looked or felt like an outsider.
At lunchtime, my friends and I would sit on the landing of a staircase at the front of our school and pull out our bento boxes of home-cooked Asian food, which we ate with brightly coloured chopsticks. For once I wasn't carefully unpacking the racial undertones of every interaction. We went to the beach on the south side of Hong Kong, went out to eat dim sum and listened to local bands.
Many people with immigrant parents seemed to identify with the concept of feeling like their internal identity is in conflict with what others perceive them to be.
America has a long history of assigning identity, often making people of colour question themselves. A good example of this is the introduction of "blood quantum" for Native American tribes.
"Blood quantum is a system of calculating blood introduced by the federal government in the early 19th Century as a means of restricting the rights of Native American," says attorney Brett Chapman, whose relative Standing Bear was the first Native American to win civil rights for his tribe in the United States.
The idea of blood quantum was then adopted by some Native Americans themselves. Florida's Miccosukee Tribe, for example, requires someone to have 50% tribal blood in order to qualify as a member. This led many to question their identity, says Brett.
Native American children were also separated from their tribes and forced to assimilate with white Americans and adopt their values, he adds. "Which meant that racial impostor syndrome was forced upon them. People were made to change who they were, and then feel divorced from their tribe."
Maybe Hilaria Baldwin's internal identity is in conflict with the way others perceive her? Identity is fluid and people of any race can feel a kinship to a culture that they're not part of. But her experience is clearly very different from the experience of a person of colour in the US, or that of someone who looks Asian but has been brought up in New York.
To me it's inappropriate for a privileged white person to adopt the identity of a Hispanic in the US. Hilaria Baldwin evidently identifies as Spanish rather than Mexican, Puerto Rican or Cuban, but most Spanish-speakers in the US are from these places, or from Central America - and according the Pew Research Center more than half say they have experienced discrimination. A white person who passes as Hispanic never has to worry about this.
Many of us don't have whiteness as a safety net.
The way to address racial impostor syndrome is to open more spaces for us to tell our own stories and share our unique experiences. It's more complex than stereotypes about maths prodigies and shy kids.
As told to Megha Mohan, BBC gender and identity correspondent
You may also be interested in:
If you walk into a doughnut shop in California, the chances are it's owned by a Cambodian family. That's because of a refugee who built up an empire, and became known as the Donut King, only to lose it all.