Bitcoin: Man identified as inventor moves to 'clear name'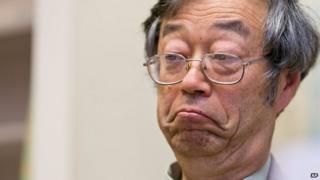 Dorian Satoshi Nakamoto, the man named by Newsweek as the creator of virtual currency Bitcoin, has taken on a lawyer to "clear his name", the 64-year-old said in a statement.
US magazine Newsweek ran an article on 6 March making the claim, and still stands by its story.
But via his lawyers, Mr Nakamoto said: "I did not create, invent or otherwise work on Bitcoin."
He said that "financial distress" meant he did not have an internet connection.
"I am writing this statement to clear my name," Mr Nakamoto wrote.
"The first time I heard the term 'bitcoin' was from my son in mid-February 2014.
"After being contacted by a reporter, my son called me and used the word, which I had never before heard.
"Shortly thereafter, the reporter confronted me at my home. I called the police. I never consented to speak with the reporter. In an ensuing discussion with a reporter from the Associated Press, I called the technology 'bitcom'. I was still unfamiliar with the term."
'Confusion and stress'
Neither Newsweek nor Leah Goodman, the reporter who wrote the original story, have commented on the latest statement.
In the days following the publication of the story, Newsweek put out an additional note saying it stood behind Ms Goodman and the reporting contained in the article.
"Ms Goodman's research was conducted under the same high editorial and ethical standards that have guided Newsweek for more than 80 years," the magazine said.
"Newsweek stands strongly behind Ms Goodman and her article."
The magazine called for Mr Nakamoto's privacy to be respected - an issue he had hit out at the magazine about, and has reiterated with his latest comment.
"Newsweek's false report has been the source of a great deal of confusion and stress for myself, my 93-year-old mother, my siblings, and their families," he said.
"I offer my sincerest thanks to those people in the United States and around the world who have offered me their support. I have retained legal counsel. This will be our last public statement on this matter.
"I ask that you now respect our privacy."