Internet has 'not become the great leveller'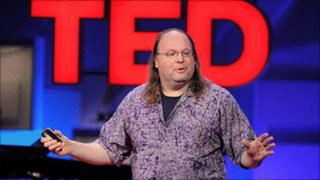 "The internet has not become the great leveller that it was once thought it could be," according to Harvard academic Ethan Zuckerman.
Mr Zuckerman was speaking at the TED Global (Technology Entertainment and Design) conference in Oxford.
He said that the web was now contrary to the original utopian vision and users focused on information from a handful of wealthy countries.
"It's making us 'imaginary cosmopolitans'," he told delegates.
Social networks, he said, made the problem worse with the majority of people sharing information with folk who share their world-view.
"We think we're getting a broad view of the world, because it's possible that our television, newspapers and internet could be giving us a vastly wider picture than was available for our parents or grandparents," he said.
"When we look at what's actually happening, our world-view might actually be narrowing."
Mr Zuckerman, an entrepreneur, blogger and researcher at Harvard's Berkman Center for Internet and Society, said that it was his aim to change the situation and realise the original vision of the net.
Blinkered
He pointed to research that showed the focus of media organisations had also narrowed in recent years.
"When I was growing up in the US in the 1970s, 35-40% of an average nightly newscast focused on international stories," he told the audience.
"The percentage of international news in an average newscast is now 12-15%."
He said the internet - and its global reach and infrastructure - could address that gap, but many people chose not to engage.
"The promise of the internet - the idea that everything is just a click away - is that in Britain I can read newspapers from Australia, India, Nigeria, Ghana, Canada, at no cost and end up with a wider view of the world. The truth is that, on average, I won't."
He said that in the UK, more than 95% of traffic to the most popular news sites is to domestic sites.
And he saw the same pattern across the world.
For example, he said, most US news focused on North America and countries such as Iraq and Afghanistan, where its troops were based.
This problem is compounded by social networks, he said.
Tools like Twitter trap people in so-called "filter bubbles", a phrase put forward by political activist Eli Pariser.
"The internet is too big to understand as a whole, so we get a picture of it that's similar to what our friends see," said Mr Zuckerman.
"If you turn to your friends, eventually you get the wisdom of the flock."
True colours
He highlighted research done by Twitter, which found that almost a quarter of its US users were African-American
"That was pretty surprising to most American users, who assumed that Twitter was just used by nerdy white guys," he said.
And research by scientists at tech giant IBM had shown that the popular topics of conversation between white users and African American users were very different, highlighting the fact that networks reinforced a certain world view.
For example, he said, cookout was a term mostly used by black twitter users, whilst oil spill was a predominantly white topic.
"The wider world is a click away, but whether we mean to or not, we're usually filtering it out," said Mr Zuckerman.
However, Mr Zuckerman said there were solutions that could realise the original vision of the internet and contribute to a greater understanding of the wider world.
Of particular help, he said, would be finding mechanisms to amplify the voices of thousands of bloggers, particularly those in countries under represented in mainstream media.
Crunch time
Mr Zuckerman admitted he had a particular interest in this, as he is one of the founders of a not-for profit network of bloggers called Global Voices, which aims to fill in the gaps in global media coverage.
These networks may be hidden from the wider world until times of crisis, he said.
For example, a network of Madagascan bloggers called Foko club, originally set up to teach high school students English suddenly rose to prominence in 2009 when the president of the country was overthrown and most media organisations were barred from the country.
"Foko were reporting breaking news with their blogs and cellphone cameras," he said. "If we want a wider world, we'd find ways to raise voices in places we don't often hear from, like Madagascar."
He also highlighted a project in China called Yeeyan, which uses a network of 150,000 volunteers to translate and publish 50 to 100 articles each day from western publications, such as The New York Times
"Where's the English-language version that's giving us insights into what's being said in Chinese media?" he asked.
However, he said, to truly realise the vision people needed curators to collect the content together and who bridged different cultures to put content into context.
These bridge figures and xenophiles could then act as "trusted guides" to unfamiliar content.
"My challenge is this: it's not enough to make a personal decision that you want a wider world," he said.
"We have to figure out how to rewire the systems we have. We have to fix our media, we have to fix the internet, we have to fix education."
In addition, he said, the net needed new translation projects and tools along with new mechanisms for discovering content through serendipity.
"That's what I am trying to do - I need your help," he said.
TED Global runs from 13-16 July in Oxford, UK.