Google pressed on wi-fi snooping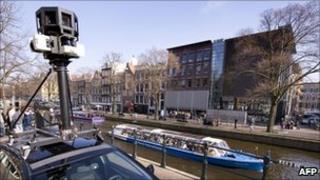 Google is being pressed to name the engineers who wrote code that captured personal data from unsecured wi-fi networks.
Google's Street View cars collected this data while taking photographs and gathering location data to create the search giant's imaging service.
The call to name the coders came from the coalition of 38 US states investigating the privacy breach.
It also wants to know if Google tested the wi-fi code before it was used.
"Google must come completely clean, fully explaining how this invasion of personal privacy happened and why," said Connecticut Attorney General Richard Blumenthal, who heads the 38-strong coalition investigating whether the search giant broke US law.
Official probe
Google has apologised for what it calls a "mistake" which resulted in it collecting personal data.
While Street View cars were supposed to log the location of wi-fi hotspots, as they gathered photographs and images of the road, they also collected data passing between unsecured hotspots and personal computers.
In a bid to understand more about how the mistake came about, the coalition has put pressure on Google to reveal more details.
"We are asking Google to identify specific individuals responsible for the snooping code and how Google was unaware that this allowed the Street View cars to collect data broadcast over wi-fi networks," said Mr Blumenthal.
It also wants to know the places where Google grabbed the personal data and what was done with any information that was captured.
"We will take all appropriate steps, including potential legal action if warranted, to obtain complete, comprehensive answers," he said.
Google responded in a statement: "As we've said before, it was a mistake for us to include code in our software that collected payload data, but we believe we did nothing illegal."
A meeting between the coalition and Google is set for 23 July at which the search firm is expected to be grilled about the Street View snooping.
In Britain, Conservative MP Rob Halfon called on authorities to wake up to the slow "privatisation" of surveillance that the Google case represented.
Mr Halfon issued the warning at a debate organised by Big Brother Watch, a pressure group set up by the founders of the campaign group TaxPayers' Alliance.
In June, Mr Halfon tabled a Commons motion calling for a debate on the threat of a surveillance society.
Google has stopped its Street View cars gathering any wi-fi information, but the revelation about it gathering the data has sparked a formal investigation by the US Federal Trade Commission, a class-action lawsuit, and numerous investigations by national data protection agencies.
The Metropolitan police said it is pushing ahead with its own investigation into whether any British laws were broken by Google.