Night vision goggles for all troops in Afghanistan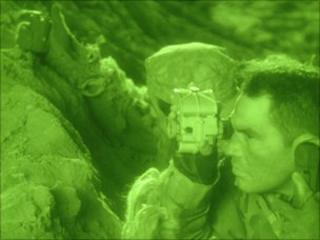 The UK's Ministry of Defence has placed an urgent request for a US contractor to speed up production of its Generation Three night-vision glasses.
The order, worth an estimated £35m, equates to approximately 11,000 sets.
ITT, which produces the glasses, said it was its largest order from the MOD to date.
The goggles, which were supposed to be delivered over the next five years, will now be shipped by early 2011.
While night vision glasses have been used in Afghanistan since hostilities began in 2001, they have not been universally available until now.
They are also different models and makes, meaning some troops become acquainted with the operation of one set, and then used another when engaged in combat operations in Afghanistan.
An MOD Spokesperson told BBC News saying that it "demonstrated the MOD's commitment to providing our troops with the equipment they need both on operations and in training."
"There is clear benefit in troops 'training as they fight'."
Under fire
There has been continual criticism of alleged equipment shortages for troops working in Afghanistan.
In February, Gordon Brown was forced to deny troops were sent to Iraq and Afghanistan without the equipment they needed after being accused of "guillotining" the budget.
The Ministry of Defence, like all ministries, is being subjected to the current financial squeeze, but due to the priorities of missions in Afghanistan, they were able to bring the order for the goggles forward.
There are, at present, about 10,000 British troops based in Afghanistan. The order will mean that every British soldier in Afghanistan will now have access to these new glasses, with the remainder being used to train up the next batch of troops getting ready for deployment.
The new Generation Three glasses are a "significant" improvement over the older Generation Two goggles said ITT - the firm making the night-vision equipment.
Speaking to BBC News, Bruce Scott, president of ITT defence and information solutions international - and a former Major General in the US Army - said the new sets used less power and should last for 18 hours of continuous use.
By comparison, said Mr Scott, Generation Two sets used two batteries, produced a lower quality image and did not last as long.
"Every soldier, when they go out, replaces the battery. It's a lithium ion battery but in essence it's an AA battery.
"So lets assume that Iraq and Afghanistan have 250,000 soldiers all using these glasses. If you change a quarter of a million batteries every day, these lithium ion batteries cost $3 a piece. Just do the maths," he said.
Mr Scott said that because the sets use less power, the phosphor screens would last longer, extending its service life, and halving the number of batteries made the unit lighter.
The original order was due for completion over a three year period, but ITT said that manufacturing was sped up due to an "urgent request" from the MoD.
"You don't want to train with goggles that don't let you see so well at night and then get a better goggle when you go into combat," said Mr Scott
"So we have rearranged our production at our plant in Virginia and we are now delivering 80% of that order by the end of this year, and the rest by the first quarter of next year," he added.
Scope out
Night sights can be broken down into two main categories - thermal imaging and near infrared (IR) - both of which are in use in Afghanistan.
Thermal sights detect the heat signature produced by hot objects (people, animals and vehicles) while IR sights work on the same principle as human eyes, only they "see" light reflected off objects in the infrared spectrum, rather than the visible.
ITT's boss said his firm had produced a set that combined the two types, creating a night sight that could work "in any conditions".
"There are three conditions where image intensification does not work, but where IR does: In a cave, where there is zero ambient light; in a dust storm; and in fog," said Mr Scott.
"We have a switch which you can dial up, so you can see objects outlined due to their thermal signature, or fully imaged. In a cave, we can see footprints for over half an hour.
"And in fog, it's even better, as it cools everything to the same temperature, except for a hot body," he added.
The firm said these glasses were currently used by US special forces and it hoped to be able to provide the kits to other Nato nations
"As to when they that happen, well it's entirely down to the US State Department," said Mr Scott.
"Other than nuclear technology, there is no product that is more tightly controlled than night vision, for obvious reasons," he added.