RIM launches Blackberry Torch to challenge iPhone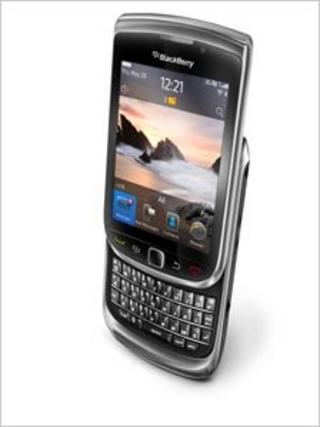 Research in Motion (RIM) has launched a touchscreen mobile in an effort to maintain its lead over Apple's iPhone and handsets running Google software.
The new addition to its popular Blackberry phones is called the Torch.
RIM has also given the operating system an upgrade, in a nod to the richer functionality of other smartphones.
The release comes as the United Arab Emirates and Saudi Arabia threaten to ban some of the functionality of the Blackberry handsets.
The Torch 9800 features a touchscreen and sliding keyboard - the first in the Blackberry portfolio - and comes with 4GB of memory and a five megapixel camera.
Drawing on the popularity of social networks, Facebook, Twitter and MySpace come pre-installed on the new device.
RIM attempted to deflect comparisons with the iPhone.
"This isn't about competition, this is about making the Blackberry experience better," said RIM product vice president Rob Orr.
"No doubt some people will draw comparisons but we think it is unique," he added.
Analysts were not convinced.
"This is RIM trying to close the gap on its rivals. The company has tremendous momentum in North America and the UK but there is no question RIM users are now ready for more," said Ben Wood, an analyst with research firm CCS Insight.
RIM currently accounts for nearly 20% of smartphone sales, ahead of both Apple (10%) and phones running Google's Android software (15%). Phones running Symbian, commonly used on Nokia phones, still dominate the market.
There are 100 million Blackberries worldwide.
Mr Wood said that an update to the browser was one of the most important aspects of the new phone and software.
"The browser has been the Achilles heel of the Blackberry. The new one supports multi-touch, tabbed browsing and HTML 5. It is all pretty standard stuff but RIM has taken some criticism from competitors and this addresses that," he said.
RIM said that the new OS would work on the 9105 and 9700 models but said it would continue to support the existing operating system that ran on millions of other handsets.
The firm has been in the headlines this week as two Gulf states announce bans of some of the Blackberry functions, claiming they pose a security risk.
The United Arab Emirates is to block sending e-mails, accessing the net and delivering instant messages to other Blackberry handsets.
Saudi Arabia is to prevent the use of the Blackberry-to-Blackberry instant messaging service.
Both nations are unhappy that they cannot monitor such communications because the data is encrypted.
RIM confirmed that it had sent letters to all its Gulf state customers, reiterating that "it will not compromise the integrity of the Blackberry enterprise solution".