Untangling the BlackBerry ban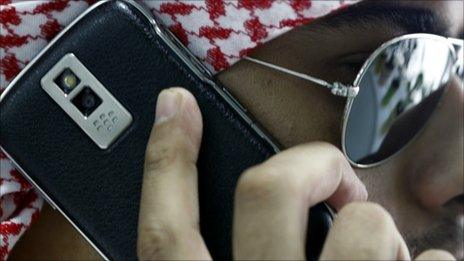 Saudi Arabia plans to block the messenger function on BlackBerry handsets from Friday while the United Arab Emirates has said it will definitely instigate a similar ban next month. Why has BlackBerry become the thorn in the side of the Gulf states?
The case of Research in Motion versus Saudi and the United Arab Emirates seems at first glance to be a relatively simple one.
Since the September 11 attacks in 2001, governments around the world have stepped up their snooping powers and communications firms are required to comply with these tough new laws and hand over data when asked.
RIM boasts of having a particularly secure network claiming to "have spent over a decade building a very strong security architecture to meet our enterprise customers' strict security requirements around the world".
So this seems like an obvious clash between a heavily encrypted system and governments keen to get their hands on the encryption keys in an effort to prevent terrorists or other criminals using the system to evade detection.
However plenty of other systems, including Gmail and other web-based mail system encrypt their data in similar ways so why has BlackBerry been singled out?
The regulatory authority in UAE has said that it is because RIM is the only firm that automatically sends users' data to oversea servers.
"It is a different system because the back-end works through RIM. Everything gets routed out of the country into Canada," explained Gartner analyst Carolina Milanesi.
"BlackBerry has a RIM server controlled by RIM while the others are part of the wider internet," she said.
But Bruce Schneier, BT's chief security officer, thinks this makes no sense.
"Others must send data out of the country. As to why BlackBerry has been singled out, I don't know," he said.
The plot thickens when it becomes obvious that other governments have, in prescribed circumstances, been able to gain access to data on the RIM network for some years.
The firm has been in talks with 175 regulators around the world and its latest statement on the matter RIM admits that it does "co-operate with all governments".
In the US for example, the authorities can tap into conversations on the device as long as they have proper court orders.
Speculation is rife that the Canadian mobile firm did a deal in Russia regarding snooping back in 2008, the same year that it was reported that RIM had also satisfied China's strict security laws.
"RIM has, as far as I know, negotiated with Russia. I don't know the specifics because that is something between RIM and the government but Russia did not allow them to sell BlackBerries and from 2008 they were allowed so something must have changed," said Ms Milanesi.
In 2008, the BBC reported that RIM was at loggerheads with the Indian government over demands that it help decrypt suspicious text messages
RIM's answer then, as now, was that it does not allow any third party - or even the company itself - to read information sent over its network.
India is also putting renewed pressure on the Canadian mobile firm to come up with a solution to security concerns.
The Indian government told the BBC it was still in talks with RIM and no final decision had been made.
RIM won't discuss individual cases but denies that it works out speciific deals in each country.
"Any claims that we provide, or have ever provided, something unique to the government of one country that we have not offered to the governments of all countries, are unfounded," the statement said.
Mr Schneier said that this "can't possibly be true".
"They are very weasely in their statements. UAE wants what others have," he said.
So why has this suddenly become an issue again and what exactly have the UAE and Saudi Arabia asked RIM to do?
The regulatory authority in UAE remained as tight-lipped as RIM and did not respond to BBC requests for more information on what it has asked of RIM or why.
It seems the specifics of the broken-down negotiations are unlikely to become public any time soon but the reason it has suddenly become an issue could be down to the popularity of the device in the Gulf states.
"RIM sales are growing in the region so it may be that it poses more of an issue," said Ms Milanesi.
According to Gartner's figures, RIM sold 145,000 devices in Africa and the Middle East in the first quarter of 2010, accounting for 1.4% of its overall sales.
Other figures suggest that there are around 500,000 overall BlackBerry users in the UAE and more than 700,000 in Saudi Arabia.
The market is tiny for RIM but obviously big enough to worry the governments of the countries involved.
Some commentators on the issue have claimed that the tale is something of a David v Goliath battle with RIM winning out in the PR stakes.
It does, they argue, no harm whatsoever to RIM's image to be seen as protecting customers against government snooping but the reality could be somewhat more complex.
Far from being the hero of the tale, RIM seems to be in the difficult position of having to defend its oft-touted secure platform while also having to admit that the very same system is open to legal challenges and access by governments around the world.
Related Internet Links
The BBC is not responsible for the content of external sites.