Secretary of State Hillary Clinton in BlackBerry talks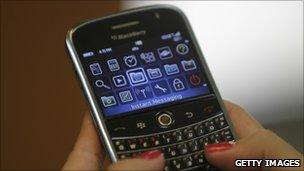 The US Secretary of State Hillary Clinton will hold talks with the UAE over the ongoing BlackBerry dispute.
The United Arab Emirates has said it intends to prevent the phones sending e-mails, accessing the internet, and delivering instant messages.
Authorities are unhappy that they are unable to monitor such encrypted communications via the handsets.
Mrs Clinton said authorities had to balance "legitimate security concerns" with "right of free use and access".
"We are taking time to consult and analyse the full the range of interests and issues at stake, because we know that there is a legitimate security concern," Mrs Clinton said.
"But there is also a legitimate right of free use and access.
"So I think we will be pursuing both technical and expert discussions as we go forward," she added.
The UAE Telecoms Regulatory Authority said in a statement to BBC News that Blackberry services were "currently the only data services operating in the UAE where data is immediately exported off-shore, where it is managed by a foreign, commercial organisation".
"In their current form, certain Blackberry services allow users to act without any legal accountability, causing judicial, social and national security concerns for the UAE."
Mrs Clinton made no mention of other countries which have voiced concerns over the devices.
Saudi Arabia has said it intends to place a ban on a Blackberry-to-Blackberry instant messaging service from 6 August, whilst Lebanon has said it will assess the device.
"This is related to the ability of law enforcement agencies to access the data as may be required by law," he added.
Blackberry handsets automatically scramble messages and send them to computer servers in Canada.
Concerned governments have said they want access to these messages and the keys to decrypt them to counter terrorism and criminal activity.
"We need to make an arrangement with BlackBerry or come to an understanding with them that satisfies law enforcement concerns," Imad Hoballah, the chair of Lebanon's Telecommunications Regulatory Authority told AFP.
Other countries, including India, are also reportedly mulling restrictions over.
The Indian government told the BBC it was in talks with RIM and no final decision had been made.
All of the countries are unhappy that they are unable to monitor communications via the handsets.
This is because the Blackberry handsets automatically encrypts communications and sends them via servers in Canada.
A spokesperson for RIM said earlier in the week that the company's products were "designed to preclude RIM, or any third party, from reading encrypted information under any circumstances since RIM does not store or have access to the encrypted data".
"RIM cannot accommodate any request for a copy of a customer's encryption key, since at no time does RIM, or any wireless network operator or any third party, ever possess a copy of the key."
Related Internet Links
The BBC is not responsible for the content of external sites.