Craigslist responds to 'prostitution' claims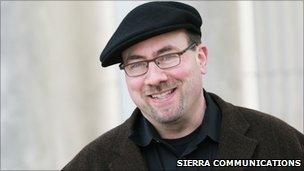 Online marketplace Craigslist has responded to an open letter claiming the site helps promote prostitution.
A paid-for advert in The Washington Post saw two women make an appeal to close the site's adult section, saying it had wrecked their lives.
"My memories are of making my own arrangements on Craigslist to be sold for sex," said the letter.
Craigslist responded by asking if the crimes had been reported to the police, adding it was "combating trafficking".
"If Craigslist was misused, we want to learn more so we can improve our preventative measures," the firm said.
The paid-for advert in The Washington Post featured a letter from a 17-year-old woman calling herself MC.
"I was first forced into prostitution when I was 11 years old by a 28-year-old man," the latter went.
"All day, other girls and I sat with our laptops, posting pictures and answering ads on Craigslist.
"I am 17 now, and my childhood memories aren't of my family, going to middle school, or dancing at the prom.
"They are of making my own arrangements on Craigslist to be sold for sex, and answering as many ads as possible for fear of beatings and ice water baths," the letter continued.
The letter said that Craigslist was now the choice of traffickers because it was "so well known and there are rarely consequences to using it for these illegal acts".
The firm's chief executive, Jim Buckmaster, replied by asking if the "perpetrators are behind bars" and if the advocacy groups who placed the adverts could "let us know where the police reports were filed".
"We have been unable thus far to identify police reports matching the crimes you describe," the statement read.
"If anyone committing such crimes has not yet been apprehended and prosecuted, we want to do everything in our power to assist the police in making that happen," the statement added.
Last year, the site bowed to sustained pressure to shut down its "erotic services" section, replacing the nude images and explicit descriptions with a monitored section and a $10 (£6) charge to make a listing.
Critics said this did not go far enough.
Connecticut's attorney general Richard Blumenthal - who is heading up a group of 39 US states examining Craigslist's adult services section - called on the section to be closed.
Earlier this year, the US lawmaker subpoenaed Craigslist, and asked whether it "is actually profiting from prostitution ads that it promised the states and public that it would try to block."
Mr Buckmaster said that Craigslist had now implemented manual screening of each adult service ad, adding that it thought that the "events described [in the advert in the Washington Post] may have occurred before manual screening was implemented".
Andrea Powell, head of Fair Fund - a group that works with women who have been sold for sex and one of the groups which paid for the advert in the Washington Post - described Craigslist as "the Wal-Mart of online sex trafficking".
"Most of the young people we work with who have been exploited online, they talk about Craigslist. They don't talk about other sites."
The advert in The Washington Post echoes another letter published earlier this year.
Related Internet Links
The BBC is not responsible for the content of external sites.