India sets Blackberry monitoring deadline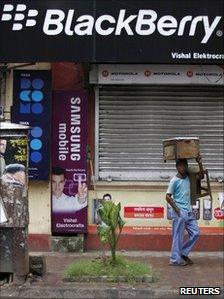 India has sent formal notices to the country's mobile operators telling them they must have equipment to monitor Blackberry services by 31 August.
The move will increase pressure on Blackberry maker Research in Motion (RIM) to allow Indian security agencies access to encrypted messages.
Tata Teleservices told BBC News that the letter said it must "ensure that Legal Intervention (LI) capability is put in place" by the end of the month.
RIM said it grants "lawful" access.
A spokesperson for Tata Teleservices said: "As a Tata Group company, we have always abided by the law of the land and will do so here too".
Other operators have confirmed that they received a similar request.
The government has said it will shut down Blackberry services if the firm does not meet its demands to give access to its encrypted messenger and e-mail services by 31 August.
In statement released on 12 August, the government said that other Blackberry services, including voice and SMS traffic, were already "available to law enforcement agencies".
India, along with many other countries, believes the device and the Blackberry infrastructure are a threat to national security.
Blackberry handsets automatically scramble messages and send them to servers in Canada and other countries.
Authorities have said they want access to these messages and the keys to decrypt them to counter terrorism and criminal activity.
The row in India is the latest in a long-running dispute between RIM and international governments.
The United Arab Emirates was the first country to propose a block on the devices, followed by a raft of others including Lebanon, Algeria, Saudi Arabia and Kuwait.
A ban that was supposed to come into force on 6 August in Saudi Arabia has been postponed whilst the government holds talks with RIM.
The company is also reportedly in talks with the Indian government.
However, government officials contacted by BBC News declined to confirm reports that RIM would grant limited access to BlackBerry instant messages by 1 September.
It also declined to confirm that it had promised talks on monitoring its more secure corporate e-mail services.
RIM said it stood by a statement issued last week that said it "cannot disclose confidential regulatory discussions that take place with any government".
"RIM assures its customers that it genuinely tries to be as co-operative as possible with governments in the spirit of supporting legal and national security requirements, while also preserving the lawful needs of citizens and corporations," the statement read.
Related Internet Links
The BBC is not responsible for the content of external sites.