Facebook launches Places location based service
By Maggie Shiels
Technology reporter, BBC News, Silicon Valley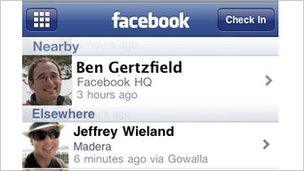 Social networking behemoth Facebook has added a feature that allows members to share where they are while on the move.
Places, as it is known, marks the company's first foray into the "location-based services" space, which has become popular with users who want to share where they shop, eat or play.
Sites such as Foursquare and Gowalla already offer similar features.
Places will initially only be available in the US through Facebook's iPhone app or by logging onto its smartphone site.
The company plans to extend the feature to all its 500 million members as soon as it can.
"This is meaningful because you can stay connected with your friends around you," said company founder Mark Zuckerberg.
The product, which uses the GPS on smartphones, works by getting users to tap a "check-in" button to see a list of places near where they are. From there they can choose the place that matches their location and "create a story" in their friends' News Feeds on the site.
Users can also let people know who they are with by "tagging" any Facebook friends, but only as long as they check-in to the location as well.
The company's vice president of product Chris Cox said that while home and work are two of the most important places in people's lives, Places tries to tap into the third most important.
"This third place is the one we end up talking about a lot. I went to a movie, I saw a band, I went to a bar. So much of the interesting stuff in our lives happens in this small amount of time and we want to make that come alive," Mr Cox told BBC News.
"The worst portrait of Facebook is people at home just looking at pictures of other people having fun. This is exactly the opposite. This is a very participatory, real-world kind of thing."
Location based services have been growing in popularity among users with smartphones.
One of the most talked about is Foursquare, which now has more than three million users. It plays up the game aspect of checking in with friends by awarding points and virtual badges.
Far from being viewed as a threat to its future, Foursquare's vice president of mobile and partnerships Holger Leudorf said he sees Facebook's entry into this arena as an opportunity.
"This will certainly put the spotlight on the check-in industry even more but I don't think it represents Facebook stealing our thunder," he said.
"You see elements here that you see on Foursquare but this is more about validating that we are onto something and that this will be a much, much bigger thing going forward."
Other companies building on top of the Facebook platform alongside Foursquare include Gowalla, Booyah, Loopt and the business review site Yelp.
While the location-based sector is still nascent it is predicted to become a billion dollar market when it comes to targeting advertising or promotions at people based on their proximity to a business.
Media research firm Borrell Associates has estimated that such services could generate as much as $4.1 billion (£2.6 billion) in annual ad sales by 2015.
This is in part because of the explosion of people using Facebook and other services on their mobile phones. Facebook estimates that more than 150 million of its members access the site via a mobile.
"We have gone from a world where online we know who I am, what I am doing and when to where I am doing it," said Susan Etlinger, analyst with the Altimeter Group.
"This changes the game dramatically. And knowing what my friends think of a bar or a restaurant has a much bigger value to me than 40 to 100 strangers because my friend's experiences matter more to me.
"And If I am a business, it gives me a channel to engage with my customers at a point they are most likely to purchase," Ms Etlinger told the BBC.
Clearly stung by previous criticism over the way the company has handled users' privacy in the past, Facebook has taken a different tack this time.
The networking site has given users controls over what and how much information they share on the service. Facebook said Places is about "broadcasting to your friends, not the whole world".
Users can remove themselves if someone tags them. They can also disable the feature if they are not interested.
"They have been pretty thoughtful about the privacy stuff here, but they had to be given the backlash in the recent past," said analyst Greg Sterling of Sterling Market Intelligence.
"They have ensured that the default setting is about the individual and not the world and that is the biggest shift from a privacy standpoint."
Related Internet Links
The BBC is not responsible for the content of external sites.