Tech industry holds closed door talks on open internet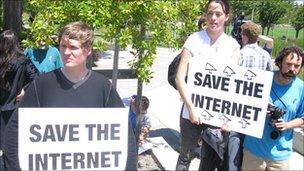 An industry body representing some of the biggest names in technology has hosted a closed-door meeting to discuss the future of the open internet.
Public advocacy groups said such back-room dealings were detrimental.
The meeting follows the publication of a controversial plan by Google and Verizon that could allow net providers certain types of internet traffic to be given priority over others.
Consumer bodies called those proposals an "internet killer".
Last week a crowd of about 100 people marched to Google's headquarters in California to present boxes that they said contained 300,000 signatures upholding the values of net neutrality, a founding principle of the net that states that all web data is treated equally no matter where it comes from.
The Google/Verizon plan suggests loopholes for mobile traffic and for some specialised content.
Protestors urged the search giant to honour its famed "don't do evil" motto.
The Google/Verizon scheme was announced after the US Federal Communications Commission (FCC) halted its own private sessions with internet companies and broadband providers to thrash out a consensus on the thorny subject of net neutrality.
An agreement is central to the government's ambitions to provide high speed net access to every American by 2020.
Some internet service providers have said that the rise in internet traffic is putting an ever growing burden on the infrastructure of the net.
As a result, they say, they should be able to charge more for heavy internet traffic or users or to carry traffic for bandwidth intensive services such as web video.
Some critics have said net neutrality could stifle innovation.
On the other side of the debate, campaigners say net neutrality is a central tenet of the internet and guarantees free and open access to all.
They argue that watering down the concept of net neutrality would pave the way for a two tiered internet, where the ability to pay would determine what services people could access.
Amid the present impasse, this latest meeting conducted by the Information Technology Industry Council (ITI) in Washington was held to try and find a way forward.
It was said to involve representatives from Verizon, AT&T, Skype, Microsoft, Cisco and the Communications Workers of America.
In a statement to BBC News, the Council's president Dean Garfield said that "great progress has been made to develop internet openness principles in recent weeks" but more needed to be done "to ensure cross-sector support and to preserve internet access, innovation and investment.
"This new effort will build on that work to arrive at something that can achieve both public and private sector support and strike the balance of encouraging continued innovation and investment in the internet."
In a recent interview with the BBC Mr Garfield said he believed the way forward was through a private sector initiative.
"All the other solutions are ones that will take a fairly long time to effectuate. Private sector leadership is important here, " said Mr Garfield at the time.
Google did not attend but said that it was "an important issue and we support any attempt to move the ball forward".
Illegitimate negotiations
From the perspective of net neutrality supporters, news of another "set of secret negotiations" is worrying.
"Industry talks that don't have any public process or consumer interest are not likely to result in good policy making that promotes the public interest," Aparna Sridhar, policy counsel for Free Press told BBC News.
"Developing meaningful open internet rules is a job that is best done at the FCC with full public input from a diverse variety of stakeholders and not limited corporate closed door meetings."
That was a view backed by another advocacy group, Media Access Project.
"These 'negotiations' are illegitimate," said Andrew Jay Schwartzman, the project's senior vice president.
"They do not involve representatives of people who use the internet for free expression and commerce and they lack representation from the infant businesses that depend on an open internet to build the future Ciscos, Microsofts and Skypes."
Ms Sridhar of Free Press said the present confusion and ensuing rancour has been exacerbated by the FCC.
"Unfortunately there is a bit of a vacuum right now because the Commission hasn't acted so various industry players are taking advantage and stepping in to fill that vacuum."
Related Internet Links
The BBC is not responsible for the content of external sites.