Blackberry makes offer to India ahead of ban deadline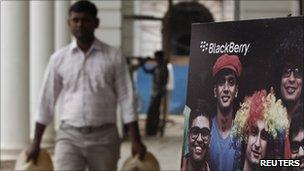 Blackberry-maker Research in Motion has said it is willing to work with India to support the country's need for "lawful access" to encrypted services.
RIM and the Indian government are holding last-minute talks ahead of a 31 August deadline, when a ban on the devices is due to begin.
India wants the ability to monitor secure e-mail and instant messaging services provided by the firm.
RIM maintains that it does not do "specific deals" with countries.
The firm said that it had now offered to "lead an industry forum focused on supporting the lawful access needs of law enforcement agencies".
It said that the forum - which would include other telecoms firms - would work with the Indian government to develop "policies and processes aimed at preventing the misuse of strong encryption technologies".
India, along with many other countries, believes the device and the Blackberry infrastructure used by business customers are a threat to national security.
The country fears the device could be used by militants and insurgents in a repeat of the 2008 attack on Mumbai that left 166 people dead.
Blackberry handsets automatically scramble messages and send them to servers in Canada and other countries.
Authorities have said they want access to these messages and the keys to decrypt them to counter terrorism and criminal activity.
But RIM has said that it "does not possess a 'master key', nor does any 'back door' exist in the system that would allow RIM or any third party, under any circumstances, to gain access to encrypted corporate information".
It said that "singling out and banning" Blackberry would be "ineffective and counter-productive" as many other networks used similar encryption techniques.
The firm said finding a solution to meet the needs of governments and prevent the misuse of encryption was an industry-wide problem.
A representative of the Indian government could not be immediately reached to respond to RIM's latest offer.
Earlier today, Shri Sachin Pilot, the Minister of State for Communications and Information Technology, said that "services which can not be intercepted and monitored in readable format may be banned by the government".
It has already sent formal notices to the country's mobile operators telling them they must have equipment to monitor Blackberry services by 31 August.
Earlier on Thursday, a spokesperson for India's Home Ministry confirmed to the BBC that "technical discussions" were ongoing with RIM.
No official confirmation is expected until next week, he said.
Related Internet Links
The BBC is not responsible for the content of external sites.