Boxing game to aid health fight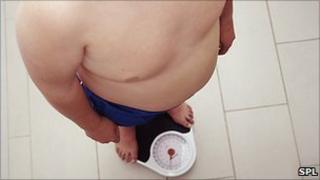 Overweight middle-aged men in Teesside could soon be using an exercise-based video game to improve their health.
Researchers are using the game to enthuse a population that is typically reluctant to take up sport or exercise.
The game uses a home-grown motion capture rig built from LED clusters and inertial measurement units.
Social clubs in Teesside are being sought as a venue for the trials of the technology and the approach to improving fitness and health.
Fast punch
Project leader Dr Iain Spears from the University of Teesside said despite the success of the Wii and its motion capture system, it was necessary for the researchers to make their own system to ensure that participants could not cheat.
"When people first get a Wii they do all the swings like a tennis player and play the proper tennis shots," said Dr Spears. "But there's a tendency for people to start just flicking the wrist once they get the hang of it."
The accelerometers in console capture systems typically cannot distinguish between full-blown strokes and the smaller flicks, he said.
Alternative console-based motion capture systems based around cameras were also unsuitable, he said, because their frame rates were typically too slow to capture the high-speed movements of participants.
"They only work at 30 frames per second; that would not capture the motion of a punch, it's too quick," he said.
Greater sensitivity was also needed, he said, to ensure that estimates of the energy participants expended were accurate.
Punch power
The home grown system is based around a combination of sensors set on a controller in each hand, a head band and a chest piece. The two controllers for the hands are linked to the belt via a rubber resistance band so participants have to expend real effort to throw a punch.
LEDs on the hand-held controllers, chest piece and head band allow a computer system to keep an eye on fist, body and head movements.
"It's basically a cross between the new Sony PlayStation Move and Nintendo Wii controllers," said Dr Spears.
The "exergaming" system being developed is based around shadow boxing against a computer opponent. As well as striking the opponent, players will also have to avoid being struck by the computer-controlled sparring partner.
"The exercise will be high-intensity interval training, with relatively brief periods of playing the game interspersed with recovery periods, like a scaled down version of boxing rounds," said Dr Alan Batterham, a professor of exercise science who is a co-researcher on the project.
"There is a growing body of evidence that brief, relatively high-intensity exercise of this type is beneficial for health," he said.
"We are developing and pilot testing the exercise programme, but we believe that a 10-15 minute session in total, three times a week, may be sufficient to benefit participants," said Dr Batterham.
The EPSRC-funded project is aimed at poorer middle-aged men living in the North East, a population which, the researchers claim, is typically hard to reach and to convince to take up exercise.
Staff for the project are being sought, said Dr Spears, and once they are recruited work will start on finding the first subjects. Those that take part will be monitored extensively to check that they do not compensate for being more active in one area of life by being more slothful in others.
Social clubs in Teesside will be the venue for the trials and, said Dr Spears, friends will be encouraged to take each other on, albeit virtually.
"It's a way of getting people to do the activity associated with boxing in a safe environment where they are not getting hit on the head," said Dr Spears.
Venues for the trials and the first intake of subjects are now being sought, said Dr Spears. If the trial of the exergaming system proves successful, he said, the team plans to apply for more cash to expand the number of people that go through it.