Czechs halt Google Street View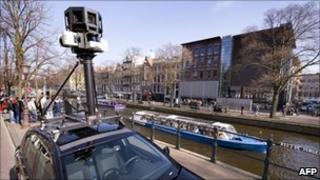 Authorities in the Czech Republic have stopped Google from collecting images for its Street View mapping service.
The Czech Office for Personal Data Protection refused to grant the search engine giant a licence to collect fresh data in the country.
Existing photos on Street View can still be used and negotiations between the two sides are still in progress.
Google has been under fire in a number of countries over privacy and data collection concerns.
A spokesman for the Czech agency said they had concerns over the legality of Google's service.
"We do not have complete certainty the information [collected] is being processed according to law," said Hana Stepankova.
She added that talks with Google were continuing and that the agency would grant Google permission to resume data collection, providing the process could be done legally.
A spokesperson for Google told BBC News that they were disappointed by the move but would engage in "constructive dialogue" with the Czech authorities.
"We're disappointed, as we believe Street View is legal in the Czech Republic," they said.
"We have in place robust procedures to protect privacy, such as face and number plate blurring and removal tool.
"Street View has proved a popular and useful tool for consumers and businesses around the world and we look forward to finding a solution to bring additional imagery to people Czech Republic,' they added.
Privacy
The Czech decision is just the latest in an global row over Google's Street View mapping system
In May, Google admitted that for the past three years it had wrongly collected information people have sent over unencrypted wi-fi networks.
The issue came to light after German authorities asked to audit the data the company's Street View cars gathered as they took photos.
The issue quickly snowballed, after it emerged the wi-fi data collection had occurred in more than 30 countries.
Investigations are ongoing in France, Germany and Australia, while in Spain, the firm has been summoned to appear before a judge on 4 October.
In the US, Google faces a class action lawsuit over the data harvesting, as well as a large-scale investigation backed by 38 states.
In the UK, the Information Commissioner recently cleared the company after it found that it had not collected "significant" personal details.
However, the firm is still under investigation by the Metropolitan police.