Q&A: YouView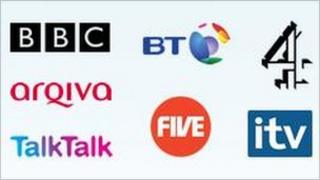 YouView - a new free-to-air, web-connected TV service combining Freeview digital channels with on-demand content such as iPlayer - will launch in the UK in 2011.
YouView is an attempt to develop a standard for internet television services in the UK.
The scheme, formerly known as Project Canvas, was given the green light by the BBC's governing body, the BBC Trust, at the end of 2009.
What is YouView?
YouView is a partnership between the BBC, ITV, BT, Channel 4, five, Arqiva and Talk Talk to develop a common interface for Internet Protocol Television (IPTV) in the UK.
IPTV allows you to access programmes via the net rather than through the air.
YouView is an attempt to replicate the success of Freeview for internet television.
The partnership believes that developing a single standard will bring a new range of services in to the living room and kick-start demand for television over the internet.
It has been described as "Freeview Mark Two" and an attempt to converge "broadcast with broadband", with the BBC's director general Mark Thompson described it as a "holy grail" for future public service broadcasting.
How will it work?
Viewers will be able to watch programmes and listen to digital radio channels through their television via a special set-top box connected to an existing broadband internet connection.
It will allow people to watch so-called "Linear TV", (those channels currently offered via Freeview and Freesat) with High Definition options and the ability to pause, rewind and record.
The box will also allow people to access video-on-demand services, such as the BBC iPlayer, ITV Player, 4OD, as well as subscription channels.
In addition, the box will allow people to access internet services - such as YouTube, Facebook and Flickr - directly through their television.
Haven't we heard this before?
The BBC was part of a similar project, codenamed "Kangaroo", initially expected to launch in 2008. Earlier this year it was blocked by the Competition Commission over fears that it may be "too powerful".
Kangaroo was designed to offer content from the commercial arm of the BBC - BBC Worldwide - along with programmes from Channel 4 and ITV.
Users would be able to purchase content from the broadcasters' back catalogue.
It was designed to do this though a single web portal, without the need for a set-top box.
The technology was bought by Arqiva in July and launched as SeeSaw in November.
How is YouView different?
YouView is designed as an open platform, allowing other broadcasters to join and offer their content.
Web firms will also be able to build services for the interface. For example, Flickr could offer a tool to allow people to stream their photographs form the site directly to their YouView-powered set-top box and television.
Manufacturers will be free to use the software to build their own set-top boxes.
Why have there been objections to YouView?
Firms such as BSkyB and Virgin, which offer their own broadband internet services, have expressed concern that the platform may distort the market for IPTV.
Critics also maintain that the BBC should not be channelling licence fee funds into something which will also be used by other commercial channels.
Some TV and electronics manufacturers are concerned that they have not been included in the discussions about YouView.
Some worry that the BBC and others will choose a standard for the UK which will be incompatible with standards chosen for the rest of the world.
Others have questioned whether broadband speeds in the UK are high enough to allow the service to achieve its full potential.
How does the BBC fit into all this?
The Trust has imposed several conditions on the BBC's participation in the venture.
It says that the BBC must ensure that core technical specifications are published well in advance of the service's launch to allow manufacturers of set-top boxes to adapt to the standard.
The BBC must also offer other content providers access to the platform and make sure it is always possible to access it without a subscription.
The YouView partners have already begun to develop the technical specification for devices, along with standards body the Digital TV Group.
They have also begun to build and test technology.
The trust has insisted that YouView must publish its core technical specifications eight months before the first set-top boxes are launched.
In addition, the partners will continue recruiting other companies who want to participate in YouView.
This will give broadcasters and manufacturers full opportunity to prepare for the launch.
It also means the project will not meet its proposed 2010 launch date; YouView says the new service will launch in the first half of 2011.