Old meets new in digital divide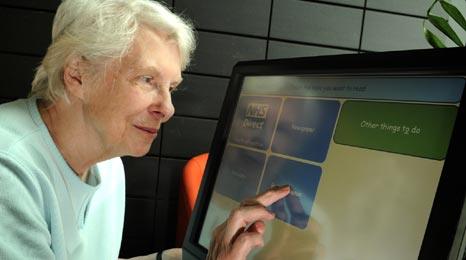 The broadband train is full steam ahead at the moment as superfast services are rolled out across the country but as we enter a new generation of the digital age, why are many of the older generation still refusing to climb aboard?
There are 9.2m (18%) adults who have never used the internet and 27% who do not have internet access at home.
And age appears to be the biggest factor. According to ONS figures, 99% of those aged 16-24 have used the internet, dropping to just 40% of those aged 65 or over.
Charity Age UK is so concerned that it warned that unless more could be done to help older people get online "there is serious concern that they'd become more and more marginalised members of society".
Older people up and down the country will be treated to tea, biscuits and a quickfire lesson in all things digital.
This year the plan is to get 80,000 online during the week.
The Post Office will also be running events up and down the country to help customers get to grips with technology while the Digital Champion, Martha Lane Fox, will be in Bridlington, Yorkshire, trying to persuade the whole town to get online.
In many ways, this has never been easier.
Most of the obstacles that have - in the past - stopped people are being overcome.
Internet-enabled devices are easier to use and, with the rise of smartphones and touch screen televisions, it is no longer necessary to have a PC to enjoy the web. Internet TV is also is on the verge of offering another new alternative to the computer.
And it is no longer expensive. Last week, for example, UK internet service provider PlusNet launched a John Lewis style "can't be beaten on price" offer for its £6.49 a month service, promising users to price match if they could find a cheaper service.
For those reliant on funding their own access, family income is a huge factor. According to the ONS, one third of those earning less than £10,399 a year have never used the internet compared to only 2% of those earning more than £41,000.
And England's North/South divide also plays a part. The ONS finds that in the North East, 29% of people have never been online, compared to only 13% in London, which reflects Ofcom's yearly assessment of broadband take-up.
It is one of the reasons Martha Lane Fox is heading to Bridlington -which acts as a microcosm of the nonliner population, with plenty of residents on low incomes and a high concentration of older citizens.
There could be lessons to learn from Sunderland, which has recently been dubbed the Facebook capital of Britain.
As well as being switched into the social network, it is also tackling social exclusion with a digital strategy aimed at the old and poor.
Part of this strategy has involved creating a network of so-called electronic village halls, neighbourhood-based facilities offering access to technology.
For older people the biggest barrier is fear of technology, thinks Bill Dutton, director of the Oxford Internet Institute, a body which studies the impact of the internet on society.
"The older generation are more distrustful of technology. They have the attitude that 'I've got along all my life without it' and in that respect getting online becomes a lifestyle issue," he said.
But they also have the most to gain from the net.
"They are more in need of government services and access to information without having to leave their homes," he added.
Many over-60s do not seem to be getting the message about the advantage of being connected, according to research conducted by the Post Office.
Fewer than one in 10 over 60s were aware that they could save money through online deals, only 17% thought the internet would make shopping easier and just 6% were aware that they could manage their money online.
One thing that appears to be crossing the age divide is the Apple iPad. Figures compiled by YouGov show that 20% of new iPad owners fell in the over-55 bracket, compared with 27% for 25-34-year-olds and 24% for 35-44 year-olds.
Touchscreen technology is proving a hit in care homes in Sheffield, where it is bringing internet access to a generation unfamiliar with the traditional keyboard.
The touchscreen system, dubbed MAAVIS, was designed at Sheffield University to provide a simpler interface for elderly residents to use Skype, access social networks and watch online videos.
"We found that even mentioning the word 'computer' to elderly people put them off," said Dr Peter Cudd, who developed the technology.
"Our programme allows users to access the same information technology as the rest of the population - and the best thing is they don't even feel like they are using a computer."
One of the care homes has applied for a £20,000 grant to get the touch-screen computers installed permanently.
For those who are embracing new technologies, there has never been a better time to climb aboard as a new generation of broadband begins to see the light of day.
The UK is finally getting round to building a decent next-generation internet network that will allow some people to surf at speeds of up to 100Mbps (megabits per second) and take advantage of as yet undreamed-of applications.
Perhaps some of them will appeal to those who have, until now, seen no relevance in the online world.
Related Internet Links
The BBC is not responsible for the content of external sites.