Facebook offers temporary log-ins for public computers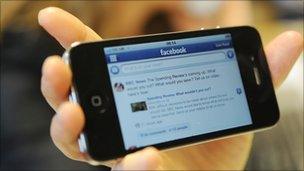 Facebook is launching one-time passwords in an effort to make it safer to log on to the social network from public computers.
It also claims the system will help prevent cybercriminals accessing users' accounts.
Users need to text the words 'otp' to 32665 and they will be sent a temporary password that will expire after 20 minutes.
But security experts questioned whether the system was safe.
It may also not be a foolproof method of avoiding Facebook hackers.
"A temporary password may stop keylogging spyware giving cybercriminals a permanent backdoor into your account, but it doesn't stop malware from spying upon your activities online and seeing what's happening on your screen," he said.
Users of the system must have a mobile phone number registered to their account, which could also open the system up to exploitation, thinks Mr Cluley.
"Do you know if you've registered your mobile phone number on Facebook? Would you notice if someone changed it? Imagine a scenario where some 'fraper' changes the mobile number of your account to one to which they have access. That may mean that anytime they like they could access your Facebook account," he said.
Facebook also launched another new feature which will allow people to sign out of Facebook remotely, aimed at those who log in to the social network via a friends phone or computer and then forget to sign out.
"In the unlikely event that someone accesses your account without your permission, you can also shut down the unauthorised login before resetting your password," he wrote.
Related Internet Links
The BBC is not responsible for the content of external sites.