Microsoft's Bing deepens ties with Facebook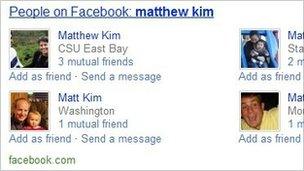 Microsoft's Bing search engine has begun showing US users which sites and products their Facebook friends like.
The move is an attempt to make web search results more personal.
It is part of a four-year alliance between the two companies and marks another step in Microsoft's attempt to displace market leader Google.
The function is optional and only works when users are logged into Facebook or have "cookies" on their PC that store Facebook data.
"This is just the beginning; there is going to be a whole lot more to come over time," Facebook founder Mark Zuckerberg said at the launch.
The service makes use of a Facebook feature that allows third-party websites to embed a "Like" button on their pages. When users click these buttons, it creates a connection with their profile.
These connections are then used to create personalised results, which show up in a separate box alongside traditional links.
At the launch, the firms showed an example of searching for a restaurant with results that included eateries Facebook friends liked.
She said that the deal "hits Google right between the eyes".
"Google has recently been making noises that it wants access to Facebook's social graph, calling for the company to be more open.
"That's because Google realizes that unless it can harness social graph data, it will be relegated to traditional algorithmic search based primarily on the information on the web page itself and scraping what social data it can".
Bing is currently the third most popular search engine behind Google and Yahoo.
However, Microsoft's search engine has been slowly increasing its market share.
The new feature takes advantage of a 2007 deal between Microsoft and Facebook that saw the software firm pay $240m for a 1.6% stake in the social network. That gave it "privileged access" to social data that other firms do not have.
"Should it turn out to be, I'd expect Google to ramp up the pressure so that the data should be fully 'freed' to them and others - and perhaps strike a paid deal for access to it, in the way Google pays Twitter for its data."
The two firms also announced a feature that allows people to search for Facebook contacts using Bing.
Facebook, which has come under repeated criticism for its privacy policies, stressed that no private data was shared in either feature.
"This is all information that is public about you anyway," said Mr Zuckerberg.
In related news, reports suggest that Yahoo is being targeted by private equity companies, two years after an attempted takeover by Microsoft.
Related Internet Links
The BBC is not responsible for the content of external sites.