Rural broadband to survive spending cuts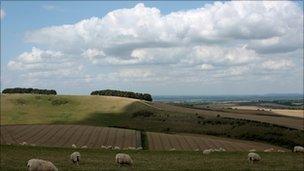 The government will trial super-fast broadband in the Highlands, North Yorkshire, Cumbria and Herefordshire, it announced in its Spending Review.
Next-generation broadband is among a handful of projects to survive the cuts, which will see £83bn wiped from public spending.
The BBC has agreed to contribute £300m towards the £530m total cost of funding rural broadband.
The rest of the money has been set aside from the digital switch-over.
Extending broadband services in rural areas is expected to benefit around two million households, including those in remote locations who currently struggle on dial-up speeds.
Speaking about the decision to trial next-generation broadband in rural areas, Chancellor George Osborne said: "It will help encourage the growth of our creative industries as a key part of the new economy we are seeking to build."
Around a third of the UK is currently due to miss out of super-fast broadband because it is not regarded as economically viable to offer services in remote areas.
BT is trying to address the issue and recently agreed to roll out fibre optic services across the whole of Cornwall, part funded with EU money.
It has also set up a 'vote for fibre' project to identify areas where there is demand for such services.
However it will only consider roll-outs to areas with more than a 1,000 votes, meaning many rural communities will be too small to qualify.
Dr Charles Trotman, chairman of the Final Third First campaign, thinks it could create a new digital divide.
"Where do you find an exchange with a thousand people in a rural area? It is a good initiative but it has to be rethought or it will add to the urban/rural digital divide," he said.
In Yorkshire, the government has selected internet service provider NYnet and North Yorkshire County Council to provide super-fast broadband.
It will roll out services out to around 27 market towns in North Yorkshire, benefiting an estimated 220,000 people.
"The geography and demographic make-up of North Yorkshire represents a typical 'final third' area and the project will provide a valuable testing ground that will assist the government in providing broadband access to the whole of the UK," said NYnet chief executive David Cullen.
Malcolm Corbett, chief executive of the Independent Networks Co-operative Association (Inca), a group of community broadband schemes, thinks local solutions will remain vital.
"With private sector investment limited to commercially attractive areas and public sector funding limited full stop, it's up to us to work together - private, public and community sectors, to make sure Britain creates the broadband infrastructure we need for the future," he said.
In the Spending Review 2010 document the government also revealed that it will hold spectrum auctions for next-generation mobile broadband in either 2011 or 2012.
The document said that at least 500Mhz of public sector airwaves will be released over the next ten years for new mobile services, including mobile broadband.
Related Internet Links
The BBC is not responsible for the content of external sites.