Thousands of Germans opt out of Google Street View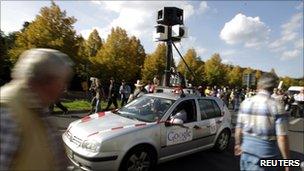 Almost 250,000 Germans have told Google to blur pictures of their homes on the Street View service.
The German government insisted that people get the chance to make the request as a condition of letting Google operate Street View.
It said personal privacy would be violated if people did not have an option to opt out.
When Street View is live in Germany, citizens will be able to use a webform to request their homes to be obscured.
Since April 2009, German home-owners and tenants have had the chance to write to Google to tell it to blur images of where they live. In August, Google supplemented this with an online tool through which these requests could also be made.
Now the window to make requests has closed, Google said a total of 244,237 requests had been made to have homes and property obscured.
However, said Google, it was not yet clear if all the requests to blur images could be carried out.
Street View has had a troubled time in Germany. It was requests from the Hamburg information commissioner which uncovered Google's mistaken collection of personal data from unsecured wi-fi networks.
Street View has hit problems in many other places too. In mid-October Canada's privacy commissioner said Google's accidental gathering of personal data while snapping images amounted to a "serious violation" of its privacy laws.
In September, the Czech government banned Google from taking any new photos for the service.
In August, authorities in South Korea raided Google's offices prior to the switch-on of a version for the nation.
Related Internet Links
The BBC is not responsible for the content of external sites.