High-earners turn to iPads first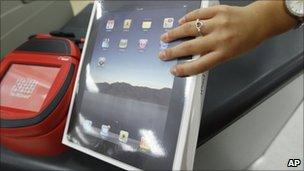 Tablet computers may be in the headlines but are only owned by a high-earning minority, suggests a study.
Compiled by research firm Nielsen, the study found that only 4% own iPads, compared to 6% for e-book readers and 25% for smartphones.
It also found that 9% of the iPad owners it quizzed had never downloaded any extra programs onto the device.
Of those that had bought apps, games, books and music were the most popular extras.
The Nielsen study found that 62% of iPad owners had bought a game, 54% paid for an e-book and 50% for a music track.
Initial figures from Nielsen suggested that about one-third of iPad owners had never downloaded an app. However, revisions to the figures revealed that the majority, 91%, had got hold of add-on apps for the device.
The study quizzed 5,000 people who owned a wide range of devices to find out if the different ways they could be used was driving changes in habits and the content that people were using.
The results showed that tablets were passed around more than smartphones or e-readers. Nielsen figures suggest 46% of people share their tablet, compared to 34% of smartphone owners and 33% of e-reader users.
It also revealed that iPad owners tend to be younger, with 63% of them under 35 years old, and nearly two-thirds are male.
By contrast, owners of Amazon's Kindle e-book reader are 52% male and 47% are under 35. The figures also suggest that the gadgets are owned by the wealthier section of the population with about 25% of both iPad and Kindle owners saying they earned more than $100,000 (£63,000) a year.
The study also asked respondents about mobile adverts on their gadgets and found that 59% were happy to see it if it meant they got other content for free.
Related Internet Links
The BBC is not responsible for the content of external sites.