Ray Ozzie tells Microsoft to 'go beyond the PC'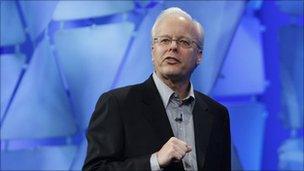 Microsoft must think beyond the PC if it is to weather the changes due to hit in the next five years.
The warning was given by Microsoft's chief software architect Ray Ozzie in a memo penned soon after he announced he was leaving the company.
In it, Mr Ozzie said that the last five years had been "breathtaking" and expected the next five to be the same.
But, he said, the strengths that had helped Microsoft grow in the past now risked holding it back.
The memo, called "Dawn of a New Day" mirrors one Mr Ozzie wrote soon after taking over from Bill Gates as the man in charge of charting the development direction of Microsoft's portfolio of programs.
That first memo imagined a world of seamless computing and kicked off Microsoft's attempts to get its many different programs working together across lots of different devices.
In Dawn of a New Day, Mr Ozzie praised the work Microsoft had done towards that end, but said rivals had done even better.
"...their execution has surpassed our own in mobile experiences, in the seamless fusion of hardware and software and services, and in social networking and myriad new forms of internet-centric social interaction."
The reason for this, he suggested, was Microsoft's legacy of being intimately tied to the PC.
"For the most part, we've grown to perceive of "computing" as being equated with specific familiar "artifacts" such as the "computer", the "program" that's installed on a computer, and the "files" that are stored on that computer's "desktop".
Such thinking, he said, was becoming less and less relevant as the way people used computers and what they did changed.
"...the early adopters among us have decidedly begun to move away from mentally associating our computing activities with the hardware/software artifacts of our past such as PC's, CD-installed programs, desktops, folders & files," he wrote.
Connections rather than computers were more important, he suggested, and devices were becoming almost disposable.
"They're instantly usable, interchangeable, and trivially replaceable without loss," he said.
To prosper and stay relevant, he said, Microsoft must embrace this change and get to grips with a world that cares about "continuous services" rather than computers.
"Close our eyes and form a realistic picture of what a post-PC world might actually look like, if it were to ever truly occur," he wrote. "Those who can envision a plausible future that's brighter than today will earn the opportunity to lead."
Related Internet Links
The BBC is not responsible for the content of external sites.