Big name firms form alliance to drive cloud standards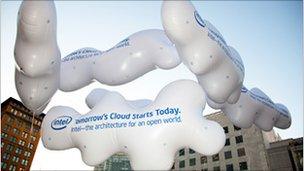 Some of the world's biggest companies are using their market clout to demand that computer equipment makers change the way they make their machines.
The 70 firms, which includes BMW, Shell and Marriott Hotels, said systems that do not work together are holding back the spread of cloud computing.
The companies have formed the Open Data Alliance Centre to push for unified standards for technology.
The businesses involved account for more than $50bn (£32bn) in IT spending.
"The old way just won't work anymore," said Andrew Feig, an executive director at Swiss bank UBS.
"We want to pay for what we need, when we need it."
The principal goal of the body is to help businesses cope with an explosion in the number of people that will want to access services and applications online using a plethora of different devices from phones to TVs to tablet computers.
Researchers estimate that another one billion users will come online in the next five years.
The Alliance's Cloud 2015 vision is aimed at creating a federated cloud where common standards will be laid down for those in the hardware and software arena.
Another goal is to ensure all devices are interoperable when accessing services via the cloud.
"The advancement of technology is growing at such a rapid pace where we have gone from a PC to a laptop to a netbook to a tablet in the space of not very many years," said Marvin Wheeler, Alliance chairman and chief strategist for cloud services provider Terremark.
"The demands on the IT organisations are coming at such an alarming rate that there are many, many different solutions being developed today that maybe don't work with each other," he said.
"We need one voice, one road map, so that companies are able to say to manufacturers here is a clear vision of what they should be developing their product to do."
At a press event in San Francisco Intel, which is also technical adviser to the Alliance, said that by 2015 there would be another 15 billion devices connected to the web.
"No-one knew that there would be a Facebook 10 years ago and now they have hundreds of millions of users and that is because the cost of computing has become virtually free to an end user," said Kirk Skaugen, general manager of Intel's data centre group.
"So as we go from data growing 650% because of multimedia and high definition and such, we need new economics within these data centres to enable these services to still be affordable," he said. "If we want to add another billion people to the internet and lower the digital divide we have to reduce the cost of computing and cloud is a fundamental way to do that."
Some industry watchers believe despite its lofty ambitions the Alliance will achieve little.
"Goodness knows what's going on here," said Adamson Rust of technology blog TechEye.
"We believe like so many alliances, it will be riven by dissensions and self interest. But we could be wrong, and it could turn out to be like the League of Nations."
For Larry Dignan of technology news site ZDNet.com, the $50bn the 70 members of the Alliance wield cannot be ignored.
"That buying power is why this open data centre push is interesting. Given the buying clout, vendors will have to play the cloud interoperability game.
"While it's unclear how successful this alliance will be, it is at least shedding the spotlight on cloud interoperability, a big emerging issue," added Mr Dignan.
The Alliance is not the only group looking at setting standards for cloud computing.
IBM launched its own open cloud initiative last year and earlier this week unveiled its cloud computing lab in the UK with the aim of helping partners reap the benefits of the cloud.
Conspicuous by their absence from the new Alliance are tech titans Microsoft, Google, Amazon, Yahoo and Apple.
Related Internet Links
The BBC is not responsible for the content of external sites.