UK lags on broadband and mobile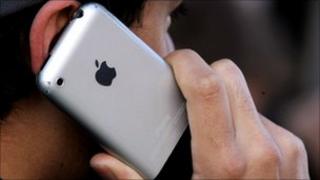 Only a tiny percentage of UK homes have super-fast broadband and mobile speeds are slow compared to other nations, Ofcom has revealed.
In its annual International Communications Market report, the regulator said more needed to be done on fixed and mobile broadband.
Less than 1% of UK homes have super-fast broadband, compared to over a third of Japanese consumers.
Next-generation mobile services have yet to roll out in the UK.
Despite this, the UK saw the highest growth in smartphone take-up among the countries surveyed by Ofcom, with a 70% rise in subscriber numbers in 2009.
The report suggests that UK consumers are sophisticated smartphone users, being among the first to use mobile mapping and direction services.
Capacity needed
Despite this, UK mobile users experience slower speeds than many countries.
The maximum theoretical download speed in the UK is 14.4 Mbps, compared to many countries which offer speeds from 28 to 100Mbps.
Next-generation mobile networks are late to launch in the UK, largely because of arguments among mobile operators about how spectrum should be shared out.
Several of the operators have threatened to take the UK government to court over the way it intends to allocate spectrum but these issues have now been resolved, according to Ed Richards, chief executive of Ofcom.
"There has been a big change among mobile operators and an increasing consensus that UK consumers are early adopters and need lots of data. We are in a much better place than we were a year ago," he said.
But the delay in spectrum auctions means UK consumers are currently experiencing much slower services than people in other countries.
The theoretical maximum mobile download speed in the UK is 14.4Mbps (megabits per second). In earlier figures, Ofcom said this maximum was 7.2Mbps but said this number was that seen in adverts for such services.
By way of comparison, maximum mobile download speeds in Germany are 28Mbps, in the US 30Mbps, Japan 42Mbps and Sweden 100Mbps.
Ofcom said it would lay out the details of how spectrum auctions would work early next year, with the auctions earmarked for early 2012.
Without the auctions of the 2.6GHz spectrum and the 800MHz airwaves freed up by the digital switch-over, networks will struggle to cope with demand, Mr Richards said.
"It is difficult to see where the capacity will come from," he said.
Ofcom is currently mapping mobile notspots and will reveal its findings in the new year.
Most ambitious
Most of the major reports into the state of global broadband put the UK well down the league table when it comes to broadband speeds.
So it comes as no surprise that the UK also has the lowest percentage of households with super-fast broadband, offering speeds of up to 100Mbps (megabits per second).
In the UK, only 0.2% of households have super-fast broadband, compared with 2% in Germany, 7.1% in the US and 34.4% in Japan.
"We still have challenges on super-fast broadband take-up. We are not where we want to be but plans are well under way and, if they are fully met, will take us to a strong position," said Mr Richards.
BT plans to have fibre networks deployed to 66% of homes by 2015, while Virgin's cable service will offer 100Mbps speeds to 50% of UK homes by 2012.
This makes the UK's roll-out plans among the world's "most ambitious" according to Mr Richards.
"I think sometimes the cycles of these things are different in different countries. It is not just a matter of flicking a switch," said Mr Richards.
While Virgin "moved quickly", BT came at the challenge of laying next generation networks from "a different perspective", said Mr Richards.
But he said that the regulatory framework was now in place to persuade BT to move ahead with its roll-out while allowing rival operators a competitive landscape.
He revealed that Ofcom is consulting with the government on the best way to bring super-fast broadband to the third of the UK, expected to be bypassed by commercial broadband players.
He said he expected things to "move relatively quickly".
Big spenders
When it comes to current-generation fixed broadband, the UK is in a pretty healthy state, according to the report.
Some 70% of households have fixed-line broadband, which is comparable with other nations.
The UK also leads when it comes to take-up of digital TV, although internet-based TV services have failed to take off, largely due to the well-established pay TV market in the UK.
The imminent launch of YouView, a partnership between BT, the BBC, ITV, Five, Channel 4, Arquiva and TalkTalk, could change this, Mr Richards thinks.
It will allow users to combine Freeview digital channels with on-demand content such as the iPlayer.
One area where the UK does excel is in online spending.
Over a six-month period, the average UK consumer spent over £1,000 online, double that of some other countries.
UK consumers also appear to be getting value for money when it comes to their communications bills.
An average family, using broadband, four mobile connections and entry-level pay TV would pay £104.17 per month, compared to £146.40 in Germany and £209.12 in the US.
One notable exception to this is fixed-line voice pricing, which has increased in the last year.
This is due largely to hikes in line rentals, an area that Ed Richards said Ofcom was "keeping an eye on".
Update: After the original version of this story was published, Ofcom corrected its maximum theoretical download speed for mobiles in the UK from 7.2 Mbps to 14.4Mbps. This figure has now been amended.