World of Warcraft fans queue to buy Cataclysm expansion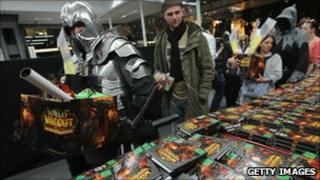 Thousands of people around the world queued into the night to get hold of the latest expansion for World of Warcraft (WoW).
The expansion, called Cataclysm, is the first for two years and makes big changes to the game.
The expansion re-makes the world in which WoW is set and rips up the geography of many familiar places.
It also introduces two new races to the game, increases the level cap and makes many other changes.
Shops around the world stayed open at midnight on 6 December to let eager players get their hands on Cataclysm. In Germany the MediaMarkt shop in Berlin ran a competition for the best WoW-themed costume worn by those queuing outside the store.
The Cataclysm expansion revolves around the emergence into Azeroth, the world in which WoW is set, of Deathwing the dragon. The seismic activity accompanying his emergence causes changes to almost every part of the game world.
Many of the geographical changes to Azeroth have already been applied to the game via a patch applied in late November. The expansion pack lets subscribers create worgen (wolfmen) and goblin characters. The level cap for players is also increased to 85 from 80.
Alongside the geographic changes go many alterations to the quests players must do to progress to higher levels. Many are themed around helping regions recover from the devastation wrought by Deathwing.
"Cataclysm is probably a far bigger deal for Warcraft-makers Blizzard than they're letting on," said journalist Alec Meer who writes for the Rock Paper Shotgun gaming blog.
"It's about transforming the World of Warcraft from something that could arguably be seen as winding down back into very much a going concern," he said.
Mr Meer said the expansion "rebooted, reimagined and reinvigorated" the many zones in the game in a bid to make it appealing to both veterans and new players.
"If Blizzard's plan works, the bulk of the game's population will spend the next few months adventuring through fresh-but-familiar lands together," he said, "making Cataclysm quite the opposite of what its apocalyptic title implies: a rebirth for the world's most successful videogame, and for its community."