Amazon knocked offline by 'hardware failure'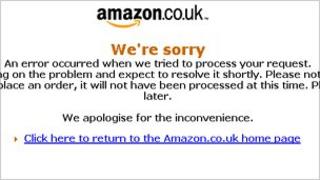 Online retailer Amazon has said its European websites were temporarily offline because of a "hardware failure".
British, French, German, Austrian and Italian sites were down for about 30 minutes on Sunday during a peak pre-Christmas shopping period.
The outage occurred during a time of ongoing threats against major sites by pro-Wikileak activists.
A group known as Anonymous is targeting firms, including Amazon, that withdrew services from the whistle-blowing site.
"The brief interruption to our European retail sites last night was due to hardware failure in our European datacentre network and not the result of a [distributed denial of service] attempt," said a spokesperson for the firm.
Amazon sites ending .it, .de, .uk, .fr and .at - which are all hosted in Dublin - were unavailable for about half an hour at about 2115 GMT on Sunday, according to a Twitter posting by web monitoring firm Netcraft.
However, all servers are now back up and running after a brief delay, the firm says.
Suspended accounts
The outage follows a series of web attacks by Anonymous targeted at corporate websites that had withdrawn services from Wikileaks.
Amazon stopped hosting Wikileaks material on its servers on 1 December saying the site was breaking its terms and conditions.
As part of its campaign, Anonymous had planned to mount a distributed denial-of-service (DDoS) attack on Amazon on Friday, but publicly abandoned the plans, saying they did not have the "forces".
"While it is indeed possible that Anonymous may not have been able to take Amazon.com down in a DDoS attack, this is not the only reason the attack never occurred," read a statement that appeared to be published by the group.
"After the attack was so advertised in the media, we felt that it would affect people such as consumers in a negative way and make them feel threatened by Anonymous.
"Simply put, attacking a major online retailer when people are buying presents for their loved ones would be in bad taste."
DDoS attacks, which are illegal in the UK, involve overloading a website with high numbers of requests so it stops working.
Several Twitter accounts attributed to Anonymous and its campaign have been suspended over the attacks.
The group's Operation Payback Campaign has also targeted the websites of Paypal, Mastercard and Visa, as well as the Swedish Prosecutor's website after a case was brought there against Wikileaks founder Julian Assange.
Mr Assange is in British custody awaiting an extradition hearing after being accused of sex crimes in Sweden. He denies the charges.
Wikileaks has angered the US government by publishing large caches of secret documents online, including US diplomatic cables.
The government has written to Wikileaks, saying it believes its actions are illegal, but it has denied putting pressure on firms such as PayPal to withdraw services.
WikiLeaks has refused to link itself with Anonymous, saying "we neither condemn nor applaud these attacks".