Scratch codes aid malaria fight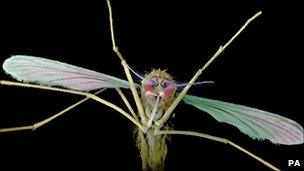 Mobile phones could soon be helping re-assure Nigerians and Ghanaians they are getting genuine medicine.
A pilot scheme in the two nations has begun putting unique scratch codes on more than 500,000 medicine bottles and packets of pills.
When the code is texted to a free phone number, a return message will reveal that a drug is genuine.
The scheme hopes to boost efforts to tackle diseases such as malaria and combat the rise in fake medicines.
About 700,000 people suffering from malaria and tuberculosis die every year around the world because of fake drugs, suggest statistics from think tank International Policy Network
Globally, about 10-15% of all drugs are believed to be fake but in some parts of Africa this rises to 50%. The problem is made more acute in Africa because some fake medicines being offered to the sick are watered down versions of the real thing and dent the efficacy of the full strength drug.
"Some genuine medicines have lost their potency because of the counterfeiting," said Gabriele Zedlmayer, a spokeswoman for HP which is a partner in the labelling scheme.
This can be a particular problem with malaria as the disease is so widespread in sub-saharan Africa where it is the leading cause of death.
The scheme is being backed by governments and drug companies who have pledged to publicise how it works in pharmacies, surgeries, hospitals and community centres.
Painkillers, anti-malaria drugs and amoebicides from pharmaceutical firms May & Baker in Nigeria and Kama in Ghana will be the first to get the scratch-off labels.
Such a scheme was very important in Africa where about 80% of medicines are generic, said Bright Simons, founder of mPedigree which developed some of the technology to underpin the pilot.
By using the codes, people would get to know pharmacies, hospitals and other outlets they can trust, he said.
Mobiles were the best way for people in Nigeria and Ghana to find out about their medicines because they were so ubiquitous said Mr Simon, adding that even those who do not own a handset themselves can get access via friends and family.
Each packet or bottle has a scratch-off code that can be used only once, said Mr Simons. The security system behind the scenes flags any attempt to re-use codes. As well as letting people know they are getting genuine medicine, it will also alert people when fake medicines are being peddled.
If the pilot proves successful, the scheme will be extended to cover more than six million bottles and packets in the next 12 months.
"This is just the first step," said Ms Zedlmayer. "It can be applied to any kind of medication."
Related Internet Links
The BBC is not responsible for the content of external sites.