IBM supercomputer set for Jeopardy quiz show showdown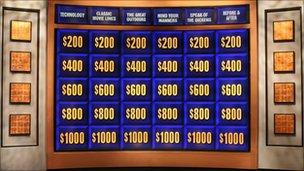 An IBM supercomputer will take on two human contestants in a TV showdown of artificial intelligence.
IBM's supercomputer Watson will compete in an edition of the popular US quiz show Jeopardy on 14 February for a prize of $1m (£634,000).
It is reminiscent of a 1997 contest between an IBM computer and chess grandmaster Garry Kasparov.
The TV show is an important test for Big Blue's work in the field of artificial intelligence.
"The big challenge we see here is helping people really appreciate the power and limits of the technology we are developing with Watson," Dr David Ferrucci, IBM's chief scientist of Watson computing told BBC News.
The aim is to have Watson, which was named after IBM's founder Thomas J Watson, to mimic human intelligence by deciphering and answering questions without being connected to the internet.
Watson is a new question-answering system based on natural language.
"What I see is the potential for computers to help us with our tremendous frustration in dealing with the huge glut of information that is doubling every year," said Dr Ferrucci.
"Just imagine being able to converse with a computer in an intelligent dialogue to help you understand and leverage all that information out there, so that people can focus on solving their problem and not get overwhelmed by information. That is what Watson is about."
IBM said that the technology could be applied in a number of areas such as health care for accurately diagnosing patients, parsing legal documents, or to solve customer problems at technical support centres.
Jeopardy is seen as the ultimate challenge in the artificial intelligence world because the game's clues involve analysing subtle meanings, irony, riddles and other complexities where humans excel and machines do not.
Dr Ferrucci said the tough part for Watson is that it has to "know what it knows with utmost confidence".
"Otherwise if it buzzes in and gets the answer wrong that is bad on Jeopardy because you lose money and lose the game."
Watson has been preparing for its big moment in the spotlight by playing against previous Jeopardy winners. To date it has played 55 games but IBM is keeping mum about how well Watson performed.
The contestants willing to pit their wits against Watson are Ken Jennings who won 74 games in a row - the most consecutive victories ever - and Brad Rutter, who scored the most money with winnings of more than $3m.
IBM said it would donate its winnings to charity while Mr Jennings and Mr Rutter said they would give half of their prize money away.
"Whether we win or lose we are reasonably confident going forward in the competition and I think it is important to play competitively," said Dr Ferrucci.
The showdown will be spread over three days that will air on TV from 14-16 February.
It is not the first time that IBM has pitted man against machine. The most famous head to head battle was in 1997 when a computer called Deep Blue defeated world chess champion Garry Kasparov.
To compete at chess, the company built an extremely fast computer that could calculate 200 million chess moves per second based on a fixed problem.
Related Internet Links
The BBC is not responsible for the content of external sites.