Nokia Apple patent row escalates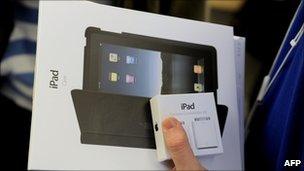 Nokia has extended its legal action against Apple by filing 13 more patent infringement claims.
Nokia's latest legal move involved filing claims in courts in the UK, Germany and Holland.
The claims build on legal action started in October 2009 when Nokia sued Apple, alleging 10 patent infringements.
In response, Apple countersued and then extended the action accusing Nokia of infringing more of its patents.
The latest action is the fourth time that Nokia has filed claims against Apple. Earlier claims in Delaware and Wisconsin covered alleged patent infringements of 3G and wi-fi technology.
Another was a petition to the US International Trade Commission which Nokia asked to halt imports of Apple products. Apple asked the ITC to do the same to Nokia products.
Legal action between the two was suspended while the ITC investigated the competing claims. Apple and Nokia took their arguments to the ITC earlier this month but no ruling has yet been released.
The latest infringement claims from Nokia cover a variety of technologies including touch interfaces, caller ID and display illumination.
Announcing its legal action, Nokia said some of the patents had been filed more than a decade before the launch of the iPhone.
Apple has not responded to a request for comment on the latest legal filing.
Soon after Nokia filed its initial legal action in 2009, Apple countersued and then in September 2010 sued Nokia in the UK saying it had violated nine of its patented technologies.
Both sides in the dispute have always denied each other's claims.
Related Internet Links
The BBC is not responsible for the content of external sites.