HTML5: the language aiming to make the web wider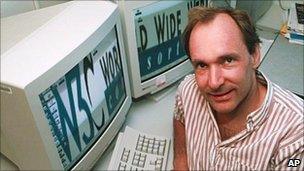 Just 20 years after it took its first tentative steps into the world, the web has become a revolutionary phenomenon.
Almost 2 billion people are now online globally, and internet connections are now a vital part of international trade, communication and even politics.
Despite the web's rapid growth, however, the technology underpinning it has changed surprisingly little - in many cases remaining more or less the same as when Sir Tim Berners-Lee built the very first web pages in his lab in Switzerland in 1990.
That could all be about to change, however, thanks to a new web technology called HTML5 that promises to shake up the web from top to bottom.
Backed by some of the internet's biggest companies, it is a long-awaited update to HyperText Markup Language, the basic dictionary used by almost every web page. Created by Sir Tim in 1991, HTML tells a web browser everything it needs to know: what a web page does, where it goes and what it looks like.
HTML5, the fifth version of this language, is due to be ratified as a standard for the web soon, after more than a decade in the making. It adds a series of new capabilities for web pages that advocates say will radically change the way we use the web.
In fact, the system is so highly-regarded that it even prompted Apple chief executive Steve Jobs to tout it as an alternative to Flash, which is used by millions of people to play games and watch videos online.
"HTML5… lets web developers create advanced graphics, typography, animations and transitions without relying on third party browser plug-ins like Flash," he wrote in late April.
Under the new rules of HTML5, video and audio can be added to a page without complicated computer code. Complex graphics can be created directly on a page using the Canvas tool. And other capabilities — such as being able to access web pages while offline and voice recognition features — are being added all the time.
All this makes powerful web applications, the sort of thing pioneered by Google Maps, much easier to create. It's important to keep making advances says Ian Fette, the product manager for Google's Chrome browser.
"If you look at any large, successful website, it uses HTML," he says. "Clearly there are a lot of companies that have managed to make the web work and make a lot of money off it. But you can't just sit back and say 'the web works, so we're done'."
Programmers are still experimenting to find out what the new system can do, but some are finding themselves surprised by its power — including the notoriously picky games industry.
Gaming often requires powerful machines and the use of highly advanced graphics. Yet James Smith, the chief technology officer at games network HeyZap, says he is seeing increasing interest in HTML5.
"It's a very new space," he says. "But there are many people doing serious stuff with games in HTML5. We had developers coming to us, telling us they were making games in the browser."
This is the sort of support that could be crucial for the technology if it is to reach its potential — but not everybody thinks that HTML5 will significantly alter the web.
Some critics say that the impact of the changes is overhyped, and often pushed by self-interested parties like Apple. Others have highlighted the potential for greater security problems as browsers become more capable.
Security companies including McAfee and Kaspersky Labs have warned that HTML5 will increase the web's "attack surface" — the number of potentially vulnerable places that hackers can target.
But one critical ally for HTML5 could be the internet's most powerful company, Google. Not only is its Chrome web browser one of the most HTML5 - friendly on the market, but the Californian internet giant has also invested heavily in HTML5 for its Chrome operating system, which it hopes can one day rival the ubiquity of Windows.
Although Google's first attempt at the system has received mixed reviews Chrome OS shows that ambitious projects can rely on this brand-new technology.
If all that doesn't prove to be enough, then HTML5 has another trick up its sleeve: it isn't just limited to the PC. As well being used by desktop-based web browsers - including Firefox, Chrome and Safari and the forthcoming internet Explorer 9 - many mobile phones support the new standard too.
This opens all sorts of new possibilities for companies to build services that can potentially be used by almost anyone, no matter what device they use to surf the web.
"Browsers reach billions of people on a wide range of devices," says Hakon Wium Lie, the chief technology officer of browser maker Opera. "Users will be able to run HTML5 apps on expensive computers and cheap mobile phones — this means we can reach the people on this planet who can't afford an iPhone."
Ultimately, say experts, HTML5's success may be in the link between PC and mobile: after all, building a single web service that can work equally well on a desktop computer, a BlackBerry, a Google machine or an Apple iPad, may be too tempting an opportunity to pass up.
"If you want to play something like Farmville on your iPad, you can't load it up," says HeyZap's Smith. "We're seeing a lot of developers now say 'if we can make this game work in HTML5, we can make it work on all devices straight out'. That's huge."
Related Internet Links
The BBC is not responsible for the content of external sites.